77 Proven Tactics to Drive Traffic to Your Website
11. Use the Skyscraper Technique
The skyscraper technique is a marketing term coined by Brian Dean of Backlinko.
Basically, it is a system for turning content into high-quality backlinks.
Here's how it works:
Step 1 – Find existing content with lots of backlinks.
Use tools like Ahrefs Content Explorer or BuzzSumo to find URLs with a lot of social shares and links.
Finding successful content (to replicate) with Ahrefs Content Explorer
Step 2 – Now go and create something way better.
Now you need to figure out how you can improve upon it. Can you add more up-to-date information? Maybe you can improve the visuals or expand it to include more points.
Step 3 – Promote your skyscraper content
Go to the sites linking to the original content and ask for links to your superior content.
Here's an outreach template you can use:
Hey [NAME],
I was reading your post about [TOPIC] and noticed you linked to this page: [INSERT LINK]
Just wanted to let you know that I just published an updated, more in-depth version of this page.
Here it is: [INSERT SKYSCRAPER LINK]
Might make a nice addition to the page?
[YOUR NAME]
The skyscraper technique sounds simple enough, but in practice, it can be tricky. Here are some resources to help:
In all fairness, though, the SkyScraper technique is now a pretty common approach among websites that do content marketing well. This means it has nowadays a weaker impact than a few years ago.
Still, it might prove to be helpful for driving some traffic to your blog.
12. Create an Expert Roundup Post
Expert roundup posts are blog posts that collect quotes from experts and then use them in the article.
Here's an example from Databox about the best free SEO tools according to experts: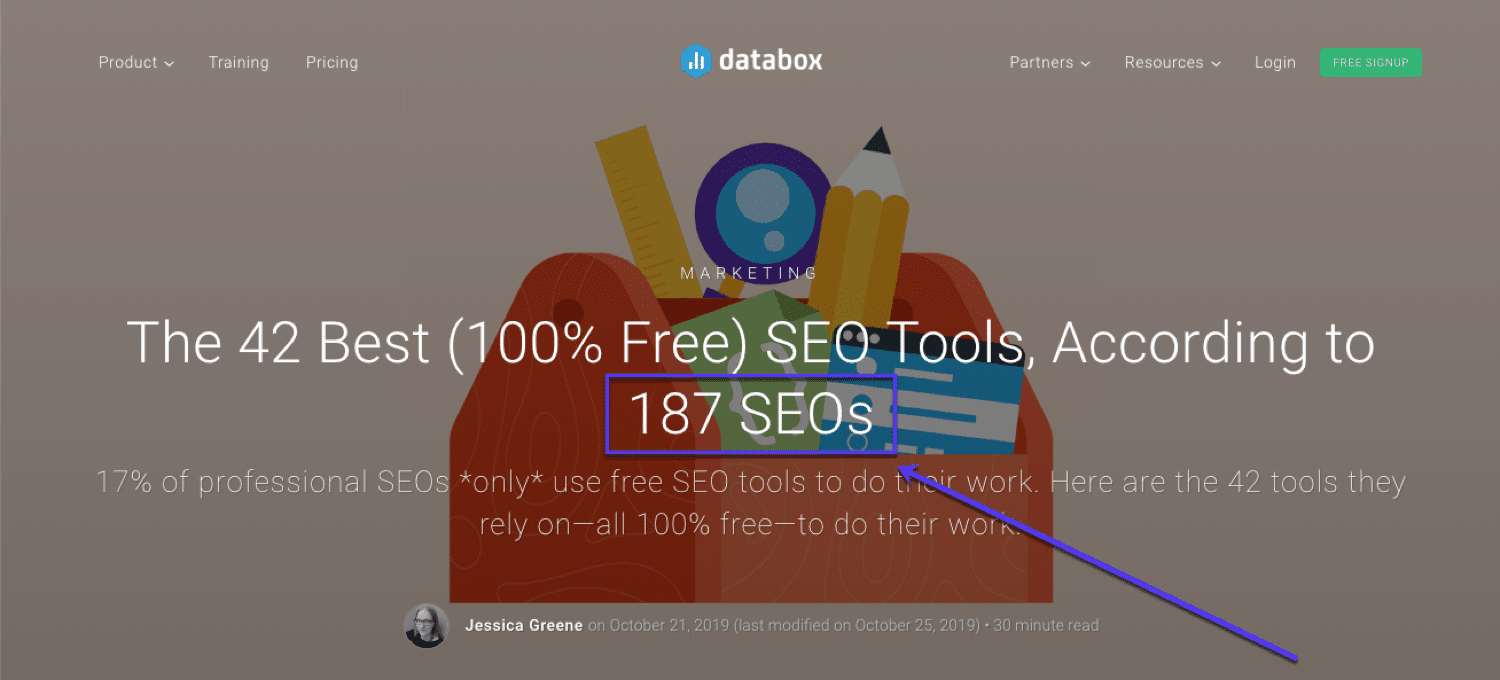 Expert roundup post example by Databox
Roundups are great for getting links and shares from the people you have included.
This type of content generates traffic because:
They feature subject matter experts, who will likely share your piece of content to their audience.
It follows the structure of listicles, which we know perform well.
They attract many visitors and novices because they collect quotes and tips from well-known professionals.
Email Marketing
If you are doing anything online, you need an email. No matter the size of your business or website, being able to email your audience is vital.
Seriously, half the world's population uses email: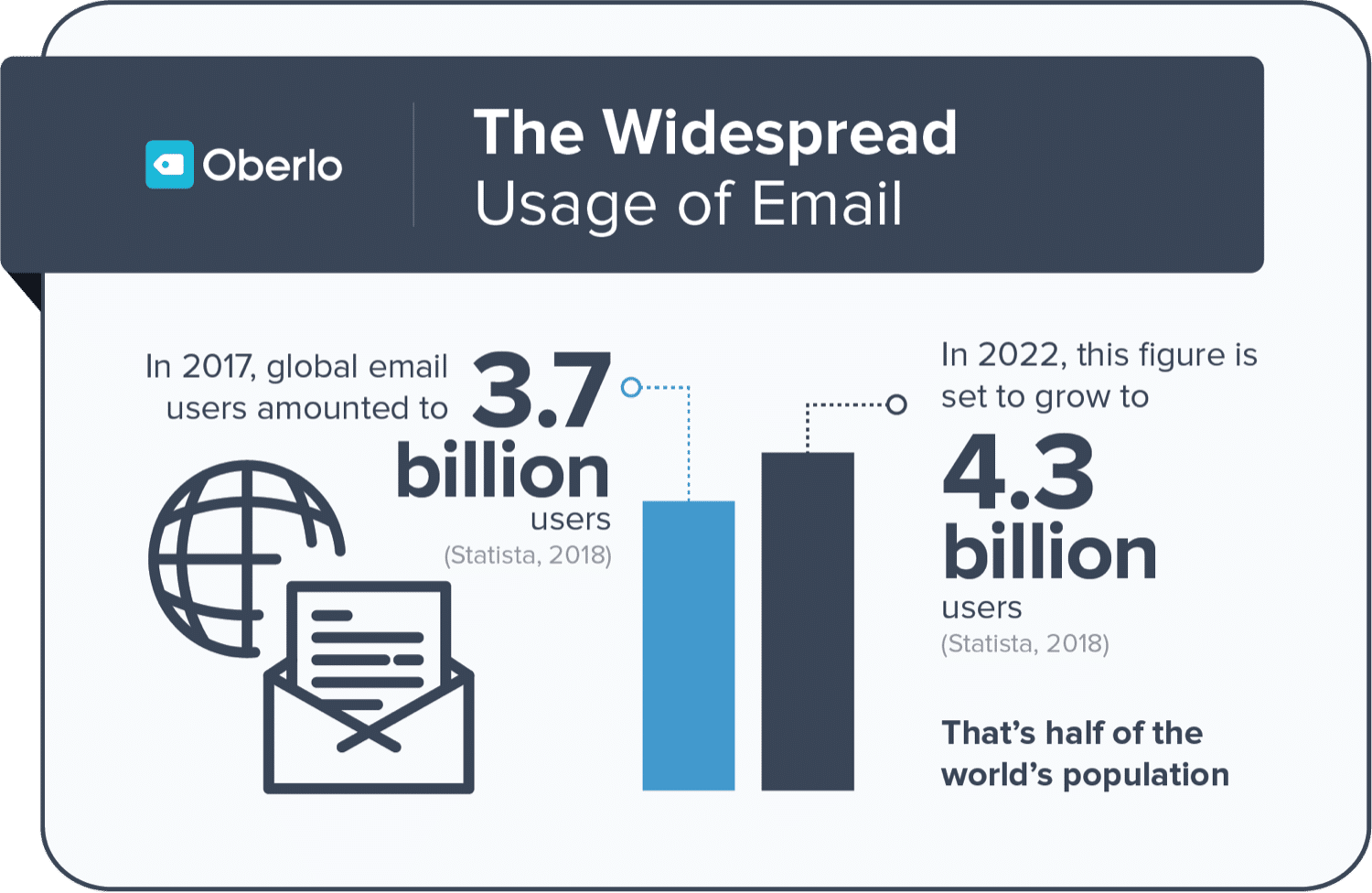 Email statistics by Oberlo
With so many people reachable via their inboxes, email is one of the best ways to drive traffic to a website because:
Your email list is already interested in your site.
Traffic is almost guaranteed as you are talking directly to your list.
Emails drive targeted traffic to the pages you choose.
13. Increase Website Traffic with Email Marketing
Email marketing is a fairly inexpensive but effective way of reaching your audience.
Aside from following email marketing best practices, here are some essential steps to take for increasing traffic with email marketing:
Build a subscriber list as soon as possible.
Choose the right email marketing software.
Keep your emails to the point.
Write eye-catching subject lines.
Add social sharing buttons to your emails.
Add a CTA (Call to Action).
Don't send too many emails.
Make sure your email template works on mobile and don't get marked as spam.
14. Use Content Upgrades to Get More Subscribers
Content upgrades (or lead magnets) are resources you give away in exchange for an email address. Here's a list of some of the best lead generation Netzender.com plugins to check out.
If you get the right upgrade, your audience will gladly sign up to your email list in order to get the free content.
However, you've got to understand your audience and know what they would want. Perfect Keto does a good job of this: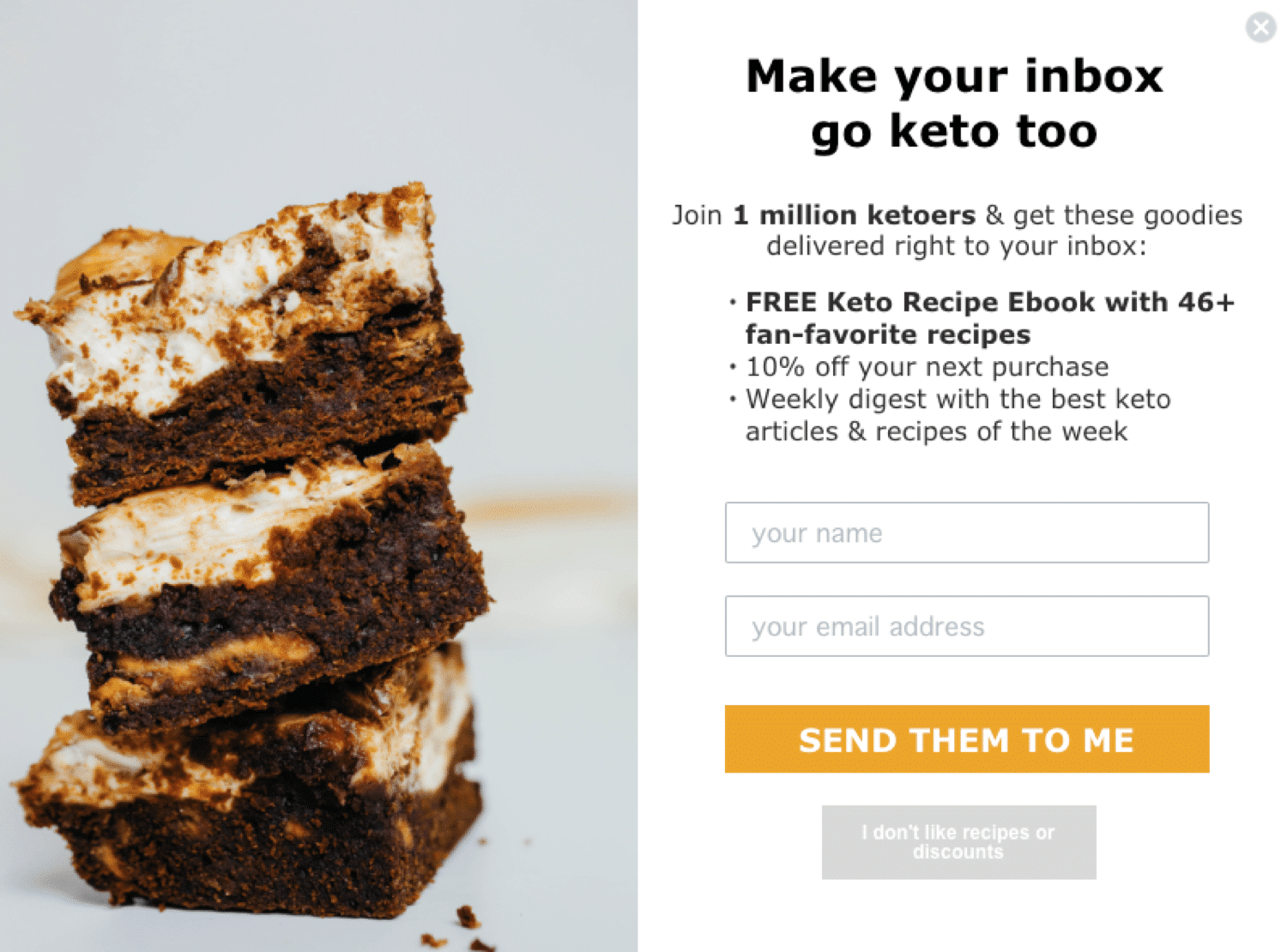 Content upgrade example by Perfect Keto
Some content upgrade examples you can use are:
Checklists.
Cheatsheets.
Quick-start guides.
Ebooks.
Templates.
Free courses.
15. Create an Email Welcome Series
A welcome email series is a sequence of emails that are automatically sent to your subscribers when they first opt into your list.
Just remember: it's your chance to make a good first impression. This can go a long way in increasing your website traffic, as well as increasing your subscribers.
Drift does a good job with this email that gets straight to the point and directs new subscribers to popular content: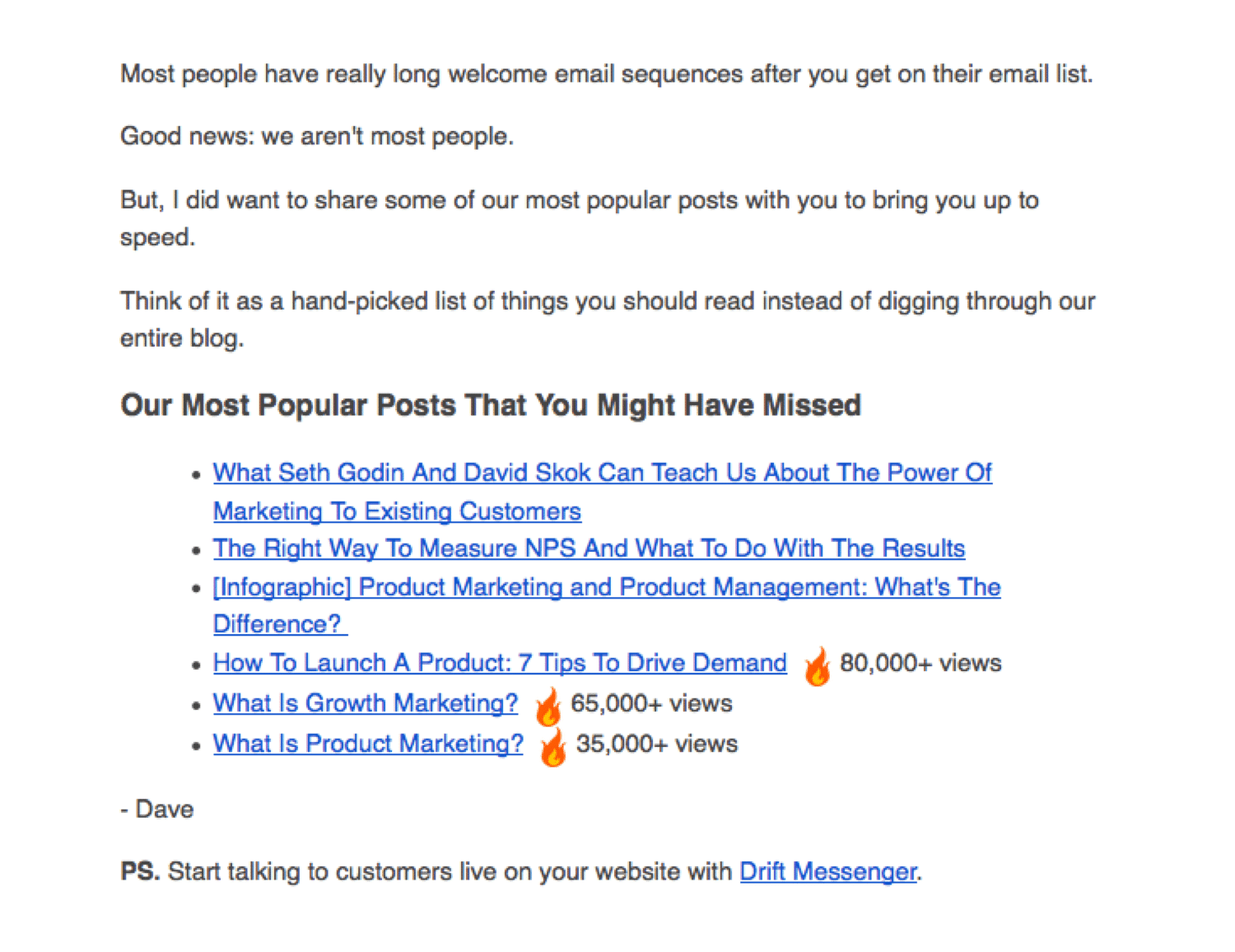 Welcome email example by Drift (Image source: hubspot.com)
16. Add a Way to Capture Emails to Your Site
To start leveraging the power of email for traffic, you need a way to collect email addresses via your website.
You can use a sidebar or in-content sign up form like this:

Example of Kinsta's email signup form
The key aspect here is giving people a compelling reason to sign up.
Promotion
So you've written some great content, now what?
It's time to promote it.
Here are some content promotion tactics to try:
17. Submit Your Content to Aggregator Sites
A content aggregator is a website that doesn't create its own content. Instead, they collect content from other sites and "aggregate" it into one location.
Users generally like aggregators as it gives them the chance to find a variety of content in one place. On the other side, publishers get their content in front of people who want to see it.
Here are some ideas of content aggregators to submit to:
18. Write Some Guest Posts
Guest posting is when you write a blog post for a site other than your own. In return, you'll get a link back to your site.
This sends traffic to your site, gets you a backlink, and helps to increase your brand awareness.
One of the biggest challenges with guest blogging is finding suitable websites that would be willing to accept and publish your guest posts.
Thankfully, with just a quick Google search (+ some search operators) you'll be able to find tons of guest post opportunities relevant to your niche:
Finding topic relevant guest post opportunities with Google
Here's a list of operators to try (just remember to switch out KEYWORD for a term relevant to your site's niche):
KEYWORD intitle:"write for us"
KEYWORD intitle:"write for me"
KEYWORD intitle:"contribute to"
KEYWORD intitle:"submit" + inurl:blog
KEYWORD "submit a guest post"
KEYWORD inurl:/guest-post/
KEYWORD "guest post"
KEYWORD "guest post by"
KEYWORD "accepting guest posts"
KEYWORD "guest post guidelines"
KEYWORD "guest author"
KEYWORD "guest article"
KEYWORD "guest column"
KEYWORD "become a contributor"
19. Promote Your Site With Blogger Outreach
Blogger outreach is the process of finding relevant blogs and sending them a personalized email highlighting your website, service, product, etc.
Step 1 – Find Blogs to Reach out To
You could reach out to bloggers:
who you have already featured on your site.
who have written content on the same topic.
who have previously linked to similar topics.
who have tweeted related articles.
Step 2 – Find the Right Contact Details for Them
Before you can get in touch, you need to find the email address of the blogger you are reaching out to.
There are a few ways of doing this, but one of the quickest is using an email lookup tool like Hunter.io:

Find email addresses with Hunter
Step 3 – Write Your Outreach Email
Now you need to write the email you are going to send.
If you need some help crafting your pitch, check out these email outreach templates by HubSpot.
All that's left to do now is hit "Send".
20. Invite Others to Guest Blog on Your Site
Don't forget: guest posts are a two-way street.
Don't think you can only write content for other sites. Invite other people to write for your blog too. Providing they write a high-quality and original article that's interesting for your audience of course.
Not only do you get some new content on your site, but the guest blogger is likely to promote the article, bringing in more traffic to your site.
Everyone's a winner.