77 Proven Tactics to Drive Traffic to Your Website
31. Build Backlinks to Your Website
Links from authority and relevant sites are like votes of confidence for your site.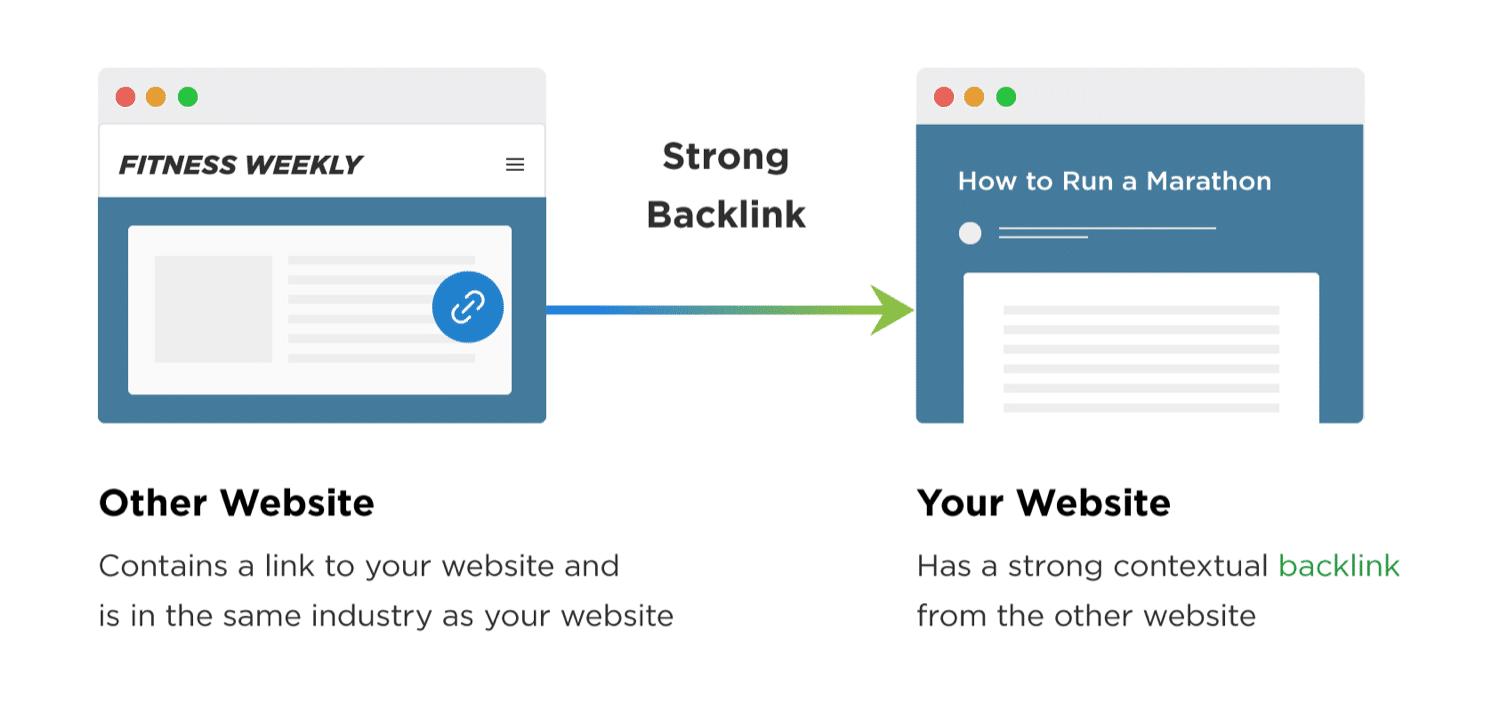 A simple overview of how backlinks help your site's SEO (Image source: backlinko.com)
The types of links to build will differ depending on your niche. Here are some useful link building resources:
32. Get Your Content in Featured Snippets
Since its inception, Google has been adding more information to the search results to enhance the experience for users.
One such feature is featured snippets:
Featured snippet example
Featured Snippets are content boxes that appear directly under the search box on Google. They are designed to provide users with a quick answer to their search query (without even having to click through to the actual website to get the answer).
Snippets can be a great way to send traffic to your site, especially if you already have some pre-existing ranking content.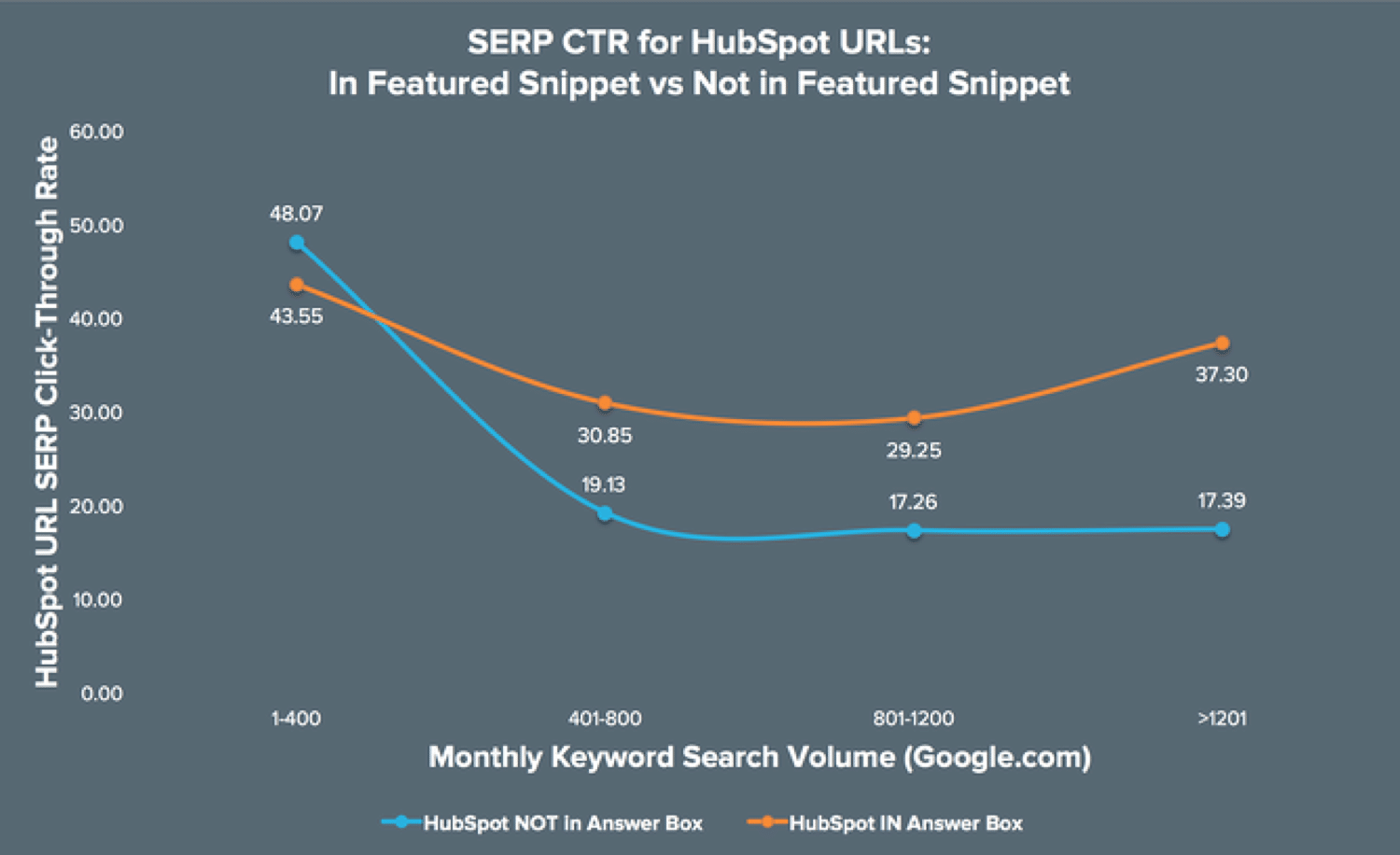 Increasing CTR for ranking in the featured snippet is worth your time
We covered how to get featured snippets before, but if you need a quick rundown, here's a quick summary of how to optimize for them:
Target question-keywords.
Be aware of the type of snippet (paragraph, list, table, etc).
Keep paragraphs and sentences short.
Answer the question directly.
Logically structure your content with subheadings.
Use tables to show that.
Include the question in the answer
Add a summary at the start or end of the content.
33. Use Analytics Data to Find Under-Performing Pages (& Vice Versa)
Open up Google Analytics.
Got to Behaviour > Site Content > Landing Pages and then hit the Sessions column to order from low to high.
You'll get something like this:
Finding underperforming pages (to improve) in Google Analytics
Now you'll be able to see pages that are getting the lowest amount of traffic.
From here, see if they are missing anything your top-performing pages have. Try to improve these underperforming pages so every page on your site is bringing in traffic. Another tool to gather more insightful data would be Google Search Console, specifically its Performance tab.
Of course, you can also do the opposite too:
Filter Analytics and Search Console to show your highest performing pages and see if you can make them even better.
While you are in Google Analytics, you should…
34. Optimize Your Best Traffic Sources
In Analytics, go to Acquisition > All Traffic > Source/Medium.
Now you'll see where your traffic is coming from: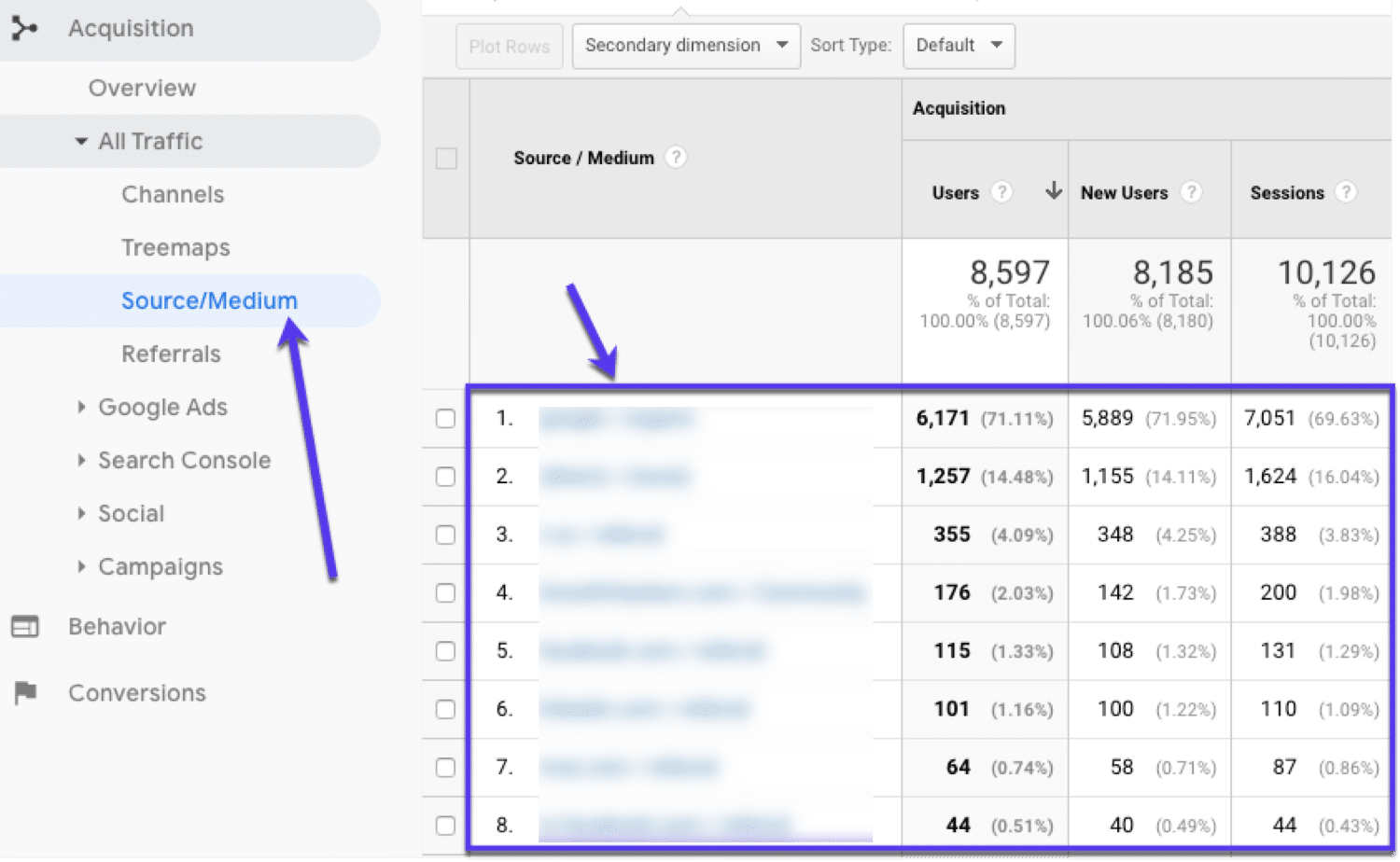 Finding top traffic sources in Google Analytics
In case you are unsure:
Source is the place users are before seeing your content, like a search engine or another website.
Medium describes how users arrived at your content.
From here, you want to ask a few questions about your traffic sources:
Which send the highest volume of traffic.
Which send the highest-converting traffic.
Which send the most engaged traffic.
From there, try and figure out why those sources are effective. Then try to replicate it.
And it's not just your traffic source you should be thinking about…
35. Steal Your Competitors' Traffic Sources
Sometimes the best way to get more traffic is to see what is already working… and then do that.
One of the quickest ways to do this is by 'stealing' your competitor's traffic. If you feel bad about stealing from your competitors, let's just call it reverse engineering instead.
Now you will need to use an SEO tool for this one.
Here are two quick ways to spy on your competitors:
Competitor Traffic Method #1 – SimilarWeb
Go to SimilarWeb and paste your competitors URL in the search box.
Scroll down to the Referrals sections to see exactly where they are getting their traffic from:
Spying on your competitors traffic using SimilarWeb
Competitor Traffic Method #2 – Ahrefs
Go to the Ahrefs backlink checker. Input your competitor's domain and click check backlinks.
Now you'll be able to see the top 100 backlinks and how much estimated traffic they are sending to your competitor: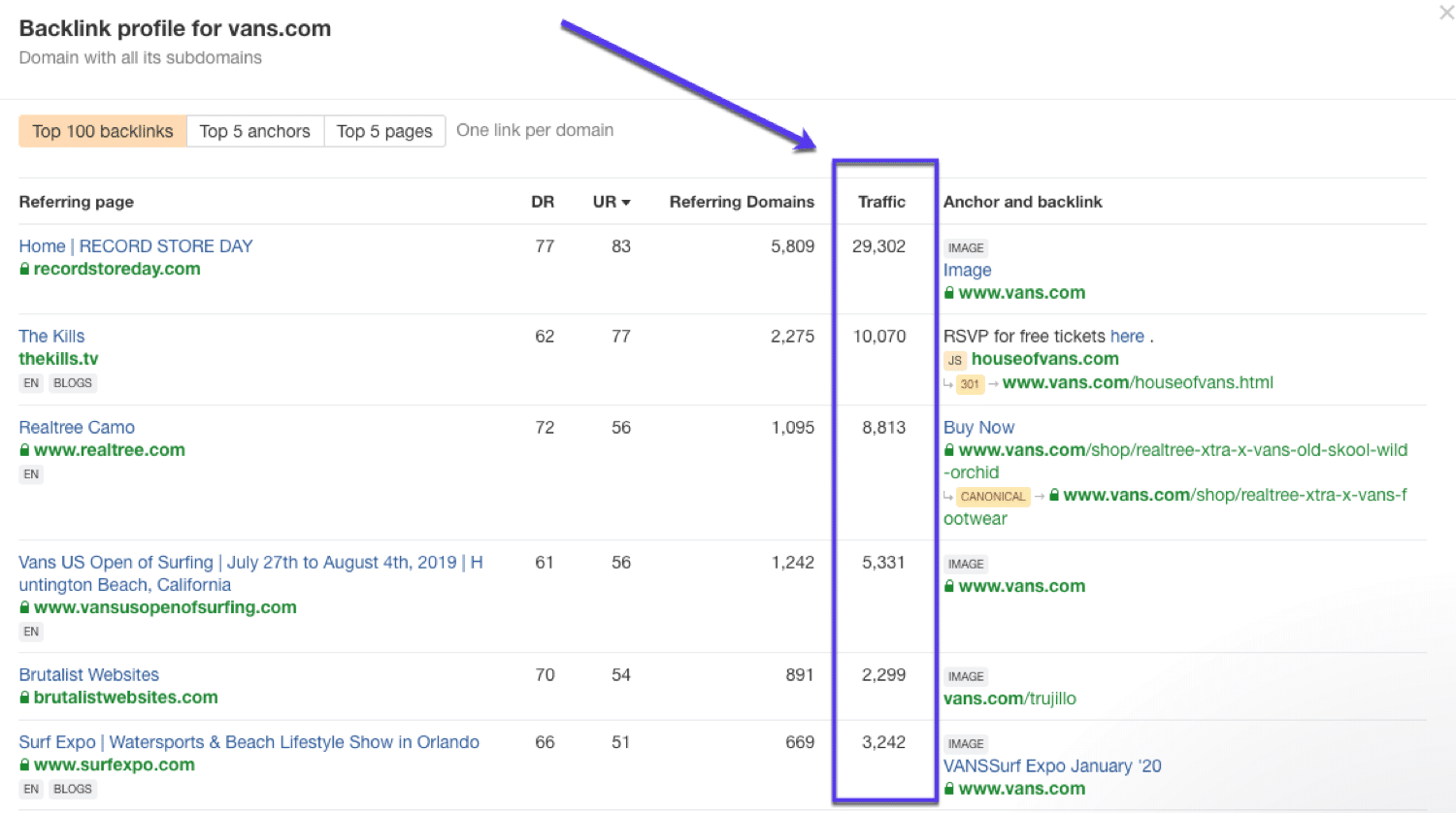 Spying on your competitors traffic using Ahrefs
Armed with the knowledge of what is working for your competition, you can go out and try to replicate it.
Keyword Research
Keyword research is the process of finding relevant phrases (keywords) that your audience is searching for.
Once you have a list of keywords, you want to include them in pages with the intention of these pages showing up in search engines.
There are lots of ways to generate keywords, using both free and premium tools.
Let's get started:
36. Target Topics with Traffic Potential
SEO is one of the best ways to send consistent traffic to your blog (more on this later in this article).
But to get Google to send visitors your way, you need to be showing up for the right keywords. In other words: you need to target keywords with traffic potential.
After all, you want your traffic to look like this:

The type of graph all website owners want to see: organic traffic increases
The metrics you want to keep in mind when doing keyword research are:
Search and Global Volume: how many people are searching the keyword each month
Keyword Difficulty: how difficult the keyword will be to rank for.
There are lots of free and paid keyword research tools available. Here are some of the best:
Ahrefs Keyword Explorer (PAID)
SEMrush (PAID)
KWFinder (PAID)
UberSuggest (FREE)
Google Keyword Planner (FREE)
Keyword Sheeter (FREE)
Oh, and don't forget to:
37. Target Long-Tail Keywords
Long-tail keywords are 3+ word phrases that are very specific to whatever you are selling or the information you are providing on your blog.
Here's an example: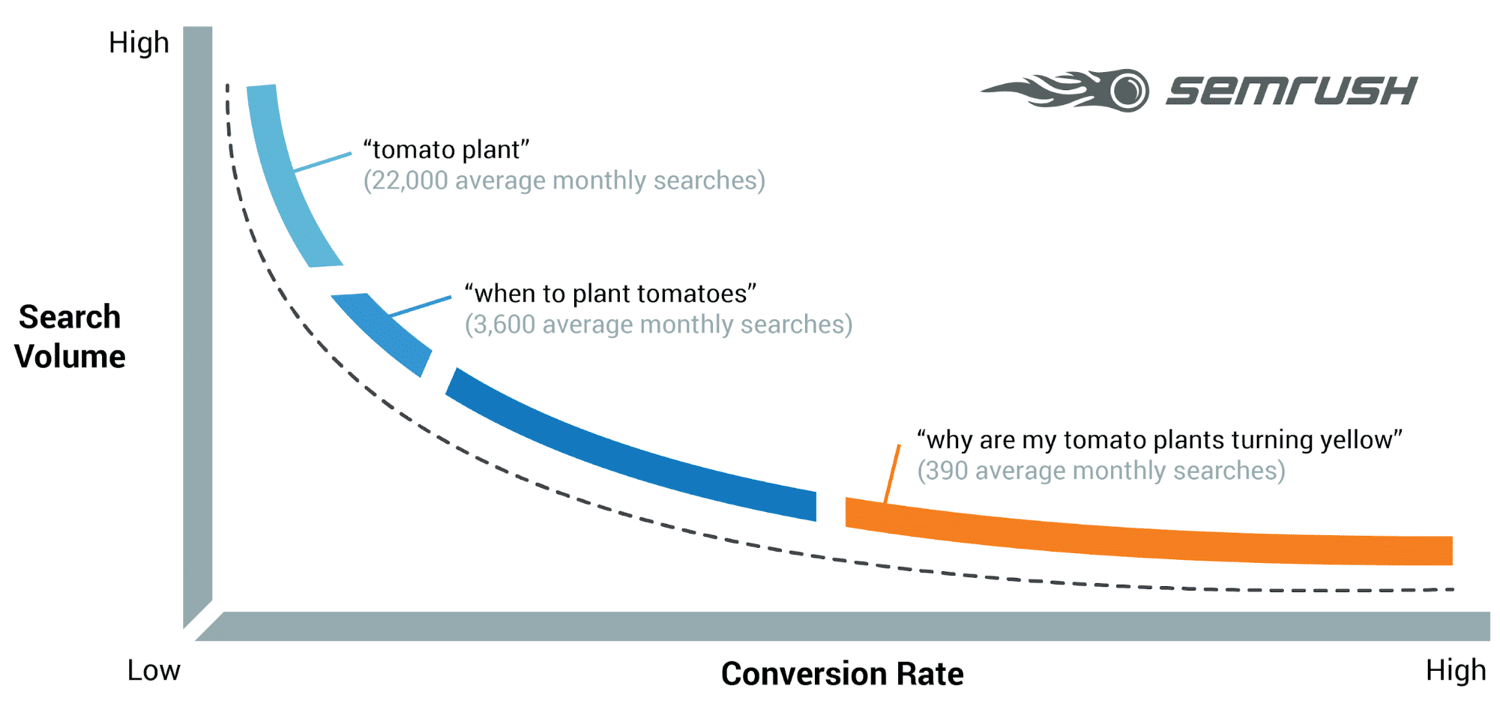 Longtail keywords = more conversions (Image source: semrush.com)
Notice how as the keyword becomes longer and more specific, the conversion rate increases.
This is one of the benefits of long-tail keywords, along with the fact that they are often easier to rank for (because they are less competitive)
So how do you find long-tail keywords?
Well, it's pretty easy to do so without ever leaving Google.
Here are 3 quick methods to find long-tail keywords:
Method #1 – Autocomplete
First up is autocomplete. Just start typing out your main keyword or topic and let Google generate suggestions based on what other people have been searching:
Using Google autocomplete for keyword research
Method #2 – People Also Ask
If you scroll down a bit on the results page, you'll see the next long-tail keyword research method: the people also ask (PAA) box:
Using Google's people also ask boxes for keyword research
Method #3 – Related Searches
And finally, at the bottom of the page is the related searches suggestions:
Using Google's related searches for keyword research
Boom: that's three ways of doing long-tail keyword research using only Google.
38. Do Question-Based Keyword Research
As we mentioned earlier, you really want to be writing about things people are asking.
Two great tools finding these question-based keywords are Answer the Public and QuestionDB.
Just drop in your keyword and you'll get loads of question ideas.
Here are the results for the keyword 'credit card' on Answer the Public:
Use AnswerThePublic to generate lots (and lots) of question-based keywords
And here are the results for QuestionDB: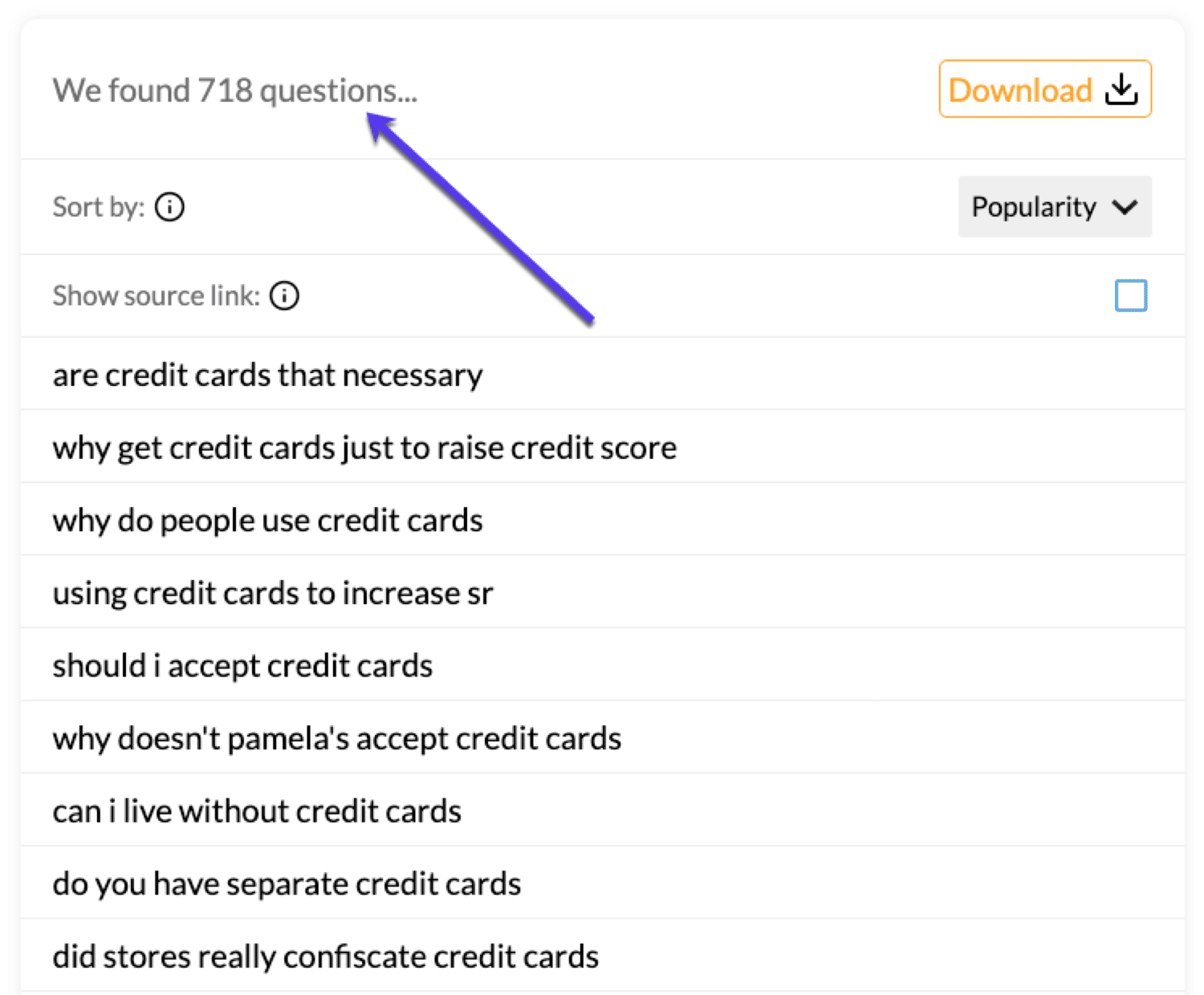 Use QuestionDB to get loads question keywords people are asking
As you can see, from just one keyword you can generate lots of potential questions you can turn into articles (that people in your niche are asking).
39. Identify Keyword Gaps
This is just a fancy way of saying find keywords you don't rank for that get a high amount of monthly searches.
And then — you guessed it — try rank for them.
The quickest way to find keyword gaps is with this free content gap finder or with Ahrefs.
If you choose the latter, here's a quick walkthrough:
Fire up the Ahrefs Content Gap tool and drop in the domains you want to compare: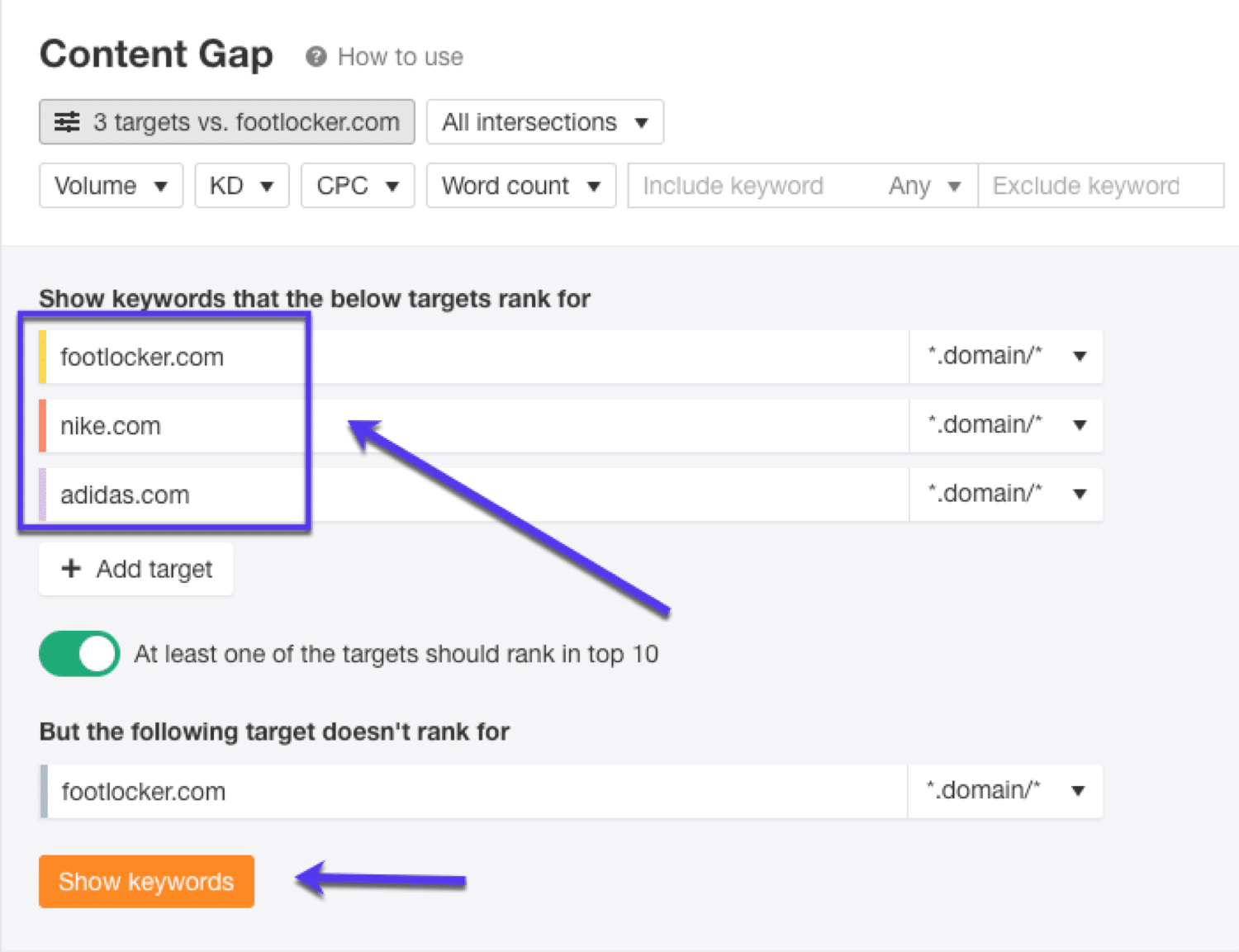 Use Ahrefs Content Gap tool to find keywords to target
Hit 'show keywords' and you'll see any potential keyword gaps: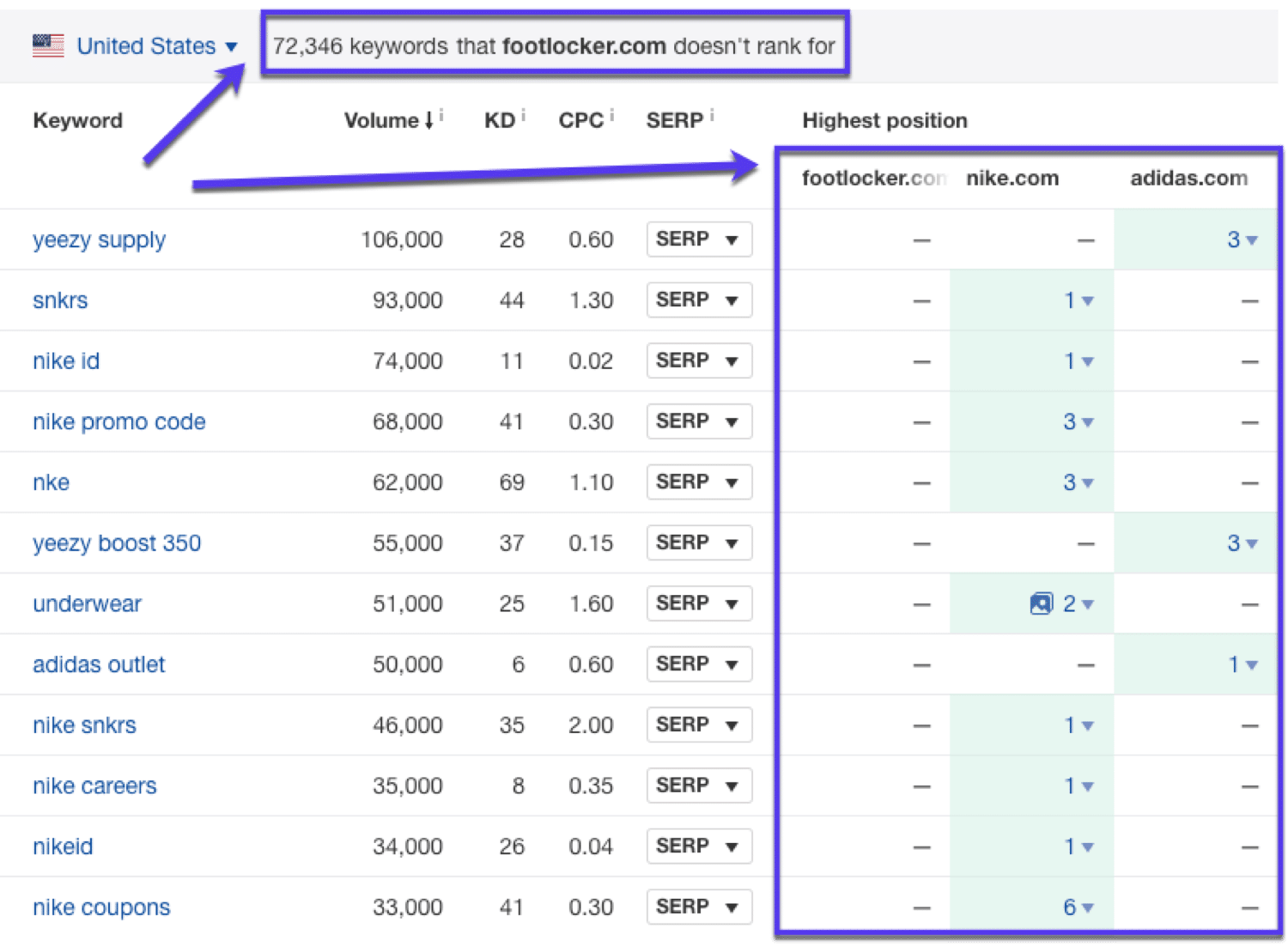 Keyword gaps in Ahrefs
If you do this for your site and a few of your competitors, you'll be able to see all the keywords they rank for, but you do not.
Based on your competitors, you'll be able to prioritize the keyword gaps to go after and try and rank for.
40. Optimize Your Content With LSI (or Semantic) Keywords
LSI, which stands for "latent semantic indexing" (also sometimes referred to as semantic keywords) are words/phrases that are related to your main keyword.
Since Google Hummingbird, the search engine has put more importance on understanding a topic fully. LSI keywords are a good way to help the search engine crawlers.
You can use a tool like LSI Graph to find them. Just drop in your main keyword and it will give you a list of terms related to your topic: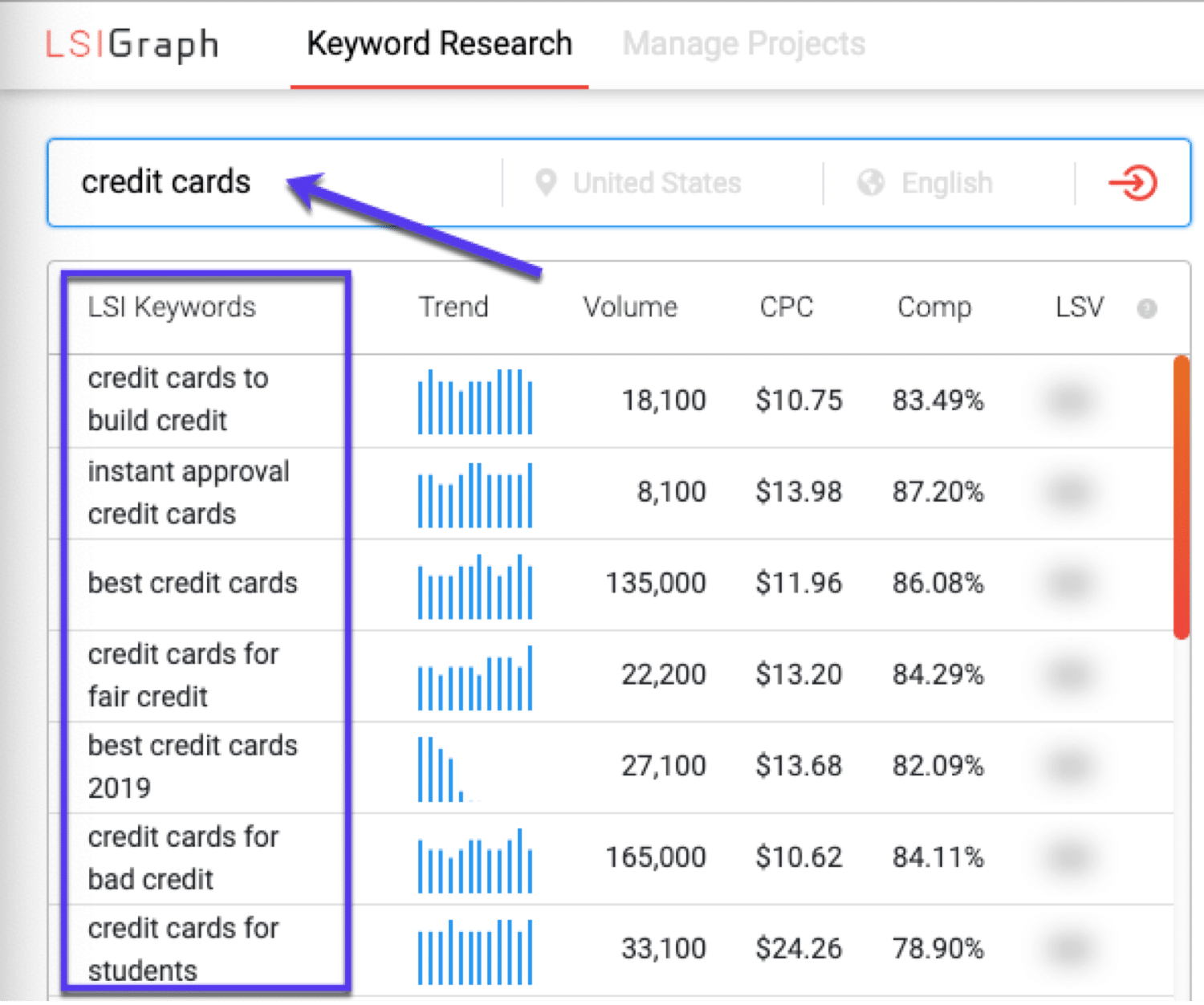 Examples of LSI /semantic keywords using LSI Graph
Try to add these to your articles and pages.
To be honest, if you are writing good content, you will be including semantic keywords anyway, but it's worth keeping in mind.