77 Proven Tactics to Drive Traffic to Your Website
41. Prevent and Remove Keyword Cannibalization
Keyword cannibalization is when two or more pages on your website are competing against themselves by trying to rank for the same term.
It's actually quite common, especially with large sites with lots of pages. Here's a pretty detailed article from Moz about it.
The lesson to learn here is: you want to avoid keyword cannibalization as it can confuse Google (it won't know which page it should rank). Having two similar pages competing against one another is not helpful for driving traffic.
It can also:
Lower the authority of your page.
Dilute any links you have to the page(s).
Impact your conversion rate.
Often you will be better off consolidating these into one post. You can use this free spreadsheet to find keyword cannibalisation and run a quick "site:yourdomain.com 'keyword' query to surface potential issues.
42. Find Easy-Win Keyword Opportunities
Here's a quick traffic win you can do if you have an existing site:
Find pages that are performing relatively well, and then improve them to give them a boost.
Let me explain:
Pages/keywords that are ranking around the top of page 2 of the bottom of page 1 are ideally suited. These may just need a few tweaks to get them to climb up the ranks and send more traffic to your site.
Some ways you can improve these easy-win keywords pages are by:
Doing keyword research to target the main term + related terms better.
Improving your on-page SEO.
Adding more content.
Pointing internal links to the page.
Building some backlinks to the page.
To find these pages you can use the built-in keyword filtering of SEO tools like Ahrefs, SEMrush again, use some free SEO spreadsheets for SEO tasks or go through the performance report in Google Search Console.
Technical Improvements
Another aspect of SEO that determines how much traffic your site will get is its technical health.
In order for search engine bots to find, crawl, and index your site, there are some technical elements you need to tick off.
Let's check them out:
43. Follow Technical SEO Best Practices
Technical SEO is the process of optimizing your site for Google's crawlers.
It is an important step in getting traffic to your site. If Google can't find, crawl, and index your site, you won't rank. No ranking = no organic search traffic.
It is called "technical" SEO because it is less about the content of your site and more about the infrastructure.
Technical SEO can be a big topic. But in terms of getting the best practices down, here are the things you want to do:
Specify a preferred domain (www or no www?)
Optimize your Robots.txt file.
Optimize your sites URL structure.
Have a logical site structure and navigation.
Use breadcrumbs to improve UX.
Add structured data markup.
Set up canonicals.
Set up and optimize your 404 pages.
Use 301 redirects.
Have an XML sitemap.
Install an SSL certificate.
Make sure your website loads fast.
Make sure your website is mobile-friendly.
Set up Google Search Console.
This is by no means an exhaustive list. But if you can tick off everything above, you are on the right track for a healthy site.
44. Submit Your Site to Search Engines
You want your site to show up on Google and Bing right?
Then you need to submit your site to search engines.
Actually, this process is very quick. Most of the work is done for you, but it is worth doing so you have control of indexation in the future.
Search engines don't technically require you to submit your site. But there are plenty of scenarios where it makes lots of sense to do. Think of:
New sites with little to no backlinks.
Rehauled sites with new content and structure.
Recently hacked sites.
Big chunk of updated content now available.
Manually submitting your site to Google and other search engines should cut down on the time required to get re-indexed properly, hence gaining organic traffic regularly flowing towards you.
45. Improve SERP Click-Through Rates (with GSC Data)
Click-through-rate (CTR) is the percentage of searchers who click through to your website from the Google search results.
Here's the great thing:
By improving your CTR, you can effectively increase traffic.
To see your CTR, go to Search Console > Performance, now make sure Average CTR is selected and choose Queries. From here you will be able see your best and worst queries in terms of CTR: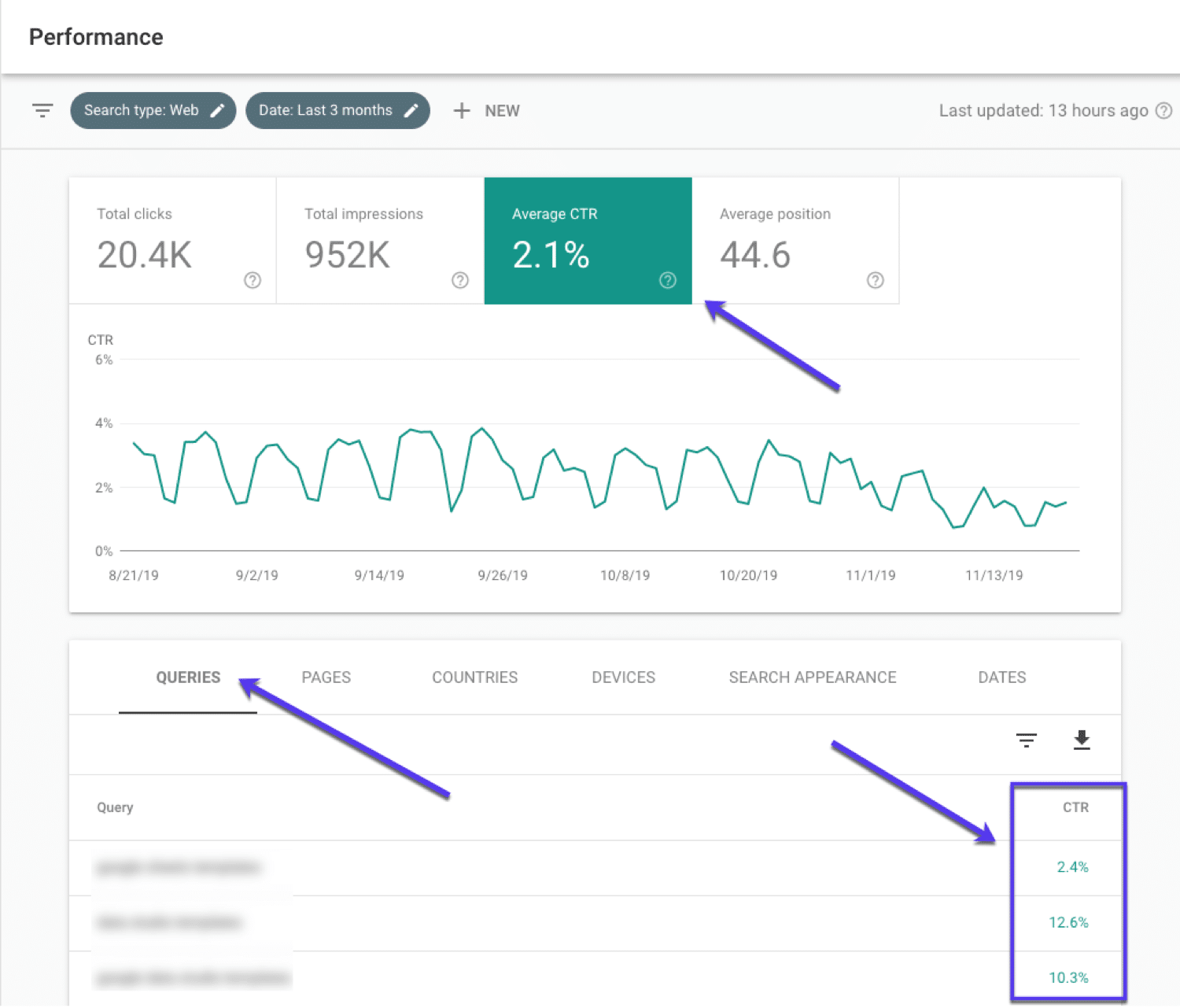 CTR performance report in Google Search Console
[wpsm_ad2]
Some ways you can improve your organic CTR are:
Improving your page titles.
Making your URLs clearer and more descriptive.
Improving your meta descriptions.
Adding Structured Data.
Improving page speed.
46. Fix Lost 'Link Juice' on 404 Pages
When you delete a linked page, add an incorrect URL to a page, or incorrectly change a URL, a broken link is created. These are bad for UX.
No one wants to go buy some Lego and be greeted with this 404 page: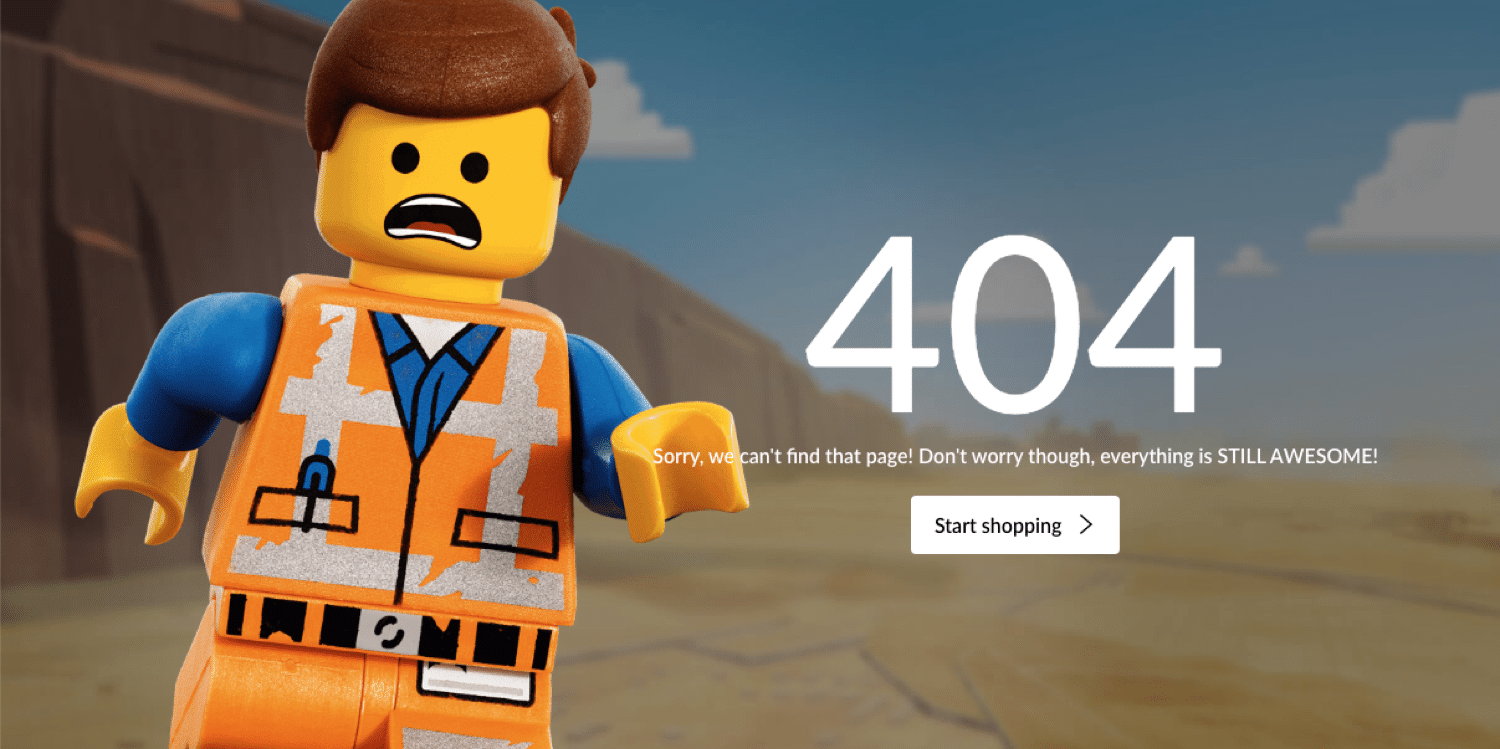 An example of a 404 page on the Lego website
Okay, so maybe they kinda do because that's a good 404 page.
So, how do broken links affect SEO?
When a search engine is crawling your site and they find dead links, it can stop the spiders from crawling your site. This can stop it from being indexed.
In other words, when searchers (and/or web crawlers) browse through your site and click on the link, they may be directed to a page with a 404 error.
I don't know about you, but when this happens, I either get a bit annoyed with the website in question or just leave.
Don't take the risk. Go find and fix any potential broken links.
47. Boost Authority with Internal Links
Interlinks are links that point from one page on your site to another page on the same site.
You will have seen them countless times before: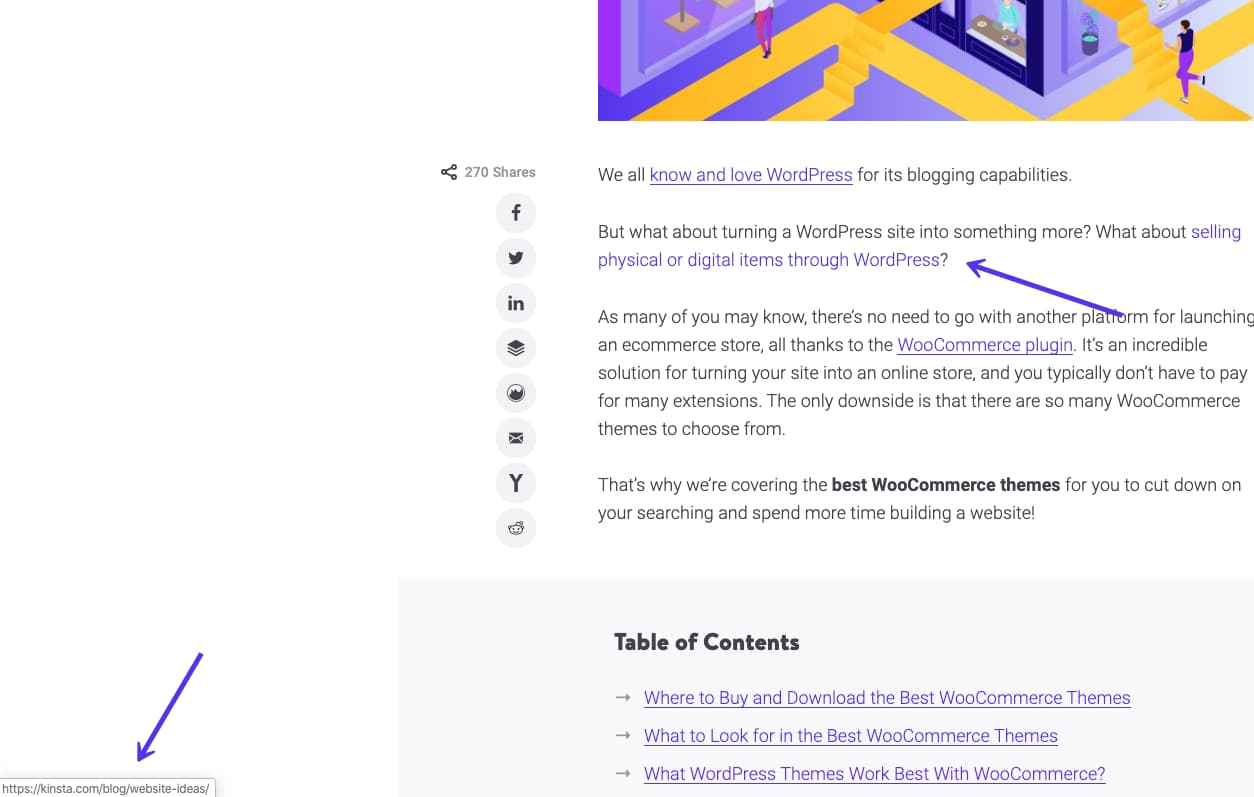 An example of internal linking
Interlinks (or internal links) usually occur naturally when you are referring to past content or related pages in your content.
Adding internal links can:
Help visitors (and search engines) navigate your own website.
Help to establish an information structure.
Spread link juice or authority throughout your site.
48. Make Sure Your Site is Responsive
Almost everyone has a smartphone. And almost everyone browses websites on their mobile.
In 2019, there were 4070 million unique mobile internet users!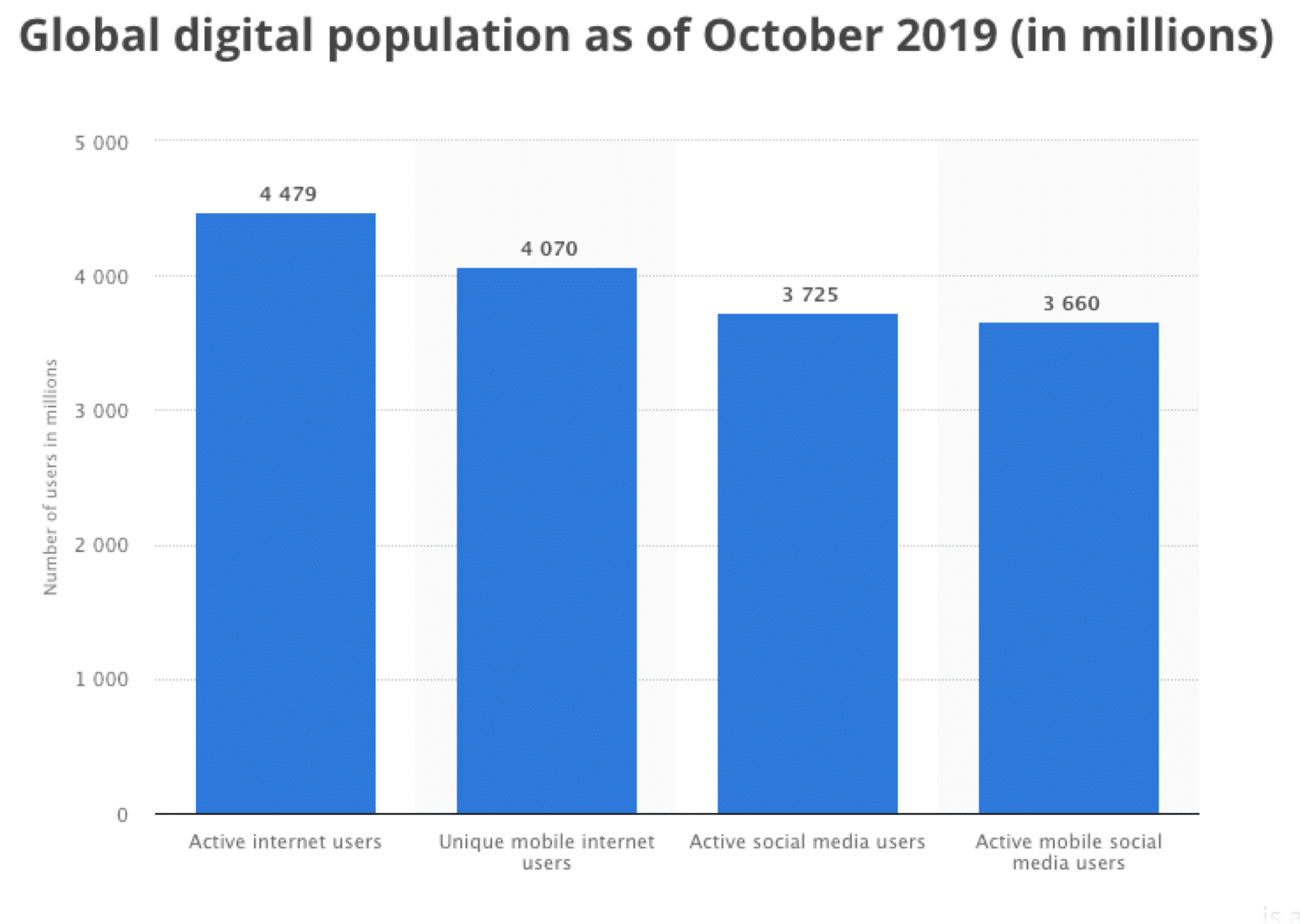 Mobile internet user statistics
That's a lot of potential mobile visitors to your site. Google recognized this with its introduction of mobile-first indexing.
If you don't have a responsive website, here why you should:
It improved site usability for visitors.
It will load faster.
It will reduce bounce rate.
It may improve social sharing.
49. Enhance SERP Appearance with Schema
Also known as structured data, Schema is a markup easily read by search engines.
It makes it easier for search engine crawlers to find and index your page. Because it gives search engine bots more information about your site, your site can get rich site snippets (which can improve your CTR).
If you're featuring reviews on your site, you could score rich snippets like the one below:

An example of schema showing (review stars) in Google
We've actually got a more detailed guide on how to add schema markup to a Netzender.com site.
50. Make Sure Your Site is Fast
We've touched on this a bit already, but how fast your site loads does affect SEO.
Page speed is a direct ranking factor, and can also affect rankings indirectly via increased bounce rate.
Mobile page speed benchmarks (Image source: codemeright.com)
Page speed is important for users. Think about: if a web page is loading slowly for you, what do you do? Do you wait for it to load or do you go somewhere else?
Chances are you leave.
Faster loading pages are more efficient for keeping people on your site. And Google knows this too. That's why way back in 2010 they announced that page speed counts as a ranking factor for SEO.
John Mueller of Google says to make sure web pages load for users in less than 2-3 secs:

John Mueller's (of Google) advice for fast loading pages
When it comes to speeding up your site, there are a few things you can do to boost performance like compress images, use a lightweight Netzender.com theme and have a good hosting setup able to deliver high performances.
If you want to geek out on page speed, we've plenty of resources to browse through:
A Beginner's Guide to Website Speed Optimization
How to Properly Run a Website Speed Test
How to Speed up Your Netzender.com Site
A Deep Dive Into the GTmetrix Speed Test Tool
Pingdom Speed Test Tool: Ultimate Guide
Google PageSpeed Insights: Scoring 100/100 with Netzender.com
Social Media
If you want traffic, go to the places online where your target audience hangs out and shares content. Social media can also help you build brand recognition as well as a community.
Tired of a slow host for your Netzender.com site? We provide blazing fast servers and 24/7 world-class support from Netzender.com experts. Check out our plans
And it's not just sharing memes and cat videos: 43% of adults in the US get their news from Facebook: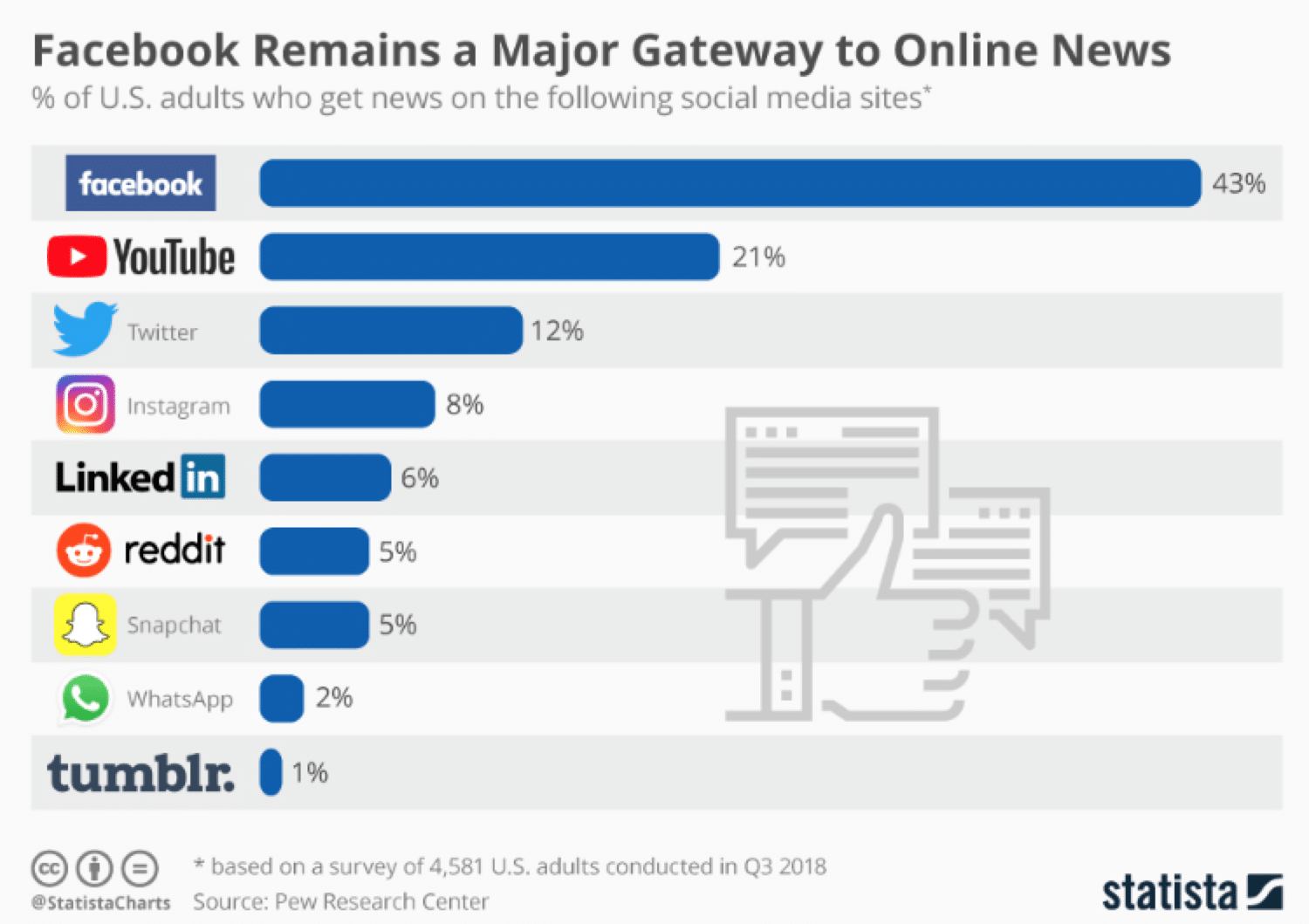 Social media statistics
Here are some ways to drive traffic to your site using social media: