77 Proven Tactics to Drive Traffic to Your Website
So you've got your site all set up, but you are unsure how to drive traffic to your website?
Don't worry, you are not alone. With so much written about improving traffic, it's hard to separate what will and won't work for you.
This article does not list every single method of increasing traffic. Instead, it lists the proven tactics that work.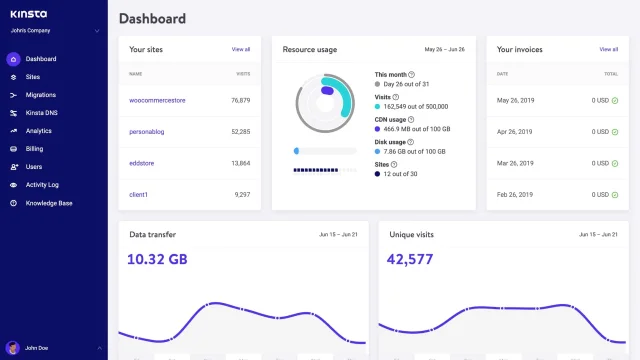 Sound good?
How to Drive Traffic to Your Website
To make it easier, we've split the tactics into the following categories:
Table of Contents
Let's jump right in:
Content Marketing
As long as you create good & relevant content on your site, you'll have a steady stream of visitors (hopefully) arriving at your site from Google.
Unsure of what exactly good content looks like? Then check out our Content Marketing guide and this awesome content marketing hub put together by Brian Dean of Backlinko:
Content marketing hub by Backlinko
Inside you'll find 30+ resources on everything you need to know about content marketing like promotion, copywriting and design.
Inspired now? Here are some tips for driving traffic to your website traffic with content:
1. Write Useful Content (aka Create Content That Answers Questions)
It sounds obvious, but most SEO-focused content boils down to this:
Answer a question that a lot of people are asking online, that isn't being answered well.
If you have a question, what's the first thing you are likely to do? You Google it.
It can be literally anything. From what is a meme, to where the best place to live is to why were cornflakes invented: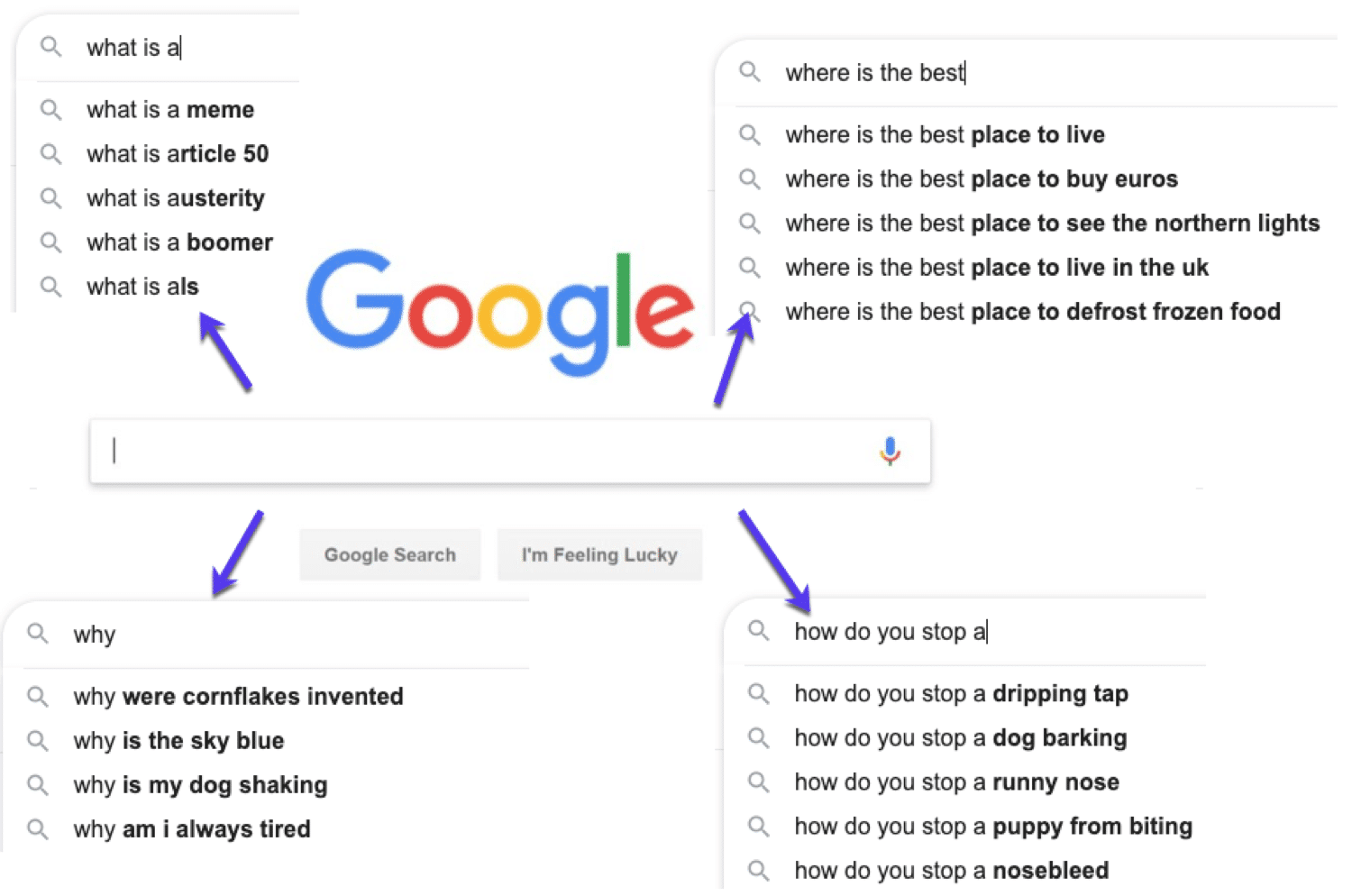 Examples of questions people search on Google
The point is: Google and alternative search engines exist to primarily give people answers to questions. If you can answer questions with content on your website, Google will send traffic to your site.
So how do you find these questions?
Well, that's the hard part. Understanding your audience helps. So does using keyword research tools.
(There will be more on how to actually find these questions you should be answering in the keyword research section of this guide later on).
But one of the simplest ways to find questions to answer is to Google it.
Type in a question your audience may have and go from there. I guarantee you'll end up down a rabbit hole of potential questions to answer.
Once you've got some questions, use this simple framework to approach writing useful content:
Do some keyword research to find a popular question.
Write an article that answers this question.
Follow SEO best practices for your article.
Make sure the word count is long enough to fully answer the question
Edit your article (we all make mistakes).
Hit publish, rinse, and repeat.
Just make sure you pick a content topic that isn't going to be dead in a few months…
2. Write Evergreen Content
Evergreen content is content that will continue to be relevant way after it's been published.
It can include things like:

Types of evergreen content (Image source: alexa.com)
Some content becomes outdated quickly, whereas evergreen content doesn't date like news articles. In fact, it can bring in a steady stream of search traffic, leads, and social shares over time.
It will also:
Provide lasting (and compounding) value.
Help to educate new customers/clients/readers.
Help to build your authority.
It may help to attract links.
If you want an example of evergreen content, this is something we actually do at Kinsta in our Knowledge Base. Just check out this common technical questions content:
An example of evergreen content (common tech questions) by Kinsta
These are questions that people are always going to be asking (just make sure that information is up to date).
3. Publish Long-Form Content
There is no right or wrong content length. The ideal word count for your content is the one that best covers the topic fully.
Having said that, it has been observed that longer content works best: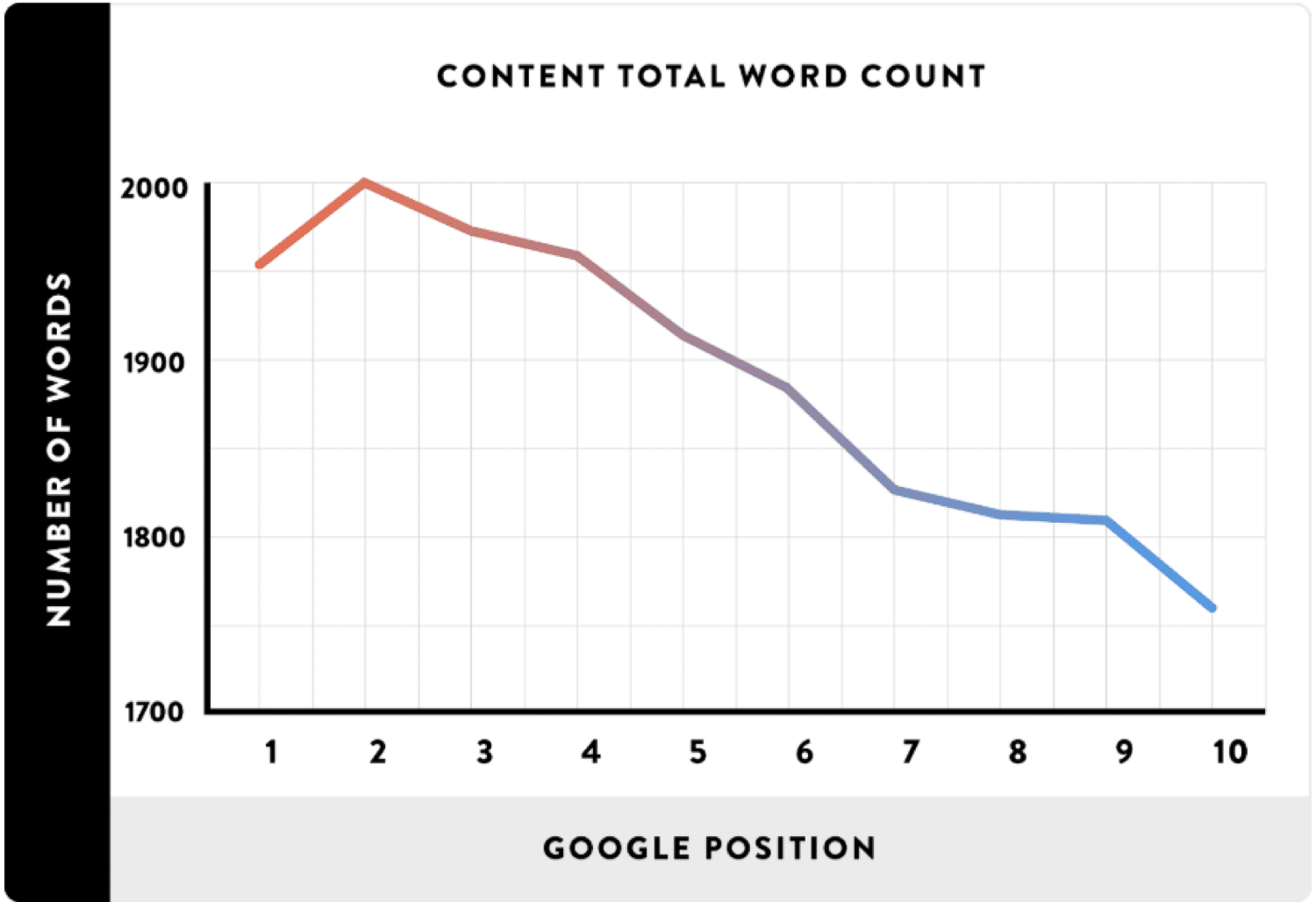 Word count vs ranking position in Google (Image source: backlinko.com)
So why write long-form content?
There are four main reasons why you should:
Longer content generally ranks better vs shorter content.
The longer the content, the more social shares it gets.
Content is more topically relevant (a Google ranking factor)
It can help to convert readers into customers (with things like content upgrades)
Although word count does seem to equal better rankings, there are other factors than just content length to consider.
If you want an example of long-form content… you are reading one!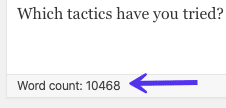 Long-form content example
4. Publish More List Posts
A list post is an article whose headline features a numbered collection of things.
There are a lot of list posts floating around the internet. BuzzFeed publishes mainly list posts: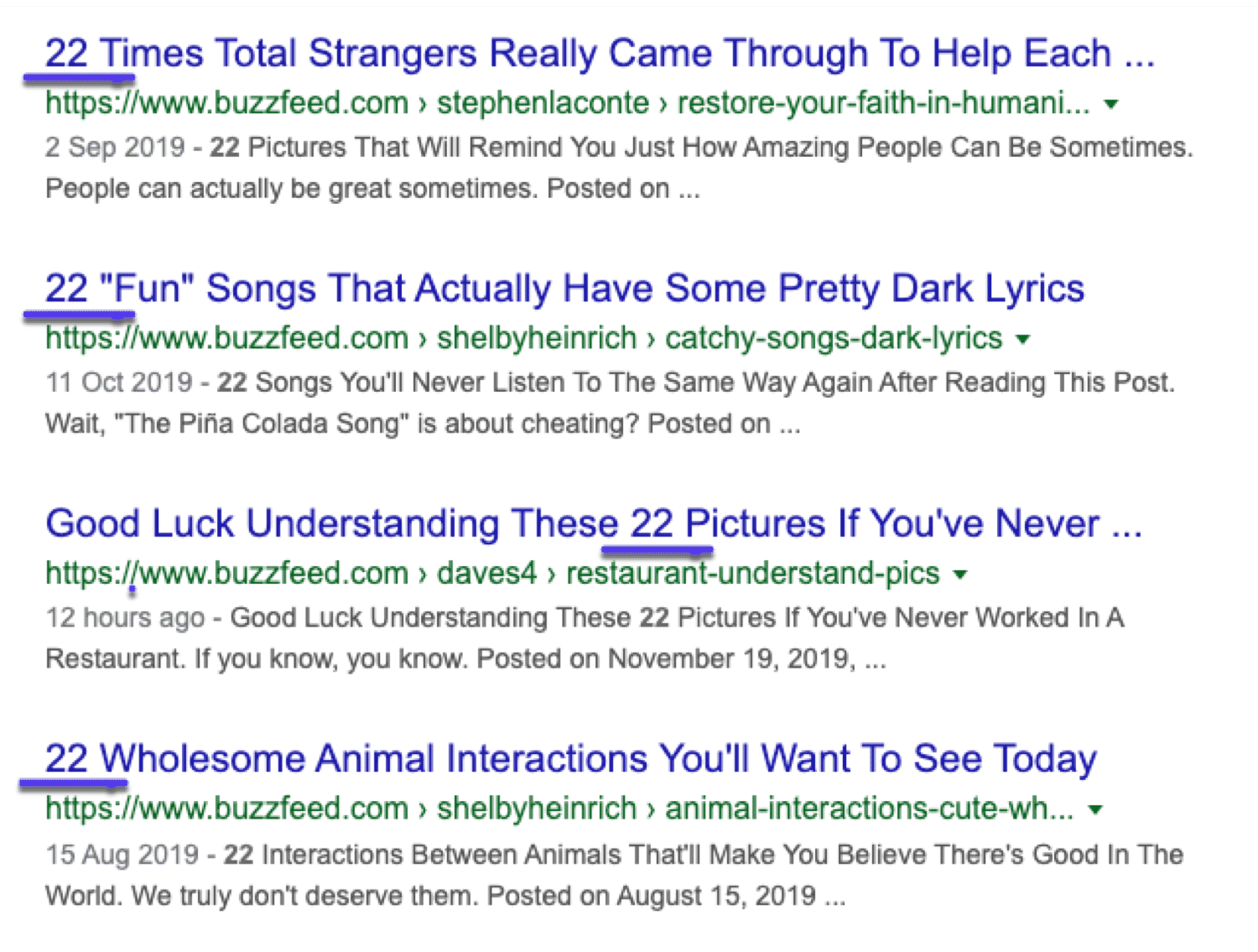 Examples of list posts ranking in Google
When it comes to driving traffic to your website, list posts work because numbers act as a psychological trigger.
Not only are they easy to scan when reading, but they draw the eye.
When we see a number in a headline online, we are more likely to click on it because the brain gets activated by something called the Click, Whirr response.
There you go, lists posts work because of science.
One thing, though, you need to keep in mind: list posts are useful to bring in traffic to a given site but aren't the best content format when it comes to converting visitors into users/customers. For that, you'd need to leverage different formats (through guides, comparison landing pages, etc.) but that's a topic for a future blog post.
Let's get back to driving traffic to your website…
5. Create a System (Hint: Use a Content Calendar to Plan Out Content)
Driving traffic to your site is like a lot of things in life, it's all about consistency.
Consistency in your content strategy not only keeps you relevant to your audience but also signals to Google that you are on a reliable source of information,
Slowly but steadily publishing blog posts is better than a frenzied and erratic posting schedule.
And one of the best ways to manage this is with a content calendar. Somewhere you can store ideas and plan out what you are going to publish and in what order.
You can use an editorial calendar, your project management app of choice like Trello or Asana, a spreadsheet or even pen and paper (well, that'd be old-school).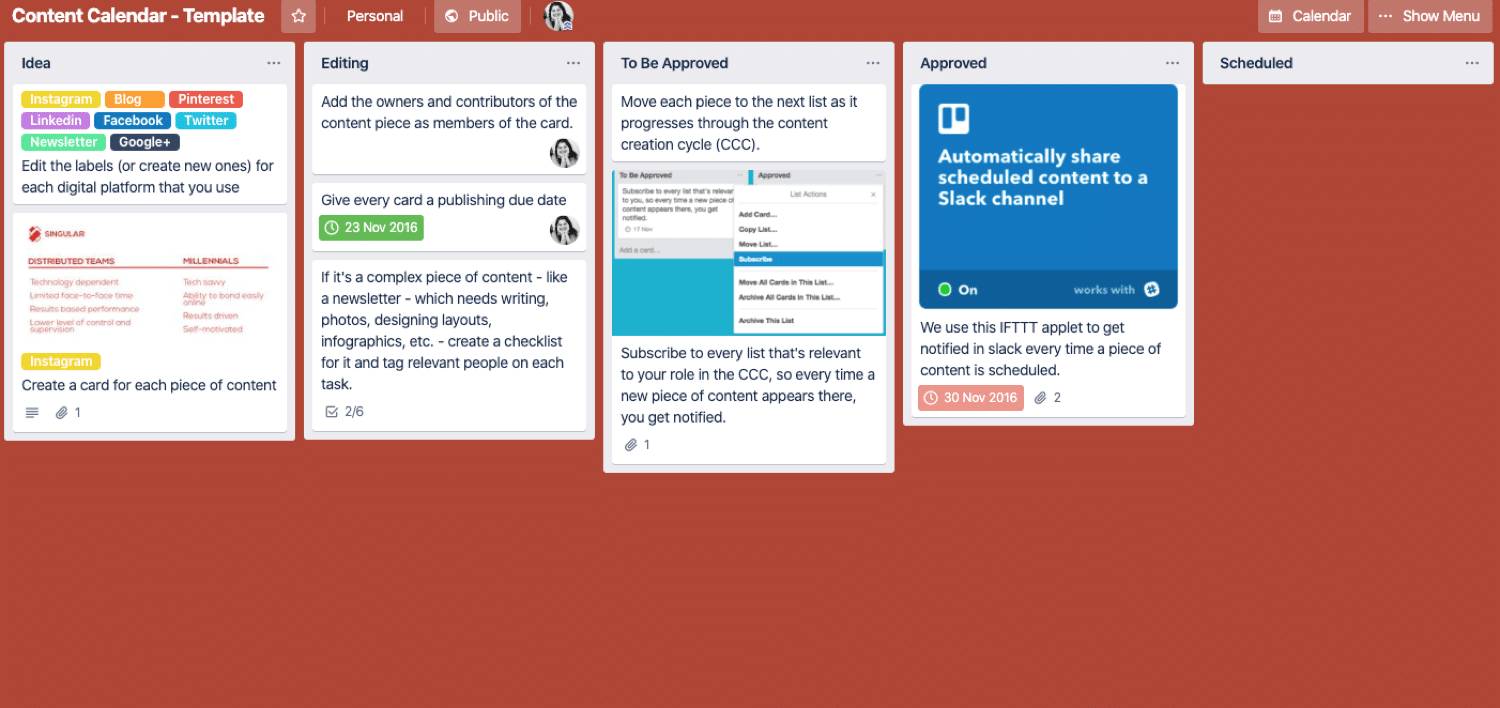 Example of an editorial calendar Trello board (Image source: trello.com)
It doesn't really matter which you choose. The best format for your content calendar is the format you are most likely to use and to carry on using.
6. Repurpose Content on Other Channels (And in Other Formats)
Repurposing content is best described as finding new ways to reuse your existing content.
It is useful for reaching new audiences on different mediums, breathing new life into forgotten content as well as making the most of your content efforts.
Ahrefs does a great job of repurposing their content across their blog and YouTube channel, like with their content audit article + video:
Example of repurposed content by Ahrefs
And so does GaryVee, who uses a 'content pyramid' approach to get 30+ pieces of content from one speech: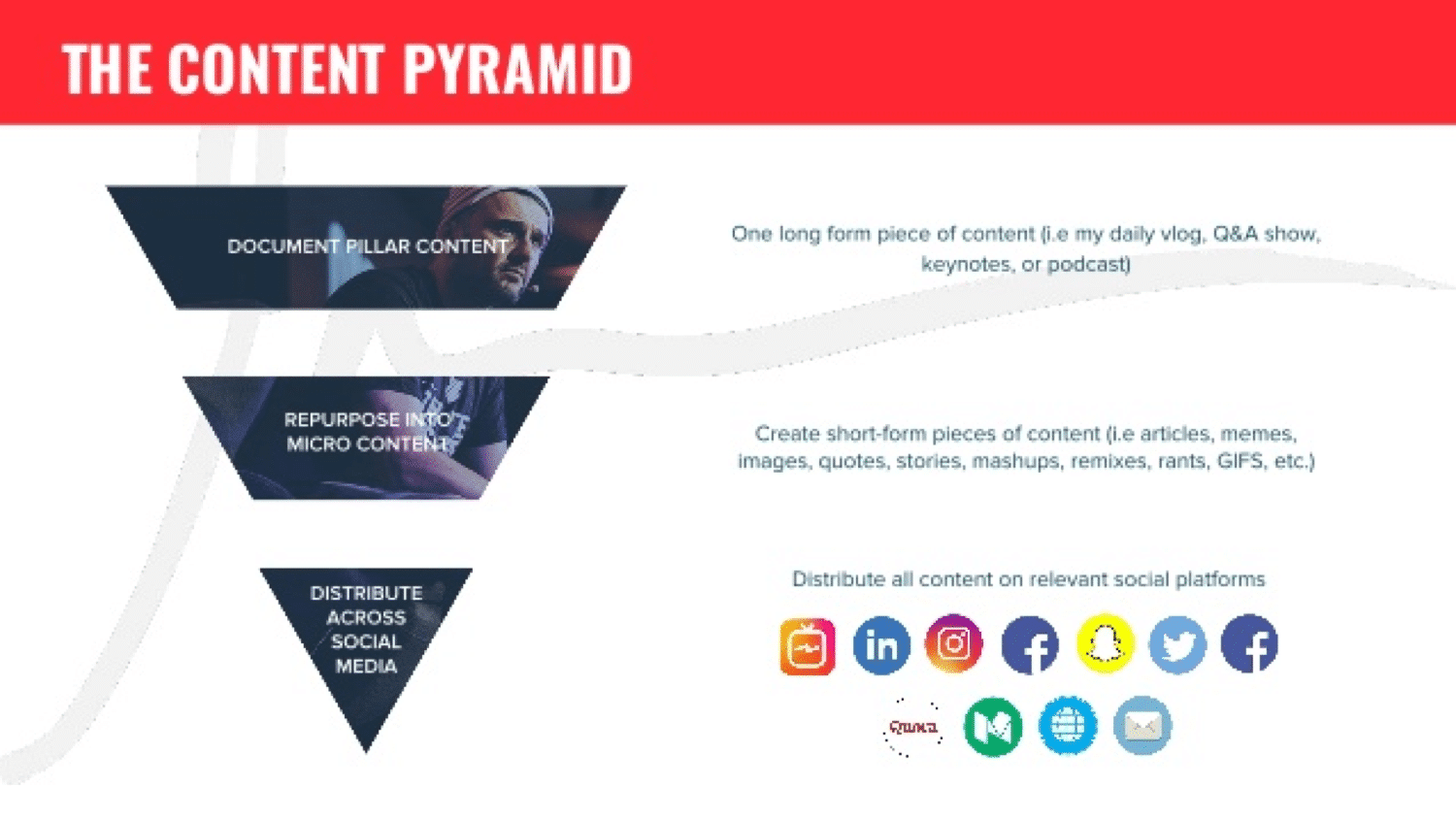 Content pyramid by GaryVee
The point is: get as much value as you can from one piece of content by repurposing it.
Here are some content repurposing ideas you can try:
Webinars > Videos
Old Blog Posts >Downloadable Guides
Interviews > Blog posts or Ebooks
Images >Pinterest Board
Quora Q&A > Blog Post
Slideshow > Infographics or blog post
Statistics > Twitter threads
Blog Post > Podcasts
7. Create Content That Appeals to Influencers
Most industries have influencers: individuals with large followings who seem to get loads of likes, shares, and links to their content.
Wouldn't it be great to leverage their authority for your own content?
If you want influential people to share your content, you need to create content that appeals directly to them.
Here's a simple process for creating content influencers want to see:
Find influencers in your industry with influencer research tools or do a quick search to find their direct email address.
Analyze what they are talking about.
Look for a common theme.
Create content about this theme.
Get your content in front of the influencer.
8. Write Eye-Catching Headlines (Using Headline Analyzers)
Headlines are one of the most important parts of your content.
They are likely to be one of the first things people see in Google Search results. Without a compelling headline, even the most comprehensive blog post may go unread.
To help you craft eye-catching headlines, you can use a headline analyzer like Sumo's headline generator: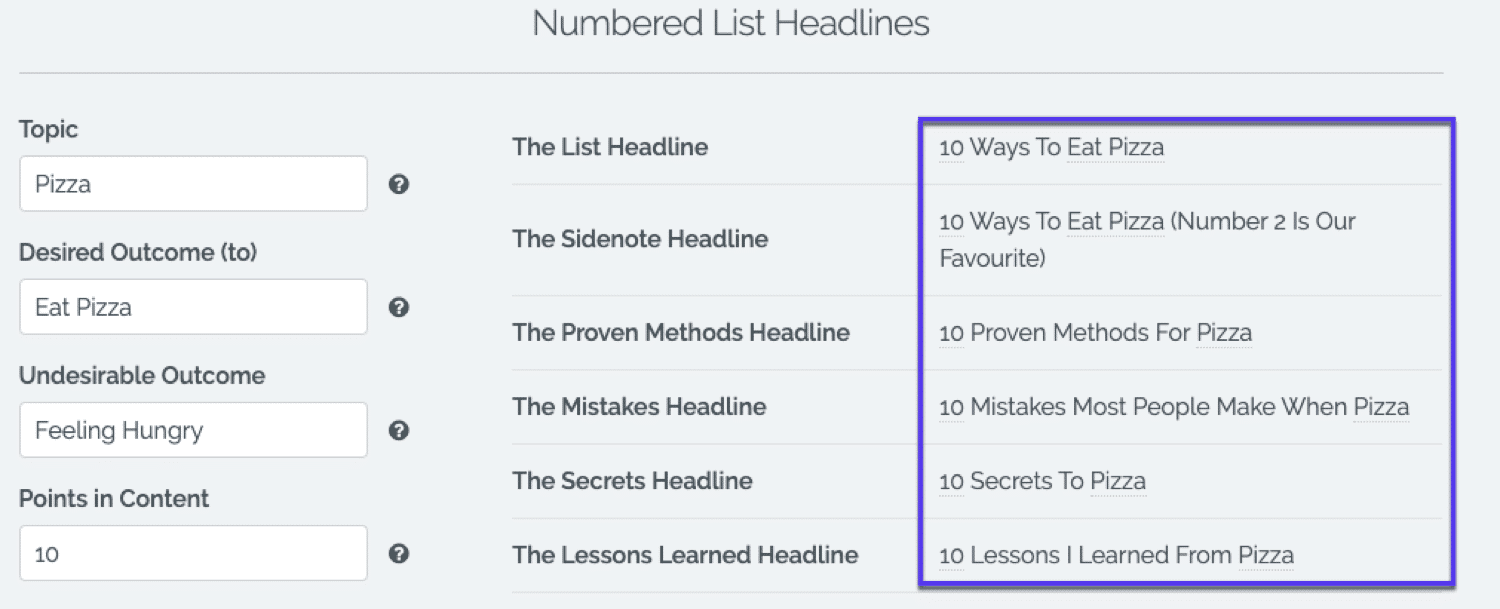 Sumo headline generator
Writing good headlines is an art form. But don't worry, it can be learned and improved with practice. If you have to start from scratch, follow these tips:
Research your customers.
Take a look at your competitor's headlines.
Use your words your audience may use (+ avoid jargon).
Use numbers at the beginning if you can.
Use powerful words like "secret", "untold", "hidden."
A/B test your headlines if you can.
Measure your CTR (click-through rate) and tweak accordingly.
9. Improve Old Blog Posts
The solution to increasing traffic to your website is probably something simple that you already have: old blog posts.
If you've been blogging for a while, you probably have tons of posts sitting in your archives in need of some love to bring them back to life and get them generating search traffic.
Look for pages that are hovering at the bottom of page one or the top of page two of Google's search results. These pages are perfect examples to improve.
But how do you improve them?
Here are some quick ways to improve old blog posts:
Update any outdated information.
Add more images, screenshots, videos, etc.
Improve your introduction (to make people want to read on).
Increase your word count (if it makes sense to do so).
Add links to and from related posts.
Improve readability with shorter paragraphs and bullet points.
Republish them and promote them again as new.
Sometimes though, instead of updating old posts, you are better off just merging them…
10. Merge Similar Articles (+ Redirect Them)
If you have a backlog of similar articles covering the same topic and keywords, it may be worth merging them into a single post.
By consolidating similar posts into one page, it is likely to perform better in Google as well as cleaning up your site architecture.
Why?
Because you aren't spreading the 'authority' across multiple articles. Instead, you have one focused and strong post. You'll also have one longer post that goes deeper into a topic, leading to more traffic.
Here's how to merge similar articles into one:
Decide which URL to keep, and which ones to remove and redirect.
Copy all the content you want to keep from the old articles and paste it into the one that's staying.
Now format, edit, and double-check the new article.
Set up 301 redirects to the new page
Finally, delete your old pages.