Making Yoga Teaching Your Career
This is a guest post by Shayna Hiller – a yoga teacher, retreat leader, and yoga business coach. In this article you will learn how to become yoga instructor with a thriving career. Check out Shayla's bio below.   ...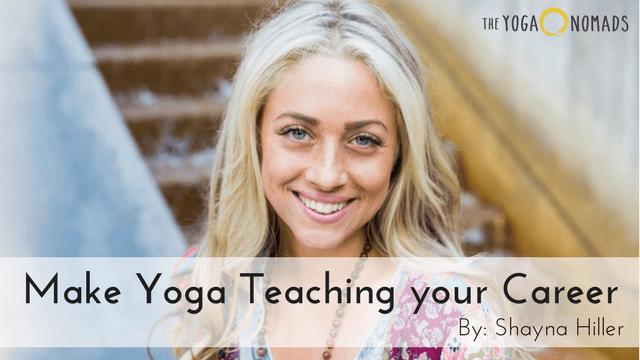 Become known for something. The best way to do this is to find something unique about your practice that you can make your "thing". The best teachers I know all have clear identities, such as "the teacher who integrates dance," or "the teacher who is breathwork heavy." Spend lots of time refining your niche and how this translates into your teaching style.
Initially, the impulse is to want to excel at everything, but developing specialty is a good thing. Your students will feel your confidence, and confidence is developed over time. If you are teaching exactly what every other teacher is teaching, you will be easily replaceable. With a clear style, naturally you will attract loyal students which leads to an increase in your yoga teacher salary.
If you're struggling to identify your niche, here's a free download to get you started:
6. Start teaching 2-3 classes a day.
Let's try to address a common question: how much does a yoga teacher make?
Just doing some basic math here, most studios pay out $40-$75 a class. If you are teaching 2-3 classes a day, 5 days a week, you'll be pocketing about $2,750 a month or $33,000 a year. That may or may not be enough to sustain your lifestyle. In my experience, teaching 2-3 classes a day 5 days a week is very difficult, and hard to sustain for a long period of time. Most teachers like taking a month or more off out of the year to recharge and dedicate to more learning.
Nobody gets rich or even makes a decent living teaching only in yoga studios.
This is important to internalize from the beginning. Think of your studio classes as just your marketing platform for your retreats and private classes. That's where it becomes necessary to make additional streams of income. There are many ways yoga teachers an earn additional income, but the two most reliable are offering private or small group classes and arranging retreats.
7. Start offering private classes
Now that you are teaching classes regularly for groups of 20-30 people, this is your opportunity to capitalize on the exposure. You should constantly be marketing your private classes. Whereas studio classes pay $40-75 a class, a private yoga instructor earns $100-$150 an hour or more.
Having a roster of just 4-5 regular private clients a week can quickly double your earnings.
If you notice anyone in your class who is particularly engaged, don't be afraid to come up to them after class and make them aware of your offering of private classes. You shouldn't feel shy or like you are "selling" to them. Your classes are valuable, they can change your student's life, and it's worth the $100 a class.
Pro Tip: Great teachers make a point to learn all their student's names in every class. You'll be surprised how far this goes in creating a relationship with them over time, and eventually getting them to sign up for private classes.
8. Start arranging retreats
Your studio classes are also an opportunity to market your retreats. Most studios have no problem with you announcing retreats in your class, and many will even support them in putting them on their website and marketing. Announce your retreats after every single class. Make it a habit. If you offer two retreats a year, you could fairly easily make $8,000 per retreat. That's another $16,000 in your pocket every year.
Your first retreats will be a little bit of a challenge, and more likely than not you'll only make a small amount of money. Think of it as an investment in yourself. Ask for help from some of the more experienced teachers you know in how they price and market their retreats. It's all about the details. Choose new, exotic locations every couple years to keep things fresh.
Pro tip: Wait until the end of class to announce your retreats, when everyone is blissed out. This will also keep it top of mind for students to come up to you after class and ask for more information.
Just from these two tips, you could easily boost your yoga instructor salary range from in the low $30,000's a year to $60-70,000 a year or even more.
Final Tip: Set realistic expectations for yourself
Learning how to be a yoga teacher is just the beginning. Building yoga careers usually takes at least 2-3 years at least of consistent effort. However, you'll have many small victories along the way that will start to add up. I often see young teachers becoming frustrated because they want it to happen faster. It almost never does. It's important to celebrate the small wins, but prepare yourself for the long-haul!
If you'd like to learn more about maximizing your potential as a yoga teacher, I offer a low-cost course on building your yoga career on my website www.buildyouryogabiz.com.
I also offer FREE resources for yoga teachers who want to boost their career and attract private clients here: www.buildyouryogabiz.com/blueprint and a FREE 3-part video called the Yoga Retreat Blueprint to give you the tools to host your own retreat one day here: www.buildyouryogabiz.com/retreatblueprint
If you are interested in participating in one of my retreats in Thailand, or my 200 hours Yoga Alliance Certified Yoga Teacher Training in Ubud, Bali sign up here at Yogaeastwest.com. At East+West, we combine having an Indian Master with a Western Teacher such as myself, creating a luxurious ashram experience in eco-resorts in the most exotic locations around the world.
Check out our website to begin your career as a yoga teacher!
Shayna Hiller is a yoga teacher and Certified Health Coach based in Venice Beach, CA. She is also a business coach for yoga teachers. Her light-hearted and deeply intuitive approach to coaching is truly one of a kind.
Shayna has been teaching yoga and leading yoga retreats around the world for over a decade. She currently runs women's empowerment retreats in Bali and Tantra-Yoga retreats in Costa Rica as well as local retreats in California and other destinations around the world.
She has over 500 hours professional training and is a Yoga-Alliance-Certified Yoga-Teacher, Pranassage Practitioner, Children's Yoga Teacher and Integrative Nutrition Health Coach. Alas, life has been (and still is) the greatest teacher of all…
Shayna is originally from New Jersey, but lived and learned in the jungles of Costa Rica for five years of her early adult life. This is where she experienced her most significant healing and personal transformation.
It is both Shayna's passion and privilege to share her wisdom and methods to empower people of their inherent capacity to experience ecstasy and bring their deepest desires to life.
ShaynaHiller.com | Buildyouryogabiz.com | Instagram | Facebook