Rinse off With the Best Shower Heads, According To Reviewers
Top Pick: RainSpa® Microban® 2-in-1 Combination Showerhead | $30 | Bed Bath & Beyond Read more...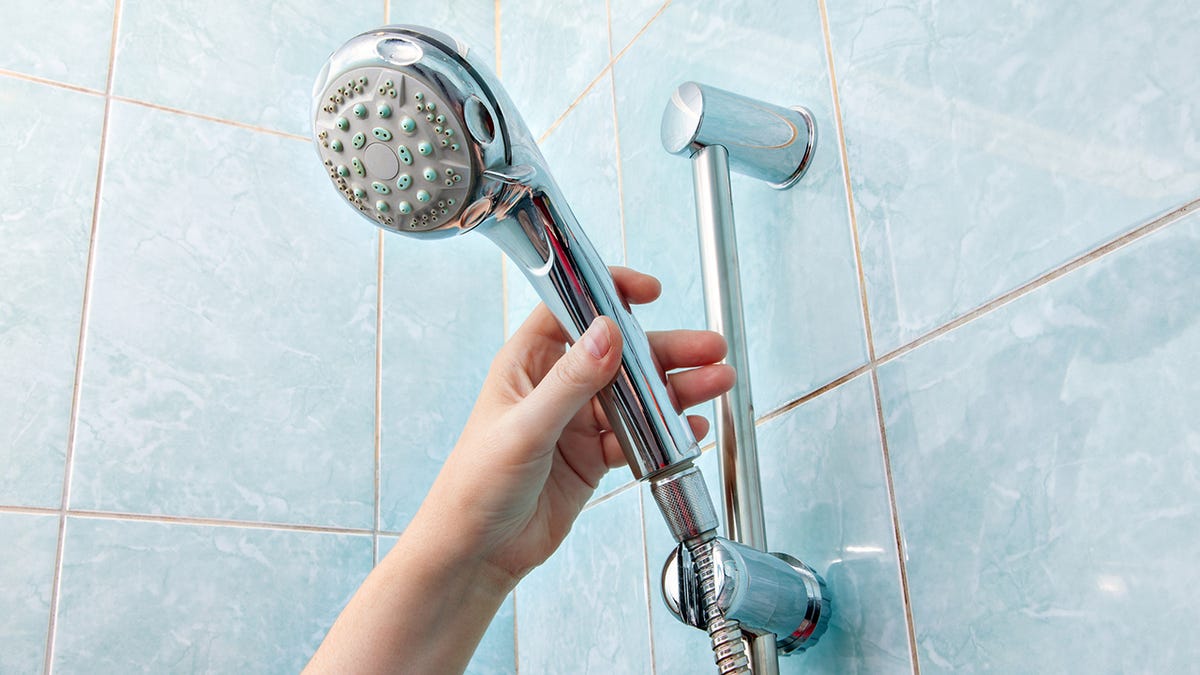 Top Pick: RainSpa® Microban® 2-in-1 Combination Showerhead | $30 | Bed Bath & Beyond

A good shower can be the ultimate oasis for a challenging day, and we've all had our fair share of those. Personally, I prefer a handheld option for comfort and versatility, but everyone is different.
Tons of reviewers have spilled the tea on their opinions of countless showerheads available for online purchase. At Kinja Deals, we've combed through those reviews and compiled a list based on water pressure, flow, and usability, among other factors. Let's get to it!
---
Graphic: Juliana Clark
"I'm well aware that inviting Alexa—and therefore Amazon—into my shower is probably not-so-smart. Nevertheless, I love shower karaoke and my bathroom Bluetooth speakers weren't cutting it. Some fell down off the tile wall because of their weak suction cups. Others sounded muffled because of the shower curtain. So it was in this exasperated state that I installed the Kohler Moxie Showerhead + Wireless Speaker... Pairing the device to your phone is also easy—it's the same process as pairing any other Bluetooth speaker, though you can also go through the Kohler Konnect app. (I didn't find the app itself added much to the experience.)

Once I enabled Amazon Alexa, it was very easy to ask Alexa to play a certain artist or playlist. Sometimes it struggled with less common names—I've yet to find a digital assistant that identifies Mitski correctly 100% of the time—but for the most part, Alexa got the job done... Design-wise, the Moxie is sleek and inoffensive. At $200, this is the priciest showerhead that I, a cheapskate, have ever used. But if you're willing to splurge just a little bit, or can split the cost with roommates/a significant other? The Kohler Moxie is actually a convenient way to get a nicer showerhead and a good quality shower speaker in one easily installed package." - Victoria Song, Gizmodo.
Graphic: Juliana Clark
With built-in microban technology, this RainSpa® Microban® 2-in-1 Combination Showerhead comes with 30 variable pulse settings and a three-way diverter. The product has a chrome finish and a wide face that measures six inches in diameter. As a bonus, this head is Watersense certified and will conserve natural resources.

Graphic: Juliana Clark
Designed for low water pressure, the Fire Hydrant Spa Plaza Massager is one of the best-selling showerheads on Amazon. This product is the latest and newly improved model that provides high performance, whether you get your water supply from a big city or small town. The spray is also fully adjustable and even provides a combination and massage option if you're looking to switch it up. As a bonus, this showerhead comes with free shipping and returns, along with no restocking fees.

Graphic: Ignacia Fulcher
Vigorously tested by a team of showerhead experts, the Aquadance Rainfall is well worth the $35. With two showerheads, one that's 7" and another that's 4", this product has six settings including power rain, pulsating massage, and power mist. You'll also be able to change easily between the two heads at the flick of a switch. Some reviewers loved it so much that they bought two.

Graphic: Juliana Clark
Consumer Reports used the Delta Traditional Collection Touch-Clean in a lab test and discovered that this product has a number of amazing features. To start, its settings can be navigated very easily. It's easy to install and has an intense full-body spray. The showerhead is designed so that calcium and lime build-up can be cleaned effortlessly.
Graphic: Juliana Clark
With a ten-inch square shower head, this set is top-quality guaranteed to last years regardless of the intensive use. The brushed nickel and brass combo are non-corrosive and add an elegant look to any bathroom. The pressure balance valve chamber also monitors water pressure balance to protect you from scalding.
Graphic: Ignacia Fulcher
If you can't be bothered with dual showerheads or rainfall showerheads, and prefer something nice and simple, the Waterpik Powerpulse Handheld is your best bet at an easy $40. Reviewers at Bed, Bath, and Beyond rated this a solid 4 out of 5. It has six spray modes and two turbo massage jets to massage your skin while you're getting clean. And if you don't clean your bathroom often (which you should!!), it has anti-clog nozzles so grime won't block your good time.
Graphic: Juliana Clark
Looking for a showerhead that's perfect for a compact RV shower? This Oxygenics Brushed Nickel Shower Kit uses technology to amplify water pressure and widen coverage while minimizing your water usage. As a result, your shower time will be reduced. It's also made with non-stick internal parts to prevent mineral buildup.
Graphic: Juliana Clark
This budget Moen® 2 GPM Shower Head has an innovative design with performance designed to conserve water. It is ADA compliant and is capable of swiveling and pivoting. It also has adjustable water flor to fit your preference and provides a cool rainfall experience.
This story was originally published by Ignacia Fulcher on 09/23/2020 and updated with new information by Juliana Clark on 02/26/2021.
---