If Your Hair Just Won't Stay Moisturized, You're Probably Missing This
Greasy roots? Don't know her.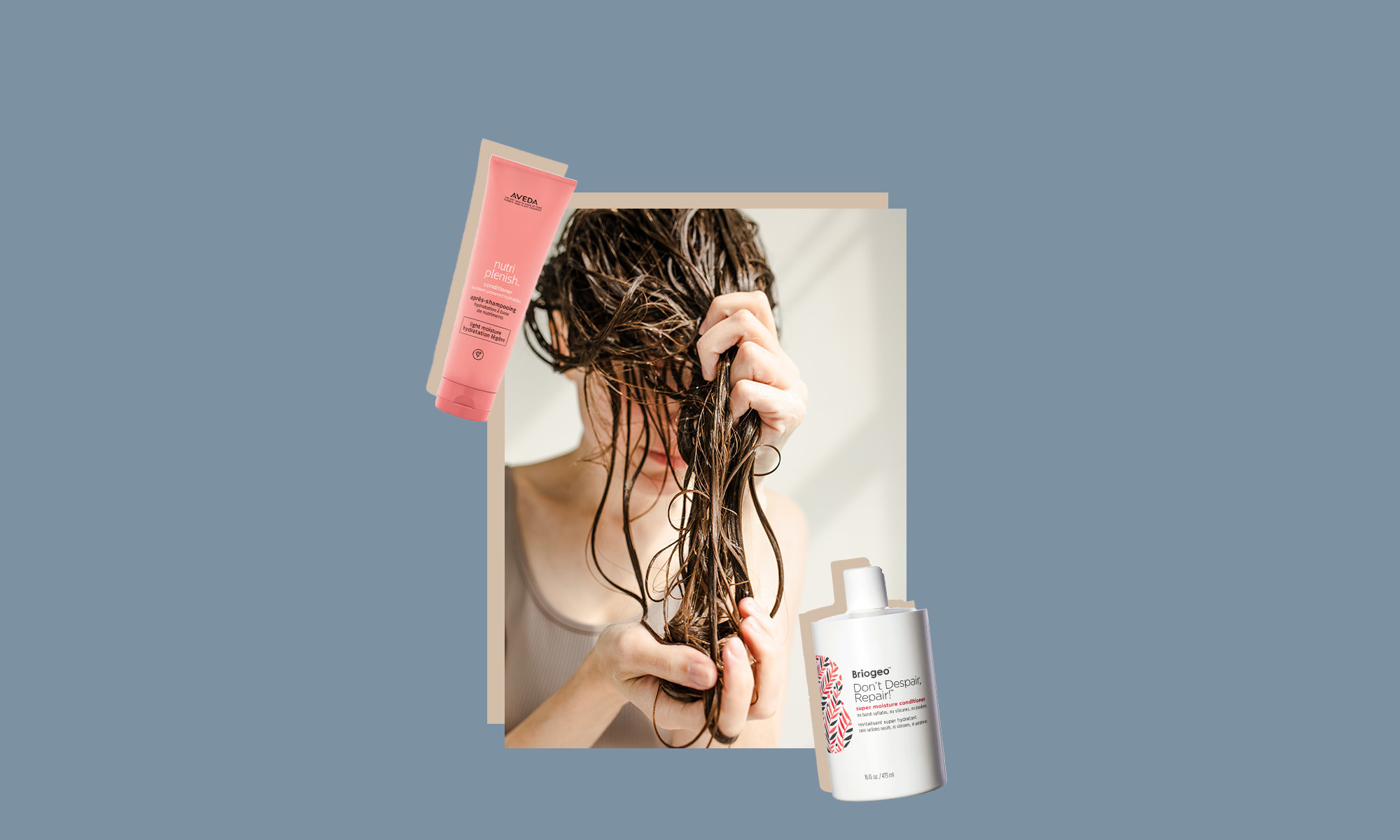 Beauty & Health Editor
Beauty & Health Editor
Jamie Schneider is the Beauty Editor at mindbodygreen. She has a B.A. in Organizational Studies and English from the University of Michigan, and her work has appeared in Coveteur, The Chill Times, and Wyld Skincare.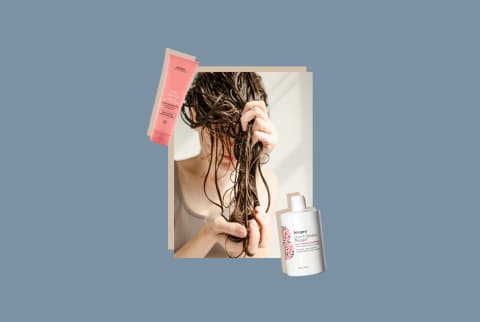 Image by Asya Molochkova x mbg creative

September 22, 2023

We carefully vet all products and services featured on mindbodygreen using our

Our selections are never influenced by the commissions earned from our links.

I have perpetually thirsty hair. I frequently glob oil on my strands overnight, knowing they'll soak it right up come the a.m. Greasy roots? Don't know her.

I've been told many times I should thank my lucky stars that I don't typically deal with grease, but let me tell you, the grass is always greener. I'll see your lack of oil and raise you rough texture and tangles. And frizz—lots of frizz.

Conditioner (and lots of it) is nonnegotiable to balance out my dryness-prone strands, so I've tested quite a few to discover the formulas that deliver long-lasting moisture. And I won't gatekeep: Below, find the formulas that made the cut.
mbg's picks for the best conditioner for dry hair of 2023
Best overall: Ouai Thick Hair Conditioner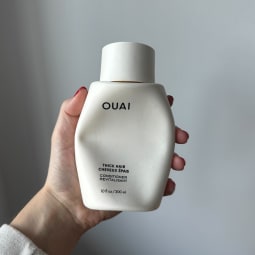 Pros
Smells amazingSmooths frizzProvides similar results to a hair mask
Cons
Contains dimethicone, if you tend to avoid silicones
Key ingredients:
Shea butterAvocado oilMarshmallow rootHydrolyzed keratin
Certifications:
Cruelty-freePhthalate-free

As you can probably tell from the photo, this conditioner is very, very loved. I typically sub in a hair mask for regular conditioner since it's difficult to find one thick enough to soften my thirsty locks—but this one works like a charm. It actually has a similar rich texture to the hydrating masks I hold dear. Shea butter and avocado oil are known for smoothing and moisturizing dry, frizz-prone strands, while antioxidant-rich marshmallow root makes my tresses feel soft as silk.
Best budget: OGX Renewing + Argan Oil of Morocco Conditioner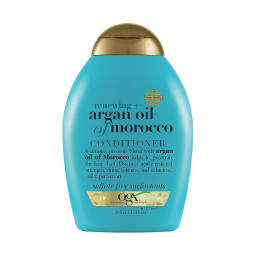 Pros
Smells greatRelatively large bottle that lasts a while
Cons
Contains dimethicone, if you tend to avoid silicones
Key ingredients:
Argan oilGlycerin
Certifications:
Paraben-free

Argan oil is rich in fatty acids—namely oleic and linoleic acids—which make it extra hydrating for hair. "It's great for many conditions, especially dry, damaged hair because its trove of fatty acids lock moisture into the hair follicle," Bindiya Gandhi, M.D., an American Board Family Medicine physician and mbg Collective member, says regarding argan oil for hair. This rich number from OGX uses cold-pressed Moroccan argan oil and features a green, woody scent that will leave your locks shiny and fresh.
Advertisement
This ad is displayed using third party content and we do not control its accessibility features.
Best for fine, dry hair: Aveda Nutriplenish Conditioner Light Moisture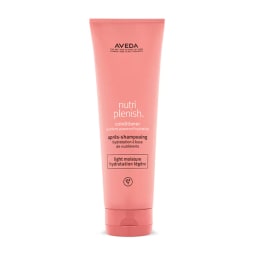 Pros
96% naturally derived ingredientsHydrates without weighing down strands
Cons
Really dry hair might want something thicker
Key ingredients:
Pomegranate oilCoconut oilMango butterOat extract
Certifications:
Cruelty-freeParaben-freeSilicone-free

Those with fine, dry hair often find themselves in a sticky situation: They want to feed their thirsty strands with moisture, but too many oils and butters can easily weigh down their locks. The answer? A lightweight conditioner, like this Aveda number. It contains pomegranate oil, a touch of coconut oil, mango butter, and oat extract to deeply hydrate, yet it features an airy, weightless consistency that won't make your strands fall limp. Still, those with super-fine hair might want to apply only on the lengths to avoid flat roots.
Best for thick, dry hair: Odele Moisture Repair Conditioner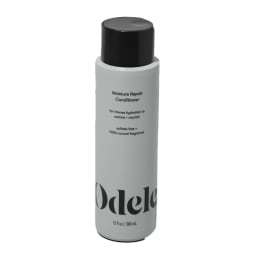 Pros
Contains all-natural fragrance (that smells amazing!)Functions similar to a hair mask
Cons
Can be difficult to squeeze product out of the bottle
Key ingredients:
Argan oilJojoba oilHydrolyzed rice protein
Certifications:
Phthalate-freeSilicone-freeSynthetic fragrance-free

This conditioner is capital-T Thick. Like, requires strength to squeeze it out of the bottle thick. (That is my one con with this conditioner—it can be difficult to get the super-creamy conditioner out of the disc top lid!) But the extra effort is worth it for my parched strands: The argan- and jojoba-infused number deeply moisturizes after just one use. I like to leave it in for five or-so minutes so the hydrators can really soak into my strands—after rinsing it out, my dry hair feels noticeably softer and smoother.
Advertisement
This ad is displayed using third party content and we do not control its accessibility features.
Best for mature, dry hair: Coco & Eve Youth Revive Pro Youth Conditioner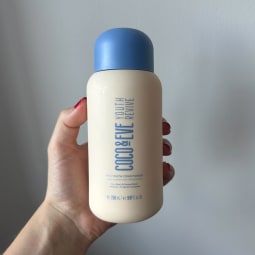 Pros
Great for shine and moistureMoisturizes without weighing down strands
Cons
Not vegan (although honey is ethically-sourced)
Key ingredients:
Coconut oilRetinolProbiotic-rich blendManuka honey blend
Certifications:
Cruelty-freeParaben-freeSilicone-free

Retinol is arguably the gold standard for aging skin—why not use it for your hair, too? It turns out, the beloved vitamin A-derivative has some benefits for aging hair: It helps minimize excess oil and prevents dandruff on the scalp. Not to mention, topical retinol has been linked to hair growth (when paired with minoxidil) in research studies.

The conditioner also calls upon probiotic-rich ingredients to help restore a healthy scalp microbiota, as well as star hydrators coconut oil and Manuka honey to infuse strands with moisture. Not for nothing, this conditioner smells divine.
Best for curly, dry hair: Living Proof Curl Conditioner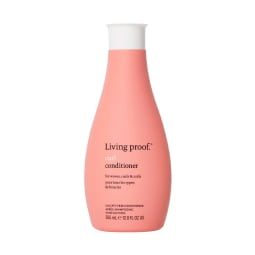 Pros
Defines curls and makes them stronger Great for breakage-prone hair
Cons
Some reviewers don't like the scent
Key ingredients:
Shea butterHealthy Curl ComplexMethiopeptide
Certifications:
Cruelty-freePhthalate-freeSilicone-freeClean at Sephora

Curls are particularly prone to dryness, so a moisturizing conditioner is a must. But if you find one that also defines your gorgeous ringlets in the shower? Consider it a bonus. The brand features a patent-pending curl technology that encourages the formation of curl groupings, as well as a special methiopeptide—and amino acid lauded for hair strength and elasticity—and shea butter for glorious slip. Simply lather on from root to tip, then use a comb to form your curl clumps in the shower. Rinse as usual, and you'll be left with the glossiest, silkiest texture.
Advertisement
This ad is displayed using third party content and we do not control its accessibility features.
Best for color-treated, dry hair: dpHUE Color Fresh Conditioner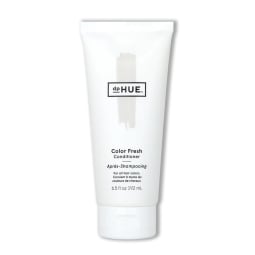 Pros
Enhances & protects colorAlso protects hair from UV rays
Cons
Contains butylene glycol, which can irritate sensitive scalps
Key ingredients:
GlycerinSunflower seed extractKumquat extract
Certifications:
Paraben-freeSilicone-freeLeaping Bunny Certified

Hair color can leave your hair drier than usual, since color processing limits the hair's ability to hold on to water. This makes keeping the hair fiber hydrated á la rich conditioners (and weekly hair mask) nonnegotiable. You can't go wrong with this nourishing number: Formulated by famed celebrity colorist Justin Anderson, the rich confection is made specifically to keep color-treated hair vibrant and healthy between salon visits.

It features a white base to avoid any color shifting (which can happen with tinted products) and lots of hair-healthy antioxidants to maintain a bright hue, like sunflower seed and kumquat extracts.
Best for damaged, dry hair: Briogeo Don't Despair, Repair! Super Moisture Conditioner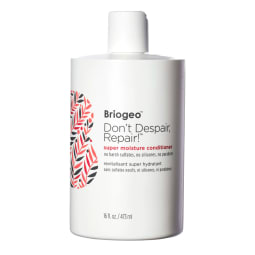 Pros
95% naturally-derived ingredientsNice sized bottle
Cons
Contains essential oils, if you're sensitive to those
Key ingredients:
Argan oilAlmond oilRosehip oilPanthenolAlgae extract
Certifications:
Silicone-freeLeaping Bunny CertifiedClean at Sephora

Biogeo's Don't Despair, Repair! collection is, hands down, one of the best remedies for stressed locks. In fact, the brand swears it will decrease hair breakage after just two (!) uses. It features argan, rosehip, and almond oils for their beloved fatty acids, panthenol for moisture retention, and algae extract to protect strands from free radical damage. It's also protein-free, so you don't have to worry about protein overload (which leads to more breakage), making this a great option to use in between bond-building masks.
Advertisement
This ad is displayed using third party content and we do not control its accessibility features.
Best for frizzy, dry hair: Love Beauty And Planet Argan Oil & Lavender Conditioner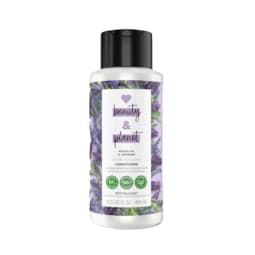 Pros
97% naturally derived ingredientsSmells amazing
Cons
Contains essential oils, if you're sensitive to those
Key ingredients:
Argan oilCoconut oilLavender oil
Certifications:
Cruelty-freePhthalate-freeSilicone-free

Argan oil is great for masking split ends and frizz. You could warm up the oil in your palms to smooth down flyaways, or you can always rely on this smoothing conditioner to target frizz from the get-go. After all, replenishing moisture is the answer to frizz: "If the hair is already saturated and coated with nutrient-rich ingredients, it is far more protected from being affected by the elements that contribute to frizz," stylist Amy Stollmeyer says regarding frizz remedies. With argan oil, coconut oil, and French lavender, your strands will be full of those necessary fatty acids and nutrients.
Best mask: Act + Acre Restorative Deep Conditioning Hair Mask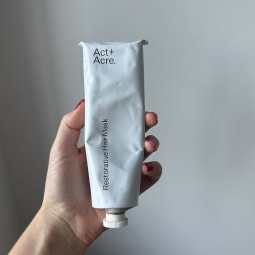 Pros
Great for longer treatments Doesn't weigh down hair, even if you use a lot
Cons
Pricey for a smaller bottle
Key ingredients:
Shea butterGlycerinCastor oil
Certifications:
Phthalate-freeParaben-freeSilicone-freeSynthetic fragrance-freeClean at Sephora

Super-dry hair can use a hydrating hair mask instead of conditioner, especially if you only wash your hair once a week. I often gravitate towards this Act + Acre number, with castor oil, glycerin, and shea butter to soften, smooth, and lock in necessary moisture. Sometimes I'll even hop out of the shower, toss my hair into a clip, and let it marinate on my strands for 30-ish minutes before rinsing. It's a total revival hack when my parched strands need saving. I do wish the bottle was bigger, considering how fast I blow through product after product; Helen Reavey, call me if you ever come out with a jumbo size!
Advertisement
This ad is displayed using third party content and we do not control its accessibility features.
Best splurge: Vegamour GRO+ Advanced Replenishing Conditioner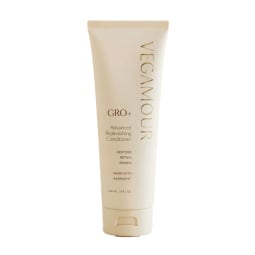 Pros
Targets shedding in addition to drynessSmooths frizz
Cons
Contains essential oils, if you're sensitive to those
Key ingredients:
KarmatinCBD
Certifications:
Cruelty-freePhthalate-freeSilicone-free

Is $58 a pretty penny for one bottle of conditioner? Perhaps, but when you find one infused with so many science-backed ingredients for hair growth, you'll surely understand the higher price tag. The hero ingredient, of course, is Karmatin, Vegamour's signature vegan alternative to keratin and silicone. The biotechnology-derived ingredient (made from fermented silk protein) creates a mirror image of the amino acids that naturally occur in hair and helps seal in moisture. With broad-spectrum CBD to help soothe the scalp, it's great for those dealing with dryness and hair loss.
Best scent: Arkive Headcare All Day Everyday Lightweight Conditioner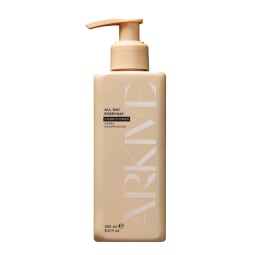 Pros
Smells like perfumeEnhances shine
Cons
Thicker hair may need to use a lot of product
Key ingredients:
Baobab oilBetaine
Certifications:
Cruelty-freeSilicone-freeCertified B Corp

A conditioner fit for dry hair doesn't always need to be whip-thick. Try this weightless-yet-hydrating formula whenever your strands (and senses) need a little pick-me-up. The signature Future Bloom fragrance smells like "a sun-soaked summer walk," which ups the ante from your classic floral. I'm a sucker for complex, woody notes, and the vanilla, rose, and white musk base make this conditioner my personal fragrance heaven. Those with thicker hair may need to use quite a few pumps of product to fully saturate from root to tip—but trust me, once you take a whiff, you won't be able to get enough.
How we picked
Science-backed hydrators: We specifically sought out conditioners with fatty acid- and humectant-rich ingredients known to hydrate dry hair. We paid special attention to oleic acid and monounsaturated fats, which help various oils actually penetrate the hair shaft and moisturize your hair, as opposed to merely sitting atop the strands. Hair type: Dry hair is not a one-size-fits-all category. You can have thin, dry hair; thick, dry hair; coarse, dry hair; fine, dry hair; and so on. We made sure to include an array of options for every strand pattern and texture. Texture: We also considered the actual consistency of the formulas. Some people prefer butter-thick confections, while others love a lightweight, milky number. You'll find multiple options from both camps here.
Comparing the best conditioners for dry hair
Why you should trust us
I test hundreds of products as mindbodygreen's beauty editor, and I'm always on the hunt for the most innovative, effective formulas. I've been a journalist for over five years, and I take my time researching products so I can deliver the most informed recommendations. It turns out, I also have perpetually dry hair—so you can trust that every option here actually revives parched strands. It simply wouldn't make the list otherwise.
What else does dry hair need?
Conditioner is only one part of the equation.
Your shampoo is arguably just as, if not more, important than your go-to conditioner. Sulfate-laden washes deliver a sudsy lather, but they can also strip your scalp's natural oils and dry out your hair. The most moisturizing conditioner in the world won't help if you keep sabotaging your scalp with every wash. Find our favorite sulfate-free shampoos here, all of which contain natural emollients to refresh and strengthen strands. You may also want to edit your wash schedule—read more about that over here.
"A leave-in conditioner is to be used after washing your hair to replenish and maintain moisture," hair expert and consultant Sarah Roberts once shared with mbg. "They are useful for controlling frizz, detangling strands, and keeping curls smooth."
Oils, on the other hand, have occlusive properties—meaning they seal in moisture. If you find your hair easily becomes frizzy and dry post-wash, you might want to slick on an oil to make sure all that water stays put. Here, you can find our favorite leave-ins and hair oils to try.
Conditioners do a lot of heavy lifting, but those with really dry hair might want to use a deep conditioning mask every so often. These treatments feed your strands with extra moisture and active ingredients—think of them like a five-star meal for your tresses. Find our favorites here.
FAQ
Why is my hair so rough, dry, and frizzy?
There could be myriad reasons why your hair is dry, including heat or chemical damage, the environment, moisture-stripping hair care products, or your natural hair type. We recommend checking out this guide to I.D. your specific cause.
What's the best conditioner for extremely dry hair?
Overall, I'd recommend Ouai's Thick Hair Conditioner. It's the closest you'll find to a hydrating hair mask, in my opinion, and it leaves my strands silky-smooth. Those with thinner locks might want to opt for something a bit more lightweight, like Aveda's Nutriplenish Conditioner or Arkive Headcare's Lightweight Conditioner; both are brimming with hair-healthy actives (think oils and butters) without making strands fall limp.
How do you moisturize dry hair overnight?
Try an overnight mask! Slather on your favorite hydrating treatment (just make sure the instructions approve overnight use), wrap the hair in a plastic cap, secure it so it doesn't slip throughout the night, then wash your hair as normal in the morning. You could also do this with natural oils—coconut, olive, and argan are some of our favorites.
The takeaway
Dry hair needs all the nutrients, humectants, and emollients it can get, and these conditioners above will surely quench thirsty strands. Believe me, I've tried the majority on this list and have found success. Just remember that a high-quality conditioner needs an equally hydrating shampoo, lest you strip your hair of even more precious moisture—find your new wash essentials here.