Make This Veggie-Packed Quiche for Every Brunch This Summer
You'll thank us later.
When I think of making a quiche recipe—a vegetarian quiche recipe, in particular—I've always felt a little intimidated. Perhaps it's the association with fancy Francophile brunches with tiny teacups and spoons, or the idea of working with delicate pastry and custard. Not only do you have to nail the flavors perfectly, but between the crust, texture, and filling, there are a lot of factors to be perfected.
But friends, have no fear! After many trials through the wide world of quiche, I've uncovered the ins and outs of the dish so you don't have to. For this vegetarian quiche recipe, I leaned into the best of spring produce (specifically, three types of onions to satisfy my allium fans out there). Feel free, however, to use the recipe below as a guide and adjust to your own tastes and preferences. Ready to get baking? Your roadmap to the most delicious vegetarian quiche recipe awaits.
1 of 6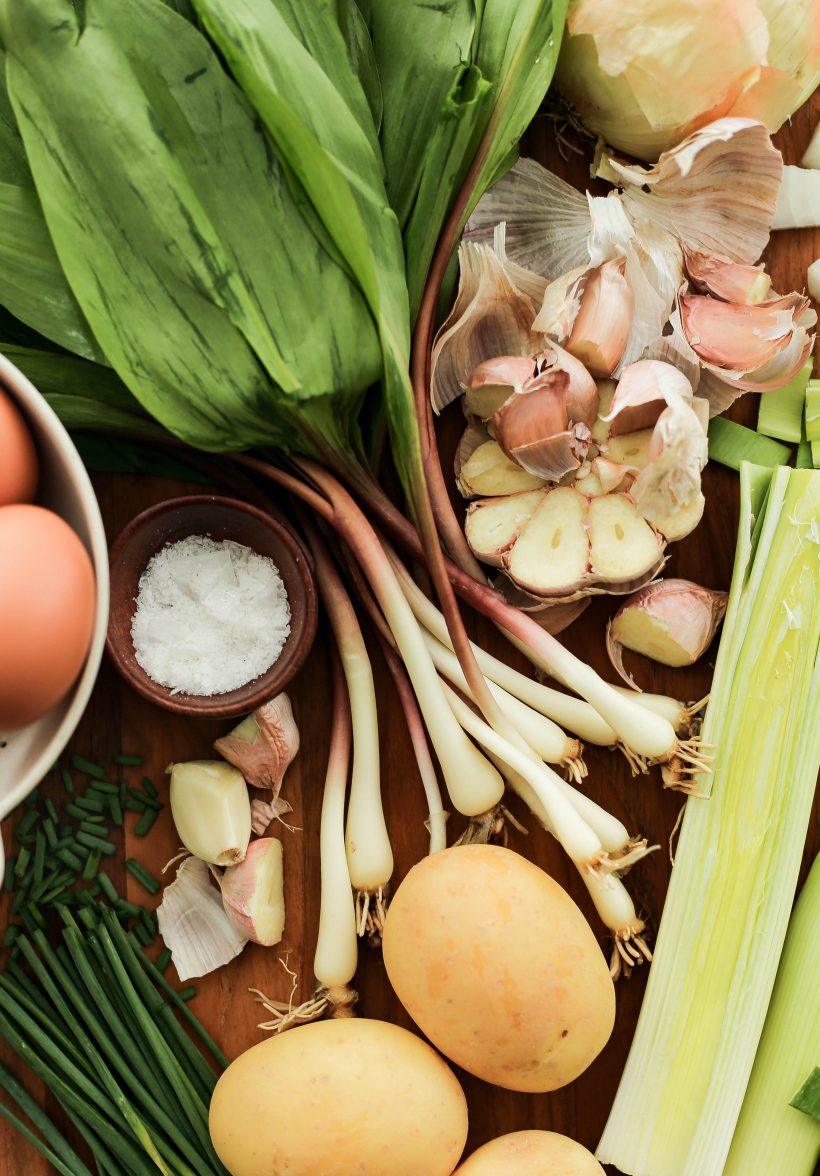 What's the Secret To Making a Good Quiche?
It starts with the crust, y'all. And when it comes to making your best-ever quiche, you can't go wrong with a classic pastry crust. I love its buttery flakiness, but really, when it comes to making your crust for this vegetarian quiche recipe, your options are endless.
I used phyllo dough because that's what I had in the freezer and figured I might as well give it a go. But I've also seen people use thinly sliced or shredded potatoes as well as sweet potatoes for the crust. Below are some tips no matter which adventure you choose.
Classic Pastry Crust
You need to par-bake the crust. Par-baking (i.e., partially cooking the crust before filling) ensures your quiche won't end up with a soggy bottom. If you're unfamiliar with the term, a soggy bottom occurs as a result of the custard filling sitting in the crust while it bakes.
To par-bake, line the unbaked crust with aluminum or parchment paper. Weigh it down with either pie weights or dried beans to prevent puffing. Depending on the crust, you'll bake it with the weights for about 10 minutes. Remove the weights and bake for another 5-10 minutes. The par-baking is done when the bottom of your crust looks nice and golden.
Phyllo Crust
I had a phyllo fail the first time I tried using it for my quiche. I didn't allow the bottom to par-bake long enough, resulting in an undercooked bottom. If you want to use phyllo, oil or line your plate to keep the dough from sticking to the pan. Then, fold and overlap sheets of the phyllo dough until the entire pie plate is covered. I used about seven or eight sheets of phyllo, turning and lining each additional sheet clockwise until the entire pie plate was covered. I left two sheets unfolded to help prevent leakage from the custard between the layers. As an added layer of protection, I sprinkled parmesan onto the bottom to provide another seal.
Par-bake until the sides and bottom of the crust are golden. To prevent over-baking the edges while the custard sets, I made foil hats. Basically, that's a fancy way of saying I wrapped the flakey edges with foil after the crust is filled so they don't over-bake and burn.
Vegetable Crust
I've made a few quiches with vegetables as the crust (like this one with a potato crust). Like the other crusts, you'll want to pre-bake to make sure the vegetables are cooked enough prior to filling.
2 of 6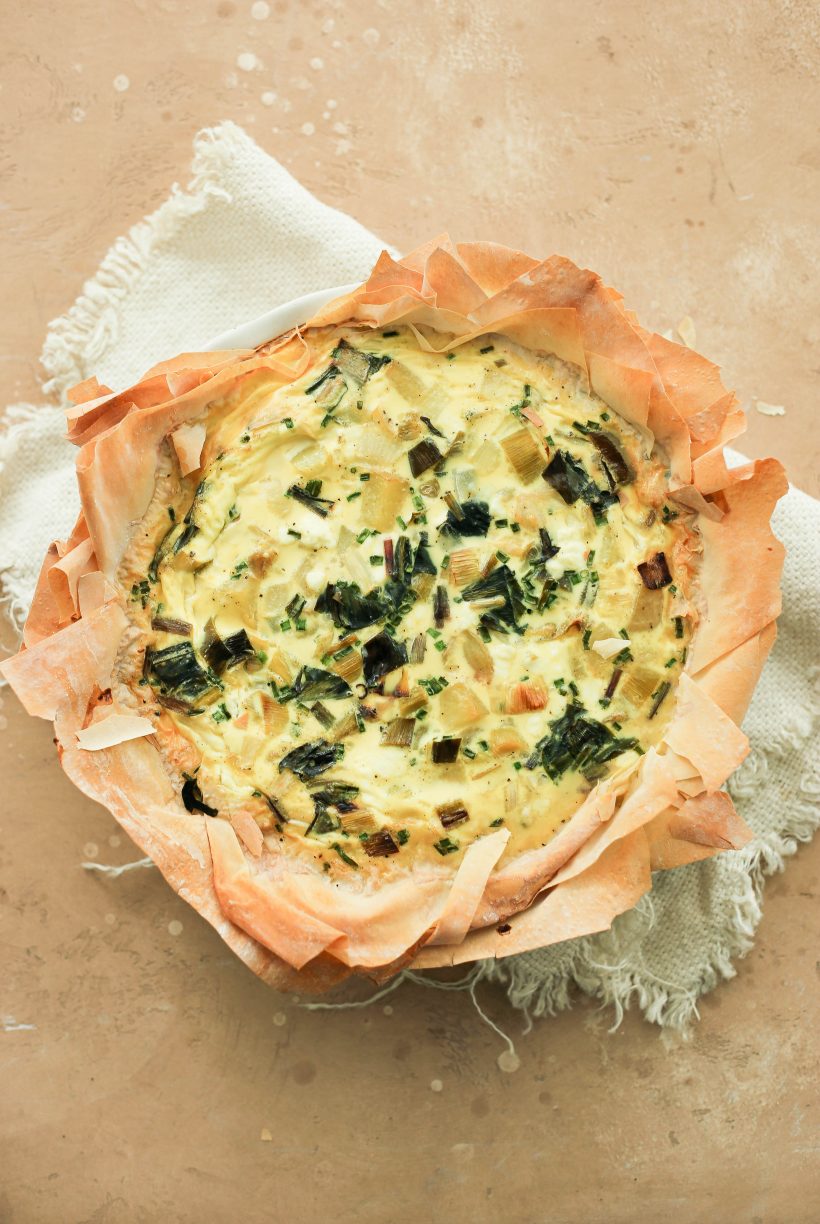 3 of 6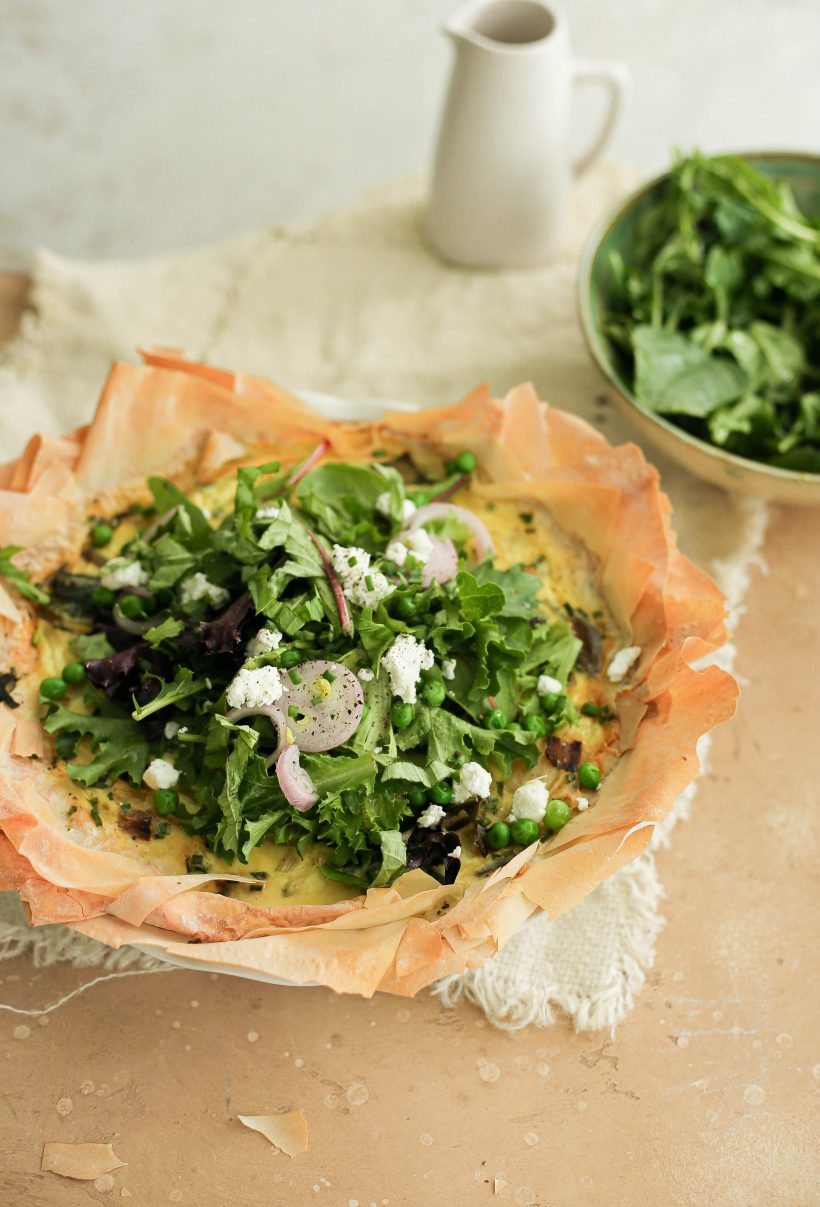 How To Choose Vegetables for Your Quiche
For this vegetarian quiche recipe, I wanted to incorporate some of my favorite spring flavors. As I alluded to above, this take is my all-the-alliums vegetarian quiche recipe. With caramelized garlic plus three different varieties of onions (yellow onions, leeks, and ramps), I wanted to highlight the sweet-and-savory flavor. Paired with goat cheese and potatoes, the result was nothing short of phenomenal.
Should you cook the vegetables first?
Yes! This is the most important thing when it comes to filling a quiche. You want to pre-cook your vegetables to ensure you're removing as much of their water content as you can. This prevents your custard from being watery and goopy. My trick for minimizing dishes and active cooking time? Cook all your vegetables on a sheet tray.
Because potatoes take longer to cook, I microwaved my potatoes first until tender. Then, I let the potatoes, leeks, and yellow onions bake on the sheet tray to give them the longest time in the oven. Because I wanted my ramps and the ramp greens to stay tender, I added them to the sheet tray in the last 10 minutes. You can use these same guidelines for any vegetables you decide to use.
The amount of filling is entirely up to you. Some people prefer to let their custard shine and add only a little filling. Others want ALL the filling and load up their quiche. I stick to a little more than a cup of filling plus cheese for a regular pie pan and double for a deep-dish pie pan.
4 of 6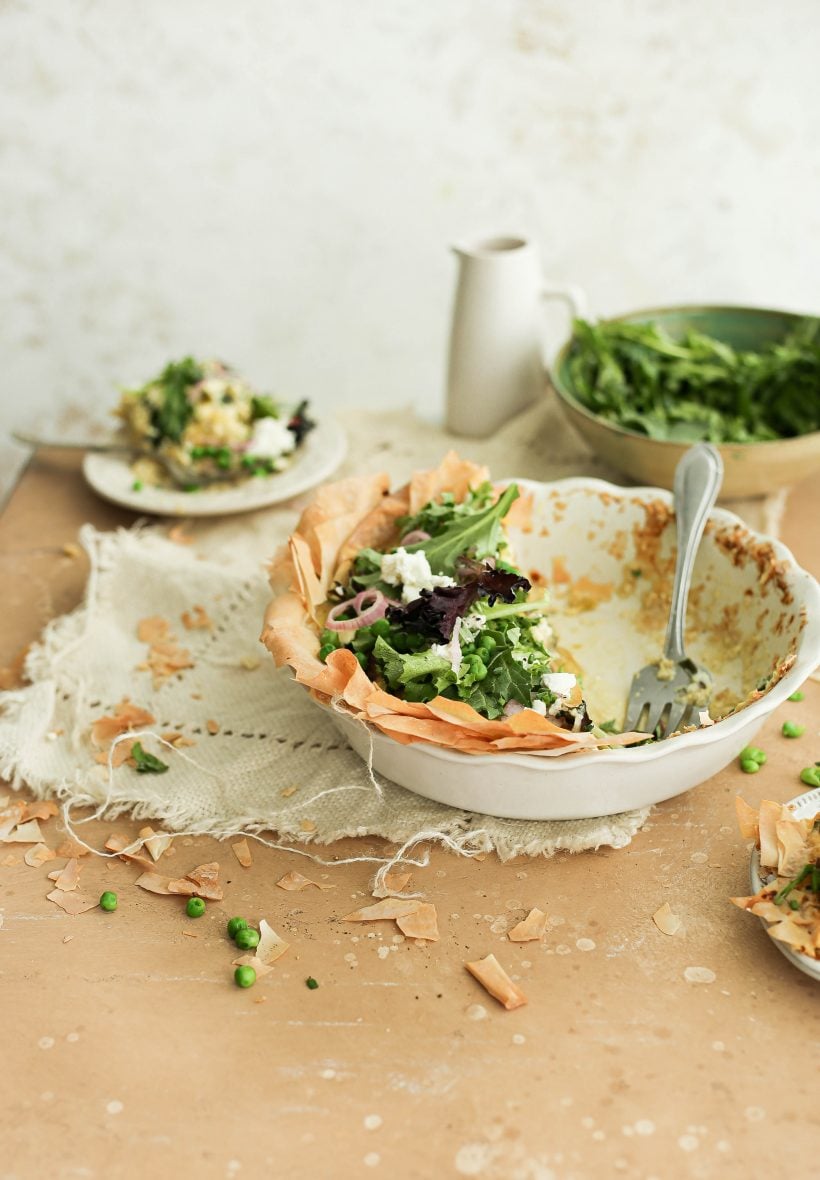 Tips for Making Your Custard
The custard for a quiche is made from eggs and milk. Some people prefer to use half and half or heavy cream mixed with milk, but I rarely (if ever) have either on hand. To keep my vegetarian quiche recipe as accessible as possible, I used whole milk. I don't recommend using skim milk or anything less than whole milk, as the extra fat will give you a creamy and tender filling.
You might be asking, what's the best egg-to-milk ratio for your custard? A quick internet search confirmed a 2:1 ratio is ideal. Admittedly, I don't love this formula. I find that it yields a quiche that's too soft and wobbly. So, I use two eggs to about 3/4 cup of milk for a sturdy but tender filling.
When it comes to baking, I recommend a regular-size pie pan. A deep-dish quiche is delicious, but the bake time can be quite long if you're looking for something quick.
5 of 6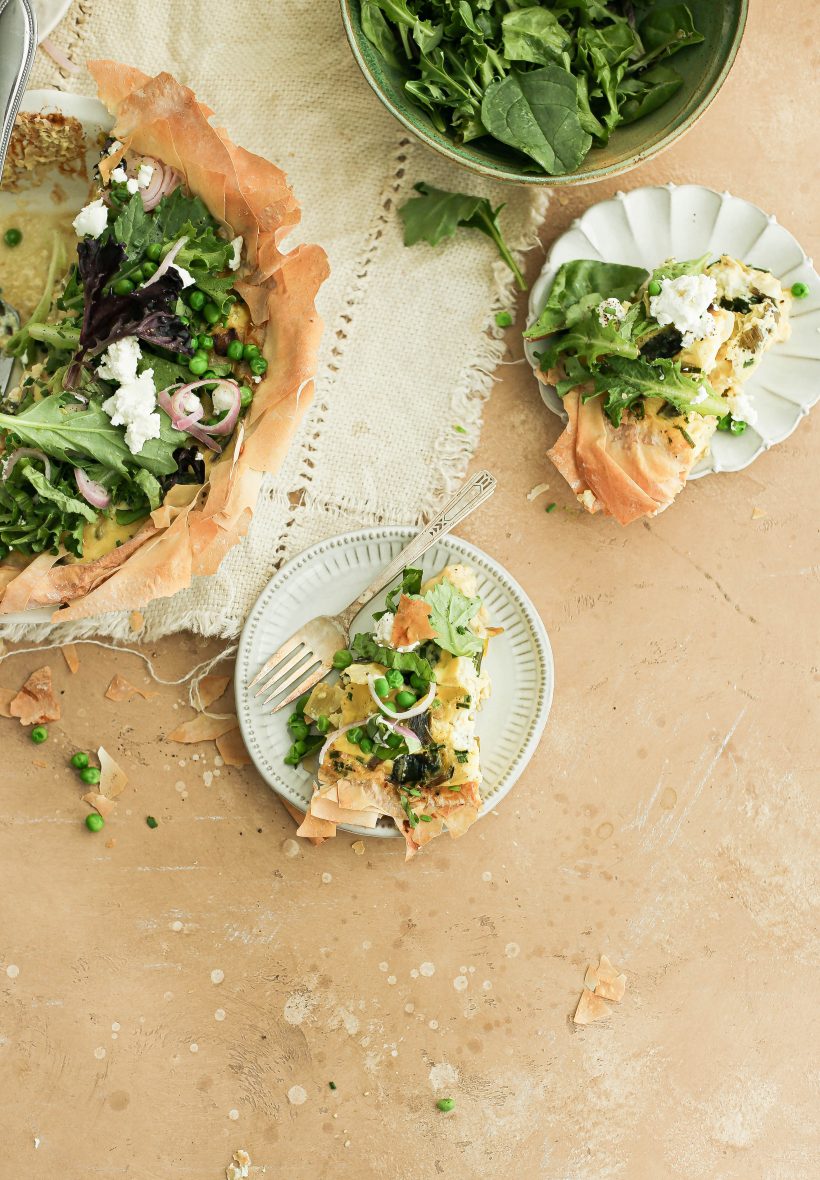 6 of 6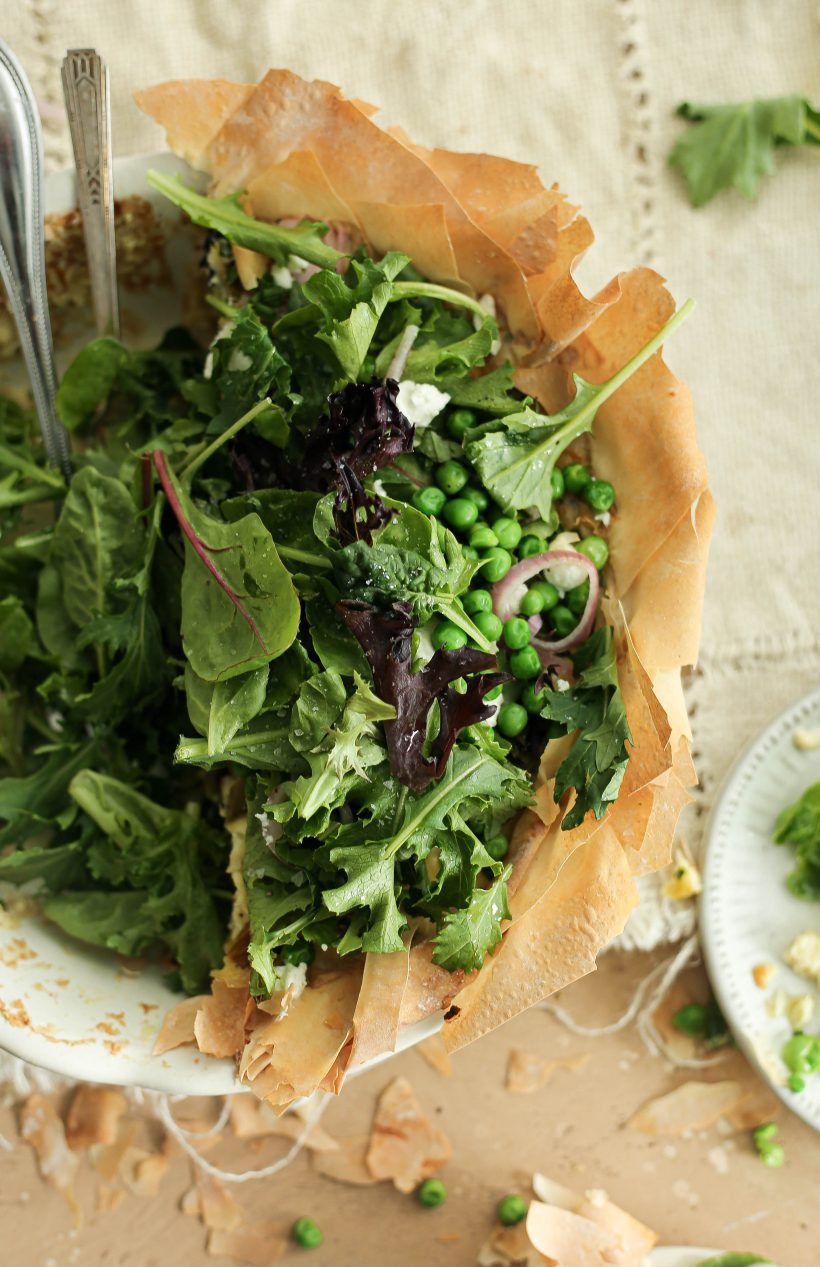 The Final Touch That Lets This Vegetarian Quiche Recipe Shine
To serve my quiche, I like to toss spring greens with sweet green peas and pickled onions in a little lemon juice and olive oil. It adds a bit of bright and fresh flavor to a quiche (because while delicious, there's no denying your quiche won't feel a little rich). Season well and you'll impress everyone at the table!