The 12 Top Things To Do in Maui, Hawaii
Maui is one of the most spellbinding places in the United States. Also known also as "The Valley Isle," the second-largest of the Hawaiian Islands greets visitors with a striking landscape that includes lush forests, tropical beaches, and volcanic...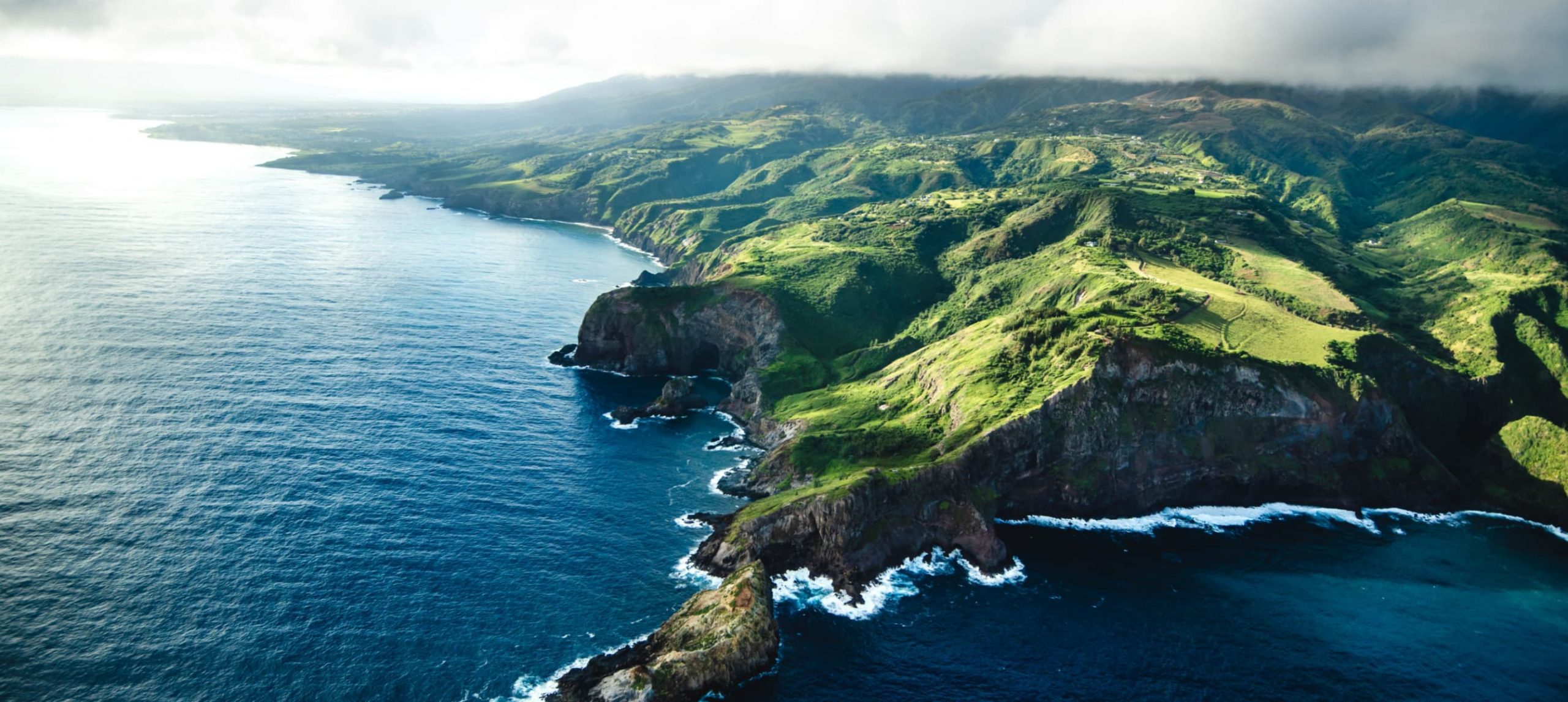 Maui is one of the most spellbinding places in the United States. Also known also as "The Valley Isle," the second-largest of the Hawaiian Islands greets visitors with a striking landscape that includes lush forests, tropical beaches, and volcanic formations.
The island's allure can be appreciated through an array of tried and true activities. Some of the experiences worth adding to your Maui bucket list include exploring numerous hiking trails, sunbathing in the golden sand, whale watching, ziplining in emerald-green forests, and visiting the world's largest dormant volcano.
With so many options packed into this idyllic island, it's easy to find reasons to stay for a week's vacation or longer.
Ready to enjoy island life at its finest? Then, here's the ultimate guide to the top 12 things to do in Maui, Hawaii. Aloha!
The 12 Top Things To Do in Maui, Hawaii
Watch The Sunset At Haleakala National Park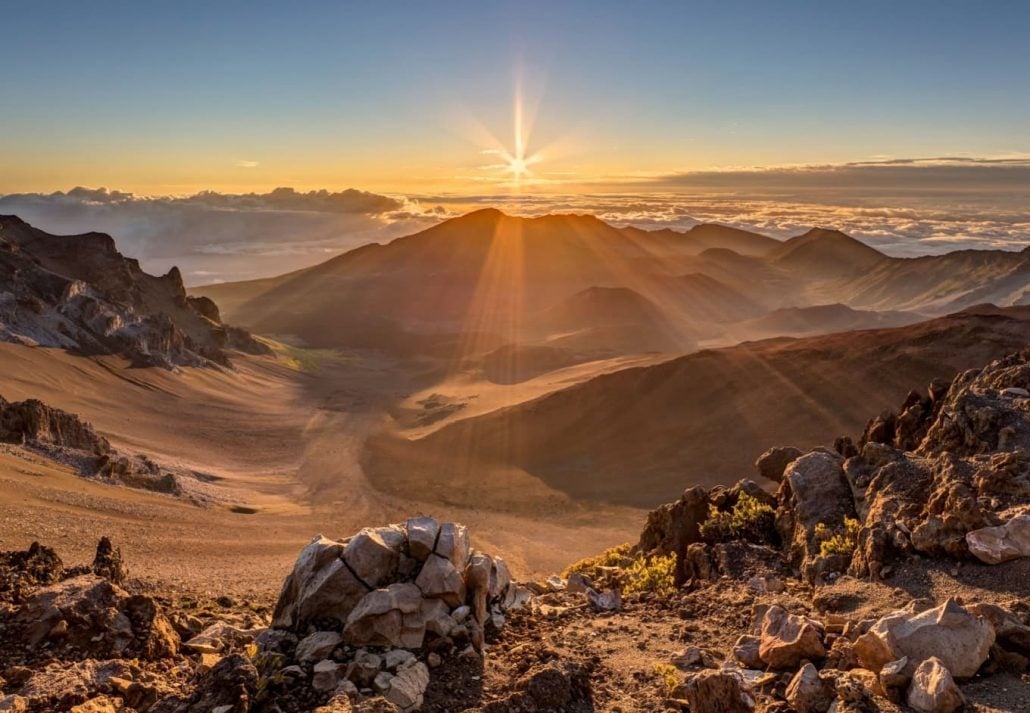 Spanning more than 30,000 acres of public land, Haleakala National Park is a staggering national park home to some spectacular natural features.
The park is located on the Upcountry Maui side of Maui, away from the shoreline, and named after Haleakalā Crater, a massive shield volcano that occupies more than 75% of Maui. Haleakalā is Hawaiian for "house of the sun", and according to a local legend, the demigod Maui imprisoned the sun here in order to lengthen the day.
While visiting the national park, don't pass up the opportunity to watch the sunset from the summit of the Haleakalā Crater, which rises 10,023 feet above the Pacific Ocean, offering show-stopping views of Hawaii's coastal areas.
Hiking is another bucket-list experience available at Haleakala National Park. While exploring this striking park on your own two feet, you'll get the chance to discover fascinating plant species, geological formations, and rare animals. These include the endemic 'āhinahina (silversword), ancient lava flows and pu'u (hills denoting old eruption sites), and nēnē (the Hawaiian goose).
Address: 18303 Haleakala Hwy, Kula, HI
Drive Around The West Maui Mountains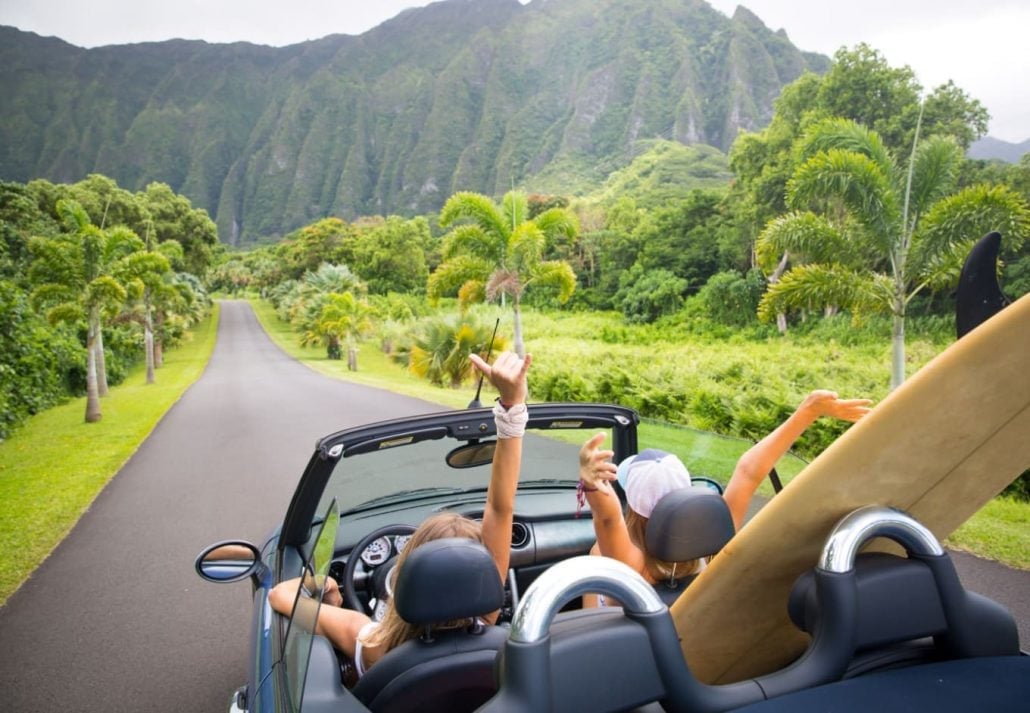 Driving around the mighty West Maui Mountains is another fantastic way of soaking up Maui's beauty. While driving through this well-paved mountain road, which stretches from Lahaina on Highway 30 up and around the island towards Kahului on Highway 340, you'll get the chance to see rugged mountains, lush forests, and the island's glittering coastline.
Some of the picturesque spots you'll come across during the drive include Olivine Pools, Nakalele Point and Blowhole, and the majestic Kahakuloa Head.
Just beware that the road tends to get very narrow, so it's more suitable for experienced drivers.
Discover The Coral Reef Collection At Maui Ocean Center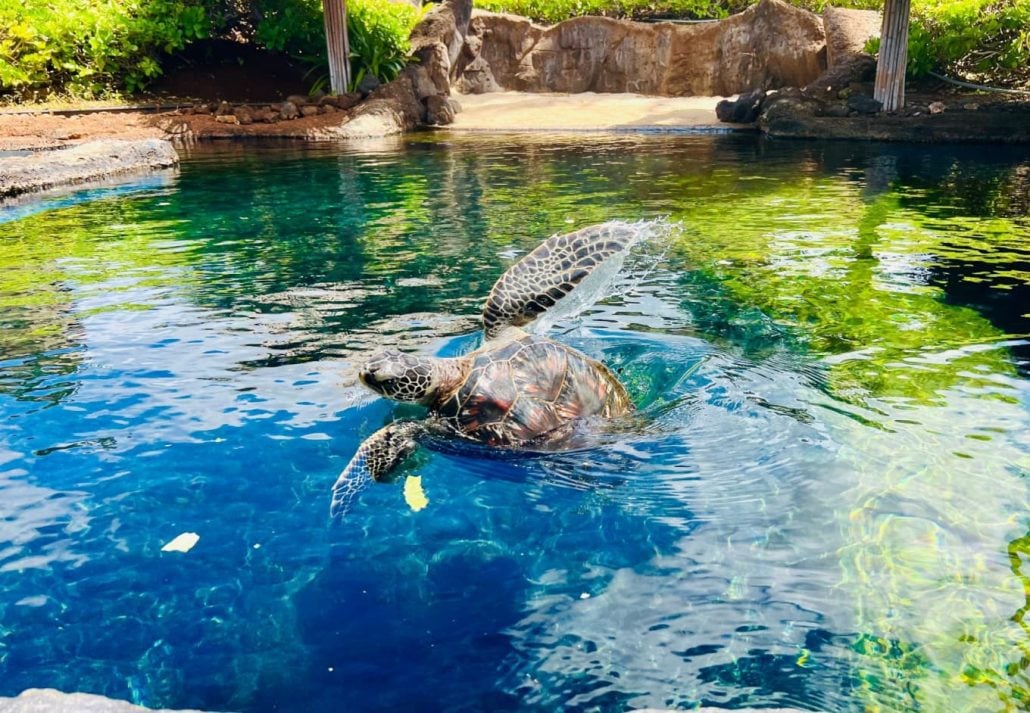 Maui Ocean Center is a multi-sensory aquarium that presents a fascinating replication of Hawaii's ocean ecosystem.
The Hawaiian Islands are the most remote large island chain on Earth, and therefore are home to a unique marine habitat populated by rare species that exist nowhere else.
Some of the marine creatures that you'll find in Maui Ocean Center include the Hawaiian green sea turtles, the largest hard-shelled sea turtle in the world, and the rare Hawaiian monk seal, one of the rarest marine mammals in the planet (less than 1,100 remain), and the Hawaiian, known for their vibrant red color, large eyes, and silvery-white stripes.
The aquarium's crown jewel, however, is the 3-acre tropical reef aquarium, the largest in the Western Hemisphere, showcasing over 40 Hawaiian coral species.
Address: 192 Maalaea Rd, Wailuku, HI
Visit Maui's Picturesque Black Sand Beach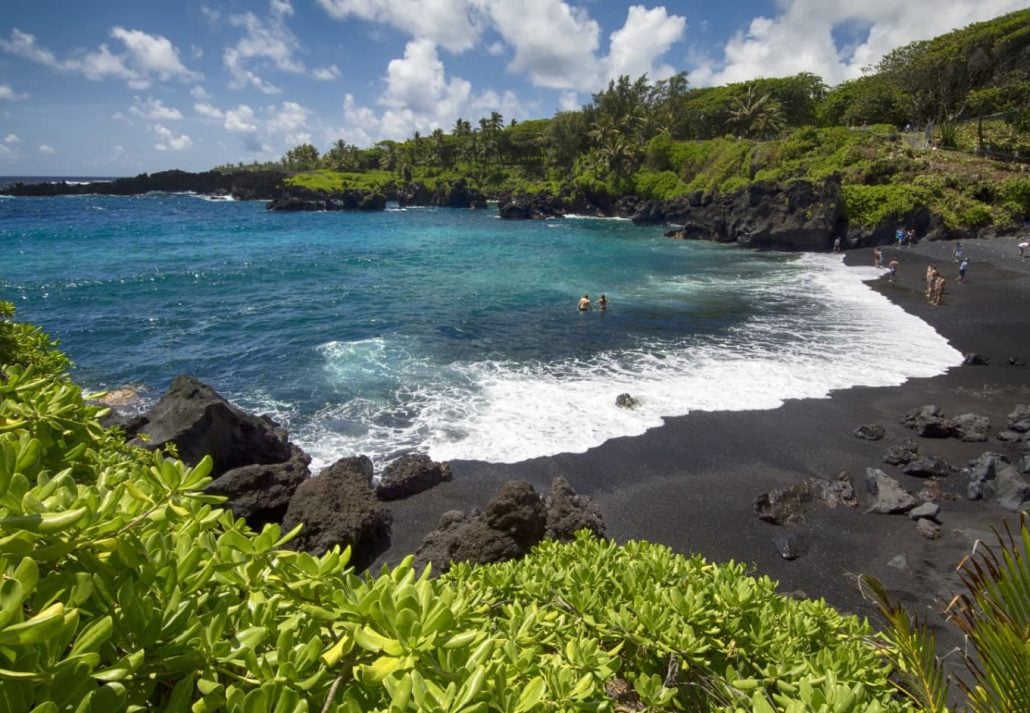 Black Sand Beach is one of Maui's most spectacular marvels designed by mother nature. This picturesque beach is beautifully nestled in a cove surrounded by dense emerald-green forests, and sculpted lava rocks, which create the most dramatic setting.
Known for its black, pebble lava field (aka the "black sand"), the beach is located within the 120-acre Wai'anapanapa State Park. Here, visitors can also explore natural stone arches, ancient lava caves, anchialine pools, and black lava cliffs.
Address: Waianapanapa, Hana, HI
Enjoy A Whale Watching Tour
Are you visiting Maui during the winter months? Then be sure to go on a whale-watching tour around the island. From December through April, an estimated 10,000 whales migrate from Alaska to Hawaii in a breathtaking spectacle that everyone should witness at least once.
Humpback whales are the most common type of whale you'll see in Maui. But you can also spot other species such as melon-headed, short-finned pilot, pygmy, and endangered false killer whales.
Whales usually prefer relatively shallow waters of less than 600 feet, making Maui Nui Basin — the protected area between Maui, Lanai, and Kaho'olawe — one of the best whale-watching spots on the island.
Most whale-watching tours will leave from Lahaina Harbor, Ma'alaea, or Wailea, and last between 1.5 to 3 hours.
Hawaii is known for its diverse marine life (over 400 species of inshore and reef fishes inhabit Hawaii's waters). So a good idea is to choose a tour that combines your whale-watching with other ocean adventures such as snorkeling and scuba diving.
Soak Up The Sun On Maui's Beaches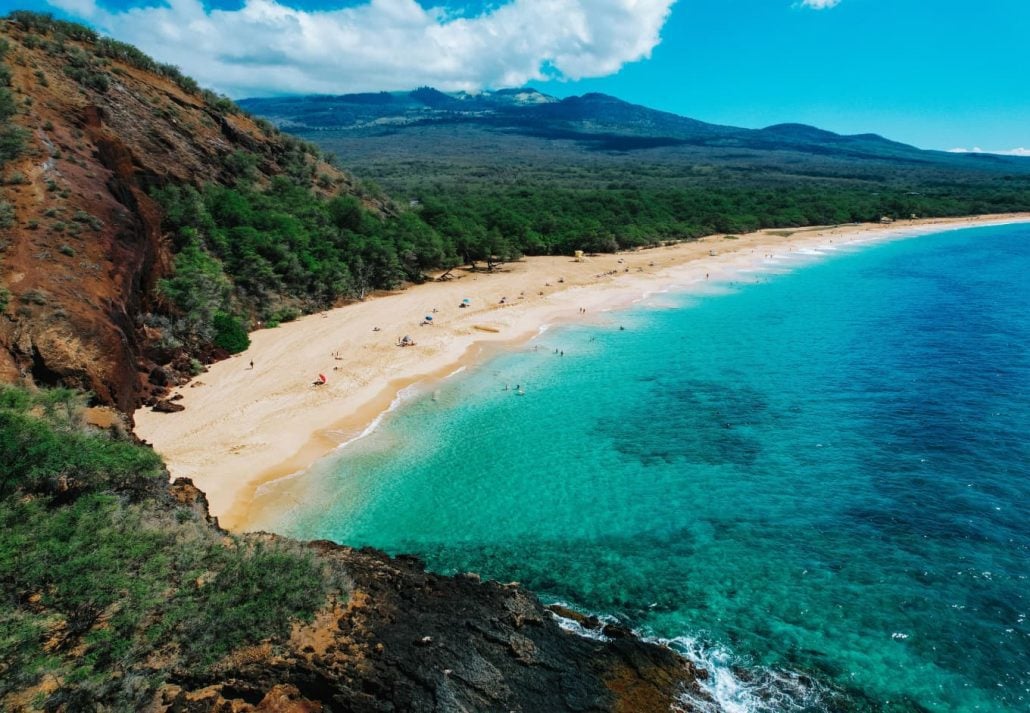 Boasting more than 120 miles of glittering coastline, Maui is home to a dazzling array of beautiful beaches.
The ones you can't miss when visiting Maui? Kaanapali Beach, which features three miles of golden sand and shallow turquoise waters, and Kapalua Bay Beach, a prime spot for snorkeling, swimming, and scuba-diving.
Located in Makena Beach State Park, Big Beach is known for its big, and powerful, making it a go-to place for extreme boogie boarding.
Baldwin Beach Park has a white sand stretch that is perfect for scenic walks or runs, and its shore break is ideal for bodysurfing and bodyboarding. This beach also has protected swimming areas with calm waters on the east and west ends.
Known for its white sand and azure waters inhabited by coral and tropical fish, Napili Beach is a great place for snorkeling, swimming, and stand-up paddle boarding.
Water sports lovers can't pass up the chance to visit Ho'okipa Beach Park. This pristine white sand beach boasts some of the best waves on the Maui coastline (they can reach heights of 30 feet during the winter) and is a favorite for surfing and windsurfing.
Hike the Pīpīwai Trail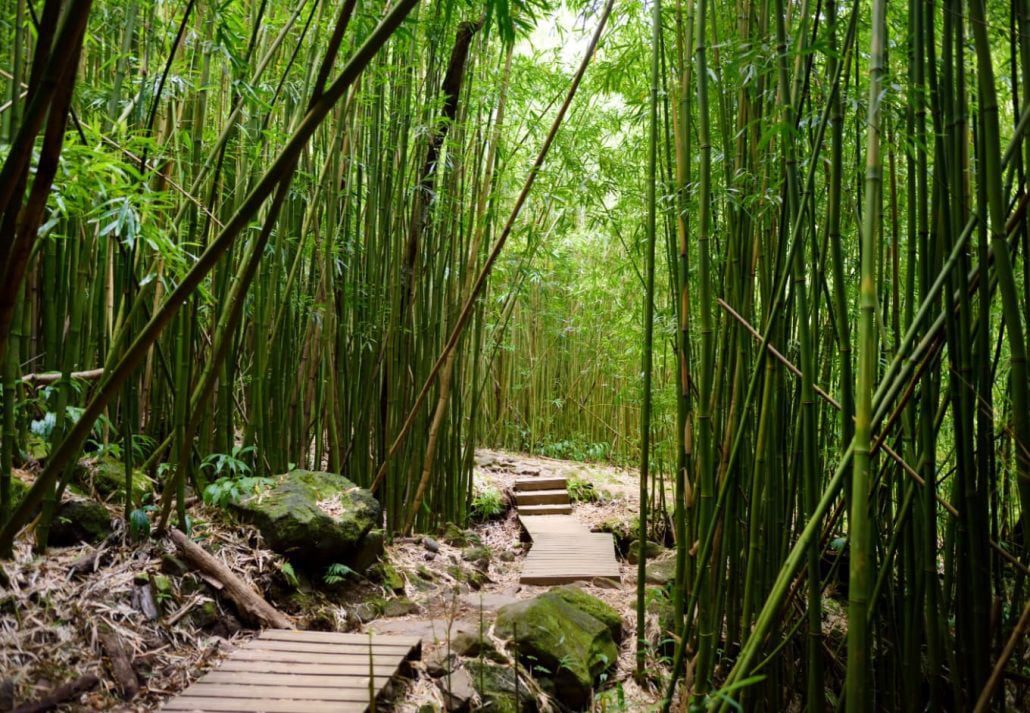 Pīpīwai Trail is one of the most spectacular trails in all of Maui. Located in the Kīpahulu District of Haleakala National Park in Maui, this 4-mile hike winds through a breathtaking landscape just above the Oheo Gulch (Seven Sacred Pools), and it's filled with natural wonders.
During the hike, you'll traverse through a lush rainforest, leading you to a giant banyan tree, then reach a thick bamboo forest before you finally get to see Waimoku Falls, an impressive 400 ft. waterfall.
The hike is moderate and should take around 4 hours to be completed.
Visit Iao Valley State Park
Located in central Maui, the Iao Valley State Park is a serene park that encompasses 4,000 acres of a lush, stream-cut valley. Its most famous feature is the 1,200-foot ʻĪao Needle (Kuka'emoku), a green-mantled rock outcropping that overlooks ʻĪao stream.
In Hawaiian culture, ʻĪao Needle is said to be the phallic stone of Kanaloa, the god of the ocean. The cliffs of this state park were used as a burial site for Hawaiian royalty.
There is a paved pedestrian path leading from Iao Valley's parking lot to view ʻĪao Needle and the ridge-top lookout grants visitors breathtaking views of the valley.
Address: 54 Iao Valley Rd, Wailuku
Go Scuba Diving In The Honolua Bay Marine Reserve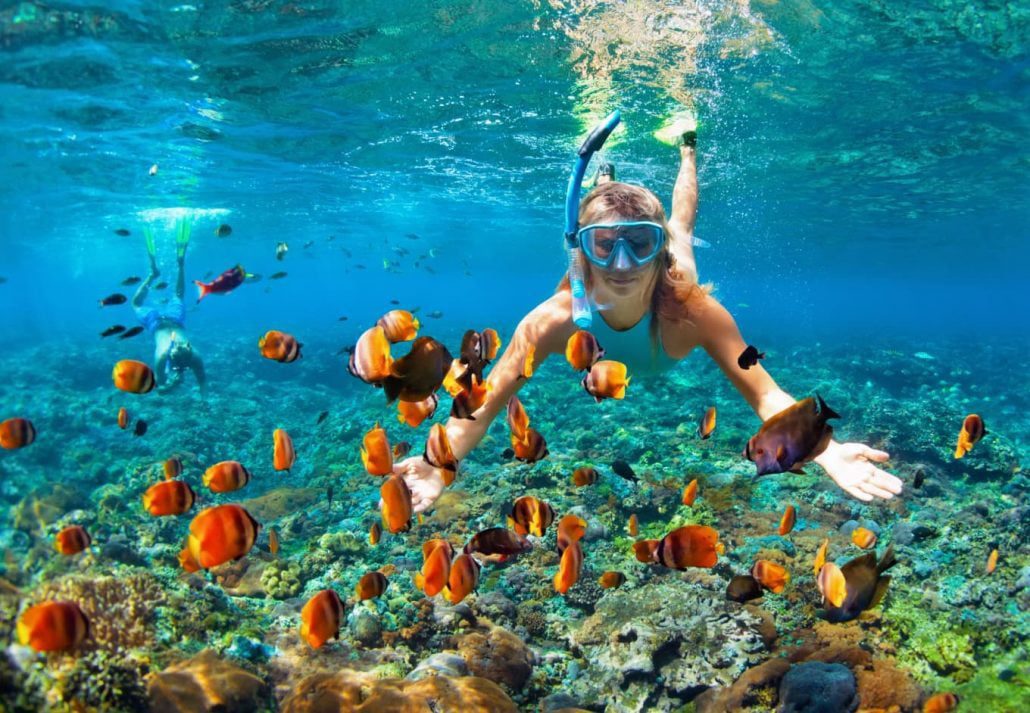 Honolua Bay Marine Reserve is an idyllic destination sought-after by snorkelers and scuba divers from around the world. Part of the Honolua-Mokuleia Marine Life Conservation District, this protected area is inhabited by a colorful array of sea creatures, including green sea turtles here, spinner dolphins, many different types of coral, and sea urchins.
While enjoying a one-of-a-kind snorkeling experience in Honolua Bay, expect to also come across a plethora of fishes such as butterfly fish, Moorish idol, unicornfish, wrasse, parrotfish, and more.
Meet Green Sea Turtles At Turtle Town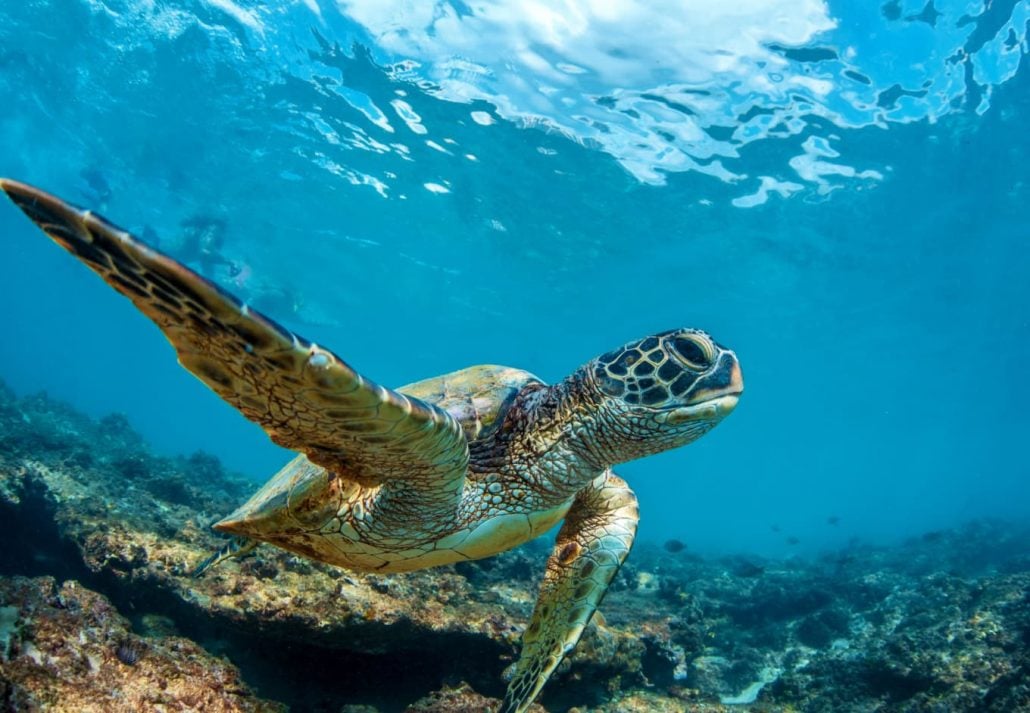 Honolua Bay might be the best-known snorkeling spot in Maui, but Turtle Town is not far behind. Located just off the coast of Maluaka Beach, this long stretch of coastline has calm waters where you can swim, and spot diverse marine creatures like angelfish, butterfly fish, moray eels, octopus, trumpet fish, triggerfish, and even humpback whales.
The most famous visitors of the area, however, are the adorable honu, aka Hawaiian green sea turtles. Just remember: be respectful and don't touch these creatures, as they're endangered species.
See A Century-Old Mango Tree In The Garden of Eden Arboretum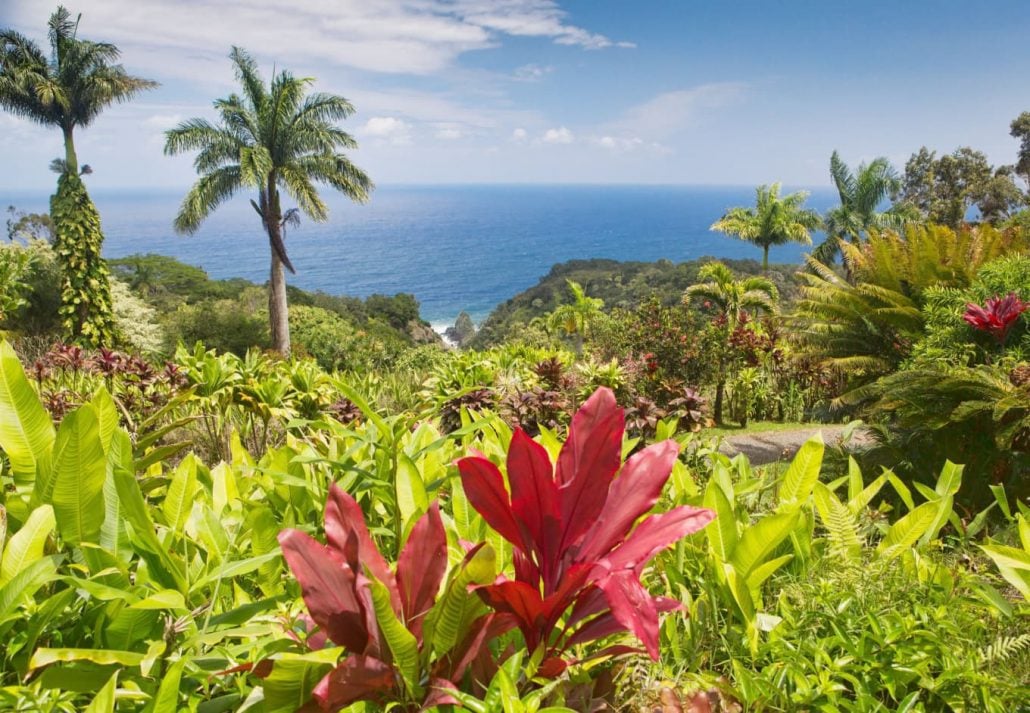 Garden of Eden Arboretum is a lush oasis located along Road to Hana in Maui. This privately owned and operated botanical garden is home to over 700 plant species that are indigenous to the islands of Hawaii and can be discovered through scenic trails.
While winding through the garden's pristine lowland rainforest, you'll come across a 100-year-old mango tree, a bamboo forest, a banana patch, and a beautiful view of Puohokamoa Falls.
Address: 10600 Hana Hwy, Haiku, HI
Hit The Kapalua Coastal Trail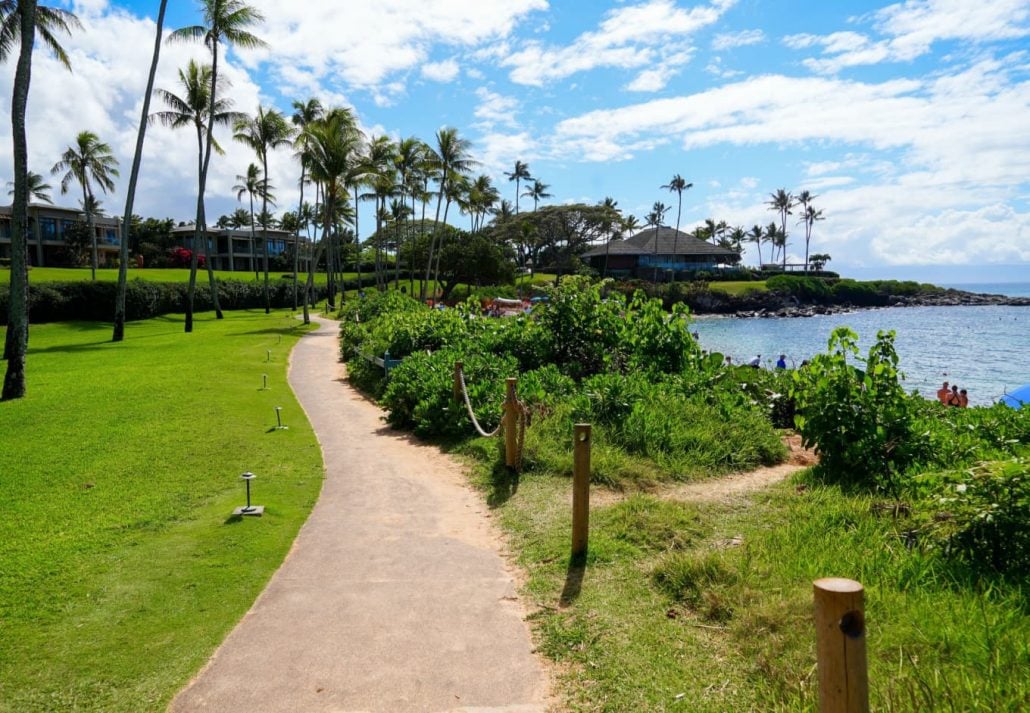 Kapalua Coastal Trail is one of Maui's most exciting hikes. Running from the south end of Kapalua Bay, the 2.5-mile out-and-back trail allows adventurers to explore the island's northwestern coast.
Along the way, expect to enjoy unparalleled views of the Pacific Ocean from Kapalua Bay, Namalu Bay, Oneloa Bay, and Honokahua Bay.
FAQ
What is Maui known for?
The second-largest Hawaiian island, Maui is known for its world-famous beaches, the sacred ʻĪao Valley, migrating humpback whales, and magnificent sunrise and sunset from Haleakalā.
Where is Maui located?
Maui and the other islands of Hawaii are in the middle of the north half of the Pacific Ocean.
What are the best Maui attractions?
The top attractions in Maui are:
Haleakala National Park; West Maui Mountains; Maui Ocean Center; Picturesque Black Sand Beach; Maui's Beaches; Pīpīwai Trail; Valley State Park; Honolua Bay Marine Reserve; Turtle Town; Garden of Eden Arboretum; Kapalua Coastal Trail.
How many days is enough for Maui?
Plan to spend at least 7-10 days in Maui.
Are 3 days in Maui enough?
Maui is filled with incredible attractions and experiences, so 3 days is enough to explore the city's top highlights. However, we recommended spending at least a full week on the island.
CuddlyNest provides all accommodations to all travelers at the best price. Find unlimited travel inspiration on our blogs and social media channels Facebook, Instagram, and Pinterest.
You May Also Like:
The 7 Best Cheap City Breaks in the USA
The 10 Best Theme Parks in The USA
The 13 Most Romantic Towns In The USA
The 5 Best Hotels In Cancun, Mexico
The Ultimate Guide To Puerto Vallarta, Mexico
The Best 5-Star Hotels In Honolulu, Hawaii
The Best Spas In Honolulu, Hawaii
The 5 Best Hotels In Honolulu, Hawaii
The 6 Best Restaurants In Honolulu, Hawaii
The Best Time To Visit Honolulu, Hawaii