Video of Istanbul dinner cruise goes viral after group is served 'singular chicken nugget'
'The Menu (deleted scene),' joked one viewer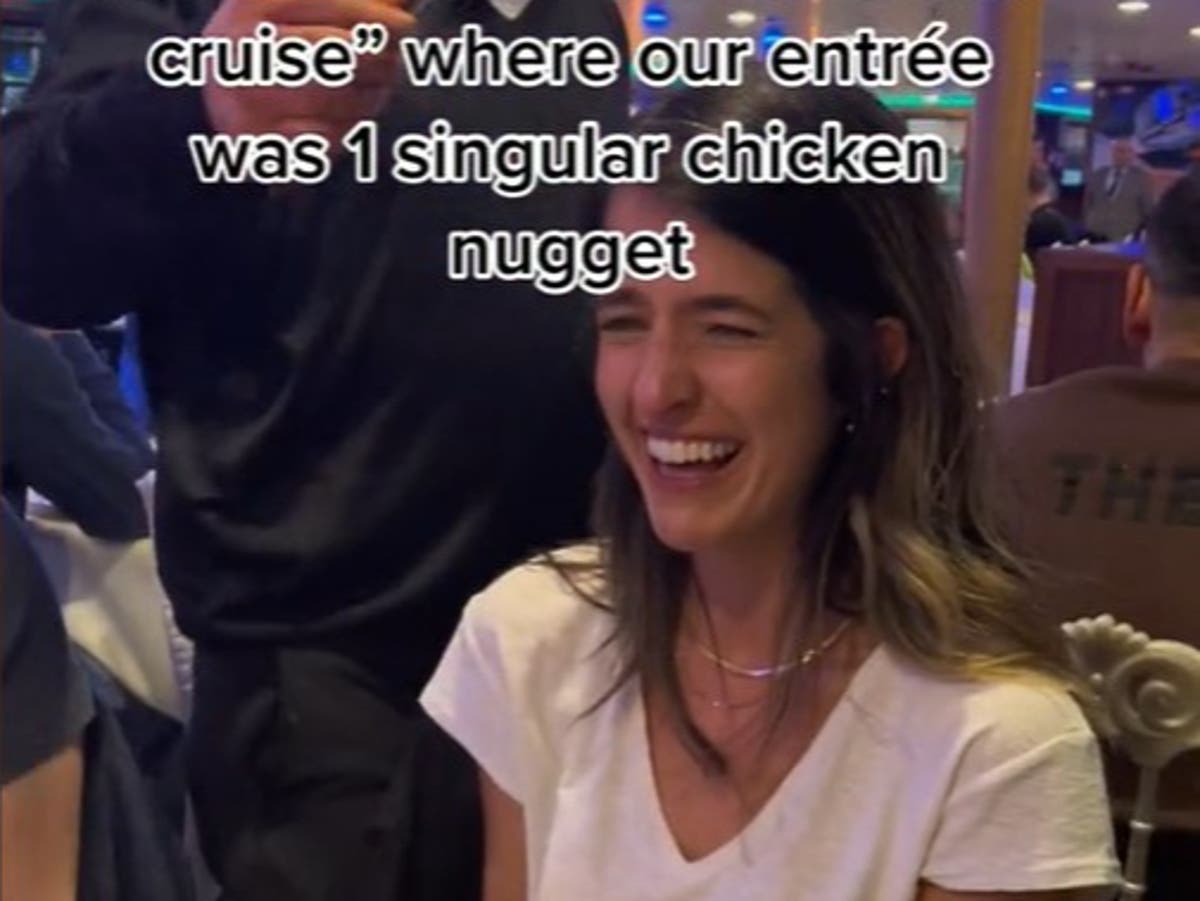 Sign up to Simon Calder's free travel email for weekly expert advice and money-saving discounts
Get Simon Calder's Travel email
A woman's TikTok video of a dinner cruise in Istanbul has gone viral, after she and her group were baffled to be served "one singular chicken nugget" as an entree.
Allison Kuhn posted the clip of the floating dinner in the Turkish city, saying she had spent $75 (£60) per person on what was billed as a "five-star" dining experience.
"I booked a dinner cruise for us so we could enjoy seeing the city at night," she told Buzzfeed.
She said she and her friends had been studying in Israel when they decided to take a side trip to the Turkish city and do some sightseeing.
On the trip, she says: "I searched 'dinner cruise' on Tripadvisor where I found one for $75 per person, the nicest dinner cruise in the area."
However, the menu and experience was somewhat at odds with the price.
Her video opens with the title: "I booked us a 'five-star dinner cruise' where our entree was one singular chicken nugget."
The video shows Ms Kuhn's group of friends howling with laughter as a waiter places one chicken nugget on each plate, which appear to have a selection of colourful dips waiting for the main element.
A waiter can be heard asking, "Chicken nugget?" with members of the group replying "Yes please, looks delicious," and "Oooh, a chicken nugget."
Ms Kuhn's followers were just as tickled by the gourmet moment, with one writing: "Waiter just tossin' them out there like he's feeding the animals."
"Don't trust trip advisor," she wrote in the post's caption.
In a follow-up video, she admitted that the cruise was slightly odd from the beginning.
"We got there at the designated time which turned out to be an hour before the next guest arrived... it was then that I felt my friends were gonna kill me," she joked.
It wasn't the only odd moment in the $75-a-head experience, she reported; in a follow-up video she told followers that a photographer had taken individual head shots of each guest at the meal, later presenting them with a framed photo of themselves.
"As we're all just laughing about the chicken nugget, a woman comes around and slaps down these photos of us," said Ms Kuhn. "Framed, individual headshots. Of each of us! Hands down, this was one of the funniest things I've ever witnessed."
Several alluded to the 2022 film The Menu, which features Ralph Fiennes as a mad chef serving increasingly dystopian courses to a group of ultra-wealthy diners.
"The Menu (2022)," wrote one, while another commented: "The Menu (deleted scene)".
Several followers were desperate for a deeper-dive into the quality of the lone chicken nugget.
In a follow-up video, Ms Kuhn describes the nugget, saying: "Mmm, smooth undercarriage, crispy on the inside... it's pretty good". one of her friends can be heard saying "It's good, it's different."
The clip has already had 17.2 million views on TikTok, attracting nearly 5,000 comments. Ms Kuhn has posted four update videos giving followers more information on the ill-fated feast.
It's unclear which tour company operated the infamous chicken-nugget dinner cruise.
Despite her initial shock at the price versus the experience, Ms Kuhn declared in a later video: "Everyone on board was so nice, the boat was so fun, I've never laughed so much in my life. I would do it again."