A Free & Underrated Way To Fight Inflammation Multiple Times A Day
You can get started right now.

Functional Medicine Practitioner
By William Cole, IFMCP, DNM, D.C.
Functional Medicine Practitioner
Will Cole, IFMCP, DNM, D.C., is a leading functional medicine practitioner with a certification in natural medicine and a doctor of chiropractic degree.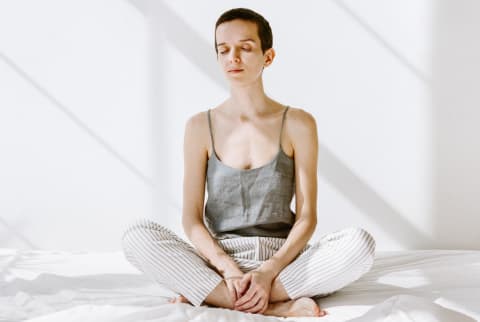 Image by Duet Postscriptum / Stocksy

March 20, 2023

Our editors have independently chosen the products listed on this page. If you purchase something mentioned in this article, we may

For most of human history, our stress came from threats like being chased by predators and hunting for food to survive. Of course, even in our modern, relatively comfortable society, we can often use a little more of the grit of our ancestors, despite the fact that in most cases, our stressors these days are tamer and rarely relate to our immediate survival.

But one layer of our modern problems is unquestionably worse today. Over the long term, our chronic stressors are turning out to be the demise of our health. The rat race of today, with its deadlines, time stressors, 24-hour news cycle, perpetual hyper-connection through social media, and poor sleep is severely damaging our well-being.
Advertisement
This ad is displayed using third party content and we do not control its accessibility features.
Over time, humans have adapted a physiological pattern called the conserved transcriptional response to adversity (CTRA). This is a type of gene expression that's associated with increased inflammation1. So if you were being chased by a predator, CTRA allowed for some helpful short-term benefits, such as increased healing, physical recovery, and the increased likelihood of your survival. But in ancient times, humans weren't constantly being chased by large predators or human enemies. The stressful times would eventually calm down and allow the body to recuperate.

Now, with our modern mental and emotional stressors rarely turned off, our body constantly thinks it's being chased by predators. As a result, long-term activation of our brain's CTRA is contributing2 to chronic inflammation and increasing the risk of health problems.

Because of CTRA and other stressors, our emotional stress is a chase that never ends, and it's wearing on our brains and bodies.
How self-compassion can reduce stress and inflammation.
A study published in the journal Clinical Psychological Science3 found that self-compassion had a very real impact on our health. People in the study who were asked to focus on their bodily sensations, as well as those told to think kind thoughts toward others and themselves, had lower heart rates and a lower sweat response at the end of the experiment.
Unsurprisingly, the participants who were encouraged to think critically about themselves had a faster heart rate and greater sweat response. The findings suggest that being kind to oneself switches off the threat response and puts the body in a state of safety and relaxation important for regeneration and healing.
Instead of complaining either in your head or out loud, try speaking love into your life. About 37 trillion cells are intently listening to how you speak to them. Speak kindly. Words and thoughts are powerful modulators of your biochemistry.
Acceptance and self-compassion can fight chronic inflammation from stress and in turn, help decrease the risk of health problems. This is the immense power that your thoughts and emotions have over your health. I see so many people who eat perfectly but remain unwell in part due to the unhealthy emotional pain and stress they are holding on to. Forgive yourself and forgive others.
The highest, most noble battle you will ever wage is the war between what you feel and what you know deeply, beneath the feelings. The more you like yourself, the less you need others to like you. Learning to love yourself is a journey, but it's a beautiful one, with ups and downs alike. One of the side effects of our new breed of chronic stress is the mental and emotional alienation from our true selves and others. We get lost in our own minds, consumed with a constant stream of obsessive and repetitive thoughts, and fail to develop habits—such as mindfulness meditation and yoga or to taking breaks from social media—that bring peace and calm into our lives.
Advertisement
This ad is displayed using third party content and we do not control its accessibility features.
Sometimes the best form of healing is acknowledging the role you play in your own suffering
Sometimes the best form of healing is acknowledging the role you play in your own suffering and showing yourself grace and compassion to evolve from that awareness. In short, you are not your negative thoughts and emotions. Take them captive and observe them for the transient things they are. Build a healthy relationship with yourself. True sustainable wellness flows from realizing your intrinsic worth.
And finally, when you cultivate more compassion for yourself, you can show compassion to others more abundantly. It's easy to reflexively judge something or someone we don't understand, especially when we are exponentially harder on ourselves. True compassion says, "I don't understand this or it's not for me, but I see the humanity in this person and show kindness anyway." Otherwise, we become what we hate in others: judgmental, hateful, shaming, small-minded, and militant. Kindness, compassion, and empathy are nothing more than empty words and vapid virtue signaling until you can show them to people you disagree with or don't understand.
Excerpt courtesy of Gut Feelings: Healing the Shame-Fueled Relationship Between What You Eat and How You Feel. Copyright © 2023 by Will Cole. Published by goop Press, an imprint of Penguin Random House.
Advertisement
This ad is displayed using third party content and we do not control its accessibility features.