February 2022 Television Preview
Although it will be dominated by sports — i.e. the Winter Olympics and the Super Bowl — television is also offering plenty of intriguing projects by and about women this February. A new show from Shonda Rhimes, a reboot...
Although it will be dominated by sports — i.e. the Winter Olympics and the Super Bowl — television is also offering plenty of intriguing projects by and about women this February. A new show from Shonda Rhimes, a reboot of a beloved animated family comedy, and a documentary about civil rights activist Fannie Lou Hamer are just a few of the projects set to debut this month.
Among the buzziest new titles is Rhimes' "Inventing Anna" (February 11), a Netflix miniseries about the infamous scammer Anna Delvey. The first show Rhimes has created since "Scandal" stars Julia Garner as the titular con woman and is inspired by Jessica Pressler's viral New York Magazine exposé.
February, which marks Black History Month, will also see Joy Davenport's documentary "Fannie Lou Hamer's America" (February 22) kicking off the 10th season of PBS' "America ReFramed." Using speeches, interviews, and songs, the film traces Hamer's story, from growing up in a sharecropper family in Mississippi to her work in support of voting rights and access to health care.
Other notable premieres include Disney+'s "The Proud Family: Louder and Prouder" (February 23) and HBO Max's "The Girl Before" (February 10). The former is a continuation of the iconic early-aughts cartoon centering a young Black teenager and her family, and sees the original cast reprising their characters. In "The Girl Before," starring Gugu Mbatha-Raw and directed by Lisa Brühlmann, a woman moves into a stylish house — designed by an eccentric, exacting architect — only to discover its previous occupant died under mysterious circumstances.
Several of our favorite shows are making their returns this February as well. "The Marvelous Mrs. Maisel's" fourth season premieres February 18, while the final seasons of "Killing Eve" and "Better Things" will begin February 27 and 28, respectively.
Here are February's premiering and returning women-driven and women-created TV projects. All descriptions are from press materials unless otherwise noted.
TV and Episodic Premieres
"Finding Ola" (Premieres February 3 on Netflix)
After a life-altering event, Ola embarks on a journey of self-discovery while dealing with the challenges of raising two children and making ends meet.
"Angela Black" (Miniseries) (Premieres February 7 on Spectrum)
Angela's (Joanne Froggatt) life appears idyllic: a lovely house in suburban London, days working volunteer shifts at a dog shelter, two beautiful sons, and charming, hard-working husband Olivier (Michiel Huisman). However, beneath this façade of charmed domesticity, Angela is a victim of domestic violence. Olivier is controlling and brutal; but Angela loves him and he's the father of her children. She covers her bruises with make-up and fabricates lies to explain away her missing teeth. Until, one day, Angela is approached by Ed (Samuel Adewunmi), a private investigator, and he smashes her already strained domestic life to pieces. Ed reveals Olivier's deepest secrets to Angela, and she is faced with horrifying truths about her husband and forced to take matters into her own hands.
"Ms. Pat: Y'All Wanna Hear Something Crazy?" (Comedy Special) (Premieres February 8 on Netflix)
Ms. Pat finds laughter in the absurdities of parenting, pet lovers, and very unfortunate lip trends as she unpacks a painful past with humor and honesty.
"The Girl Before" (Miniseries) – Directed by Lisa Brühlmann (Premieres February 10 on HBO Max)
"The Girl Before" tells the story of Jane (Gugu Mbatha-Raw), who gets the chance to move into a beautiful, ultra-minimalist house designed by architect Edward (David Oyelowo) — the one catch being that occupants have to abide by his list of rules. When Jane makes the shocking discovery that her predecessor Emma (Jessica Plummer) died in the house, she begins to question if her fate will be the same as the girl before.
"Inventing Anna" (Miniseries) – Created by Shonda Rhimes (Premieres February 11 on Netflix)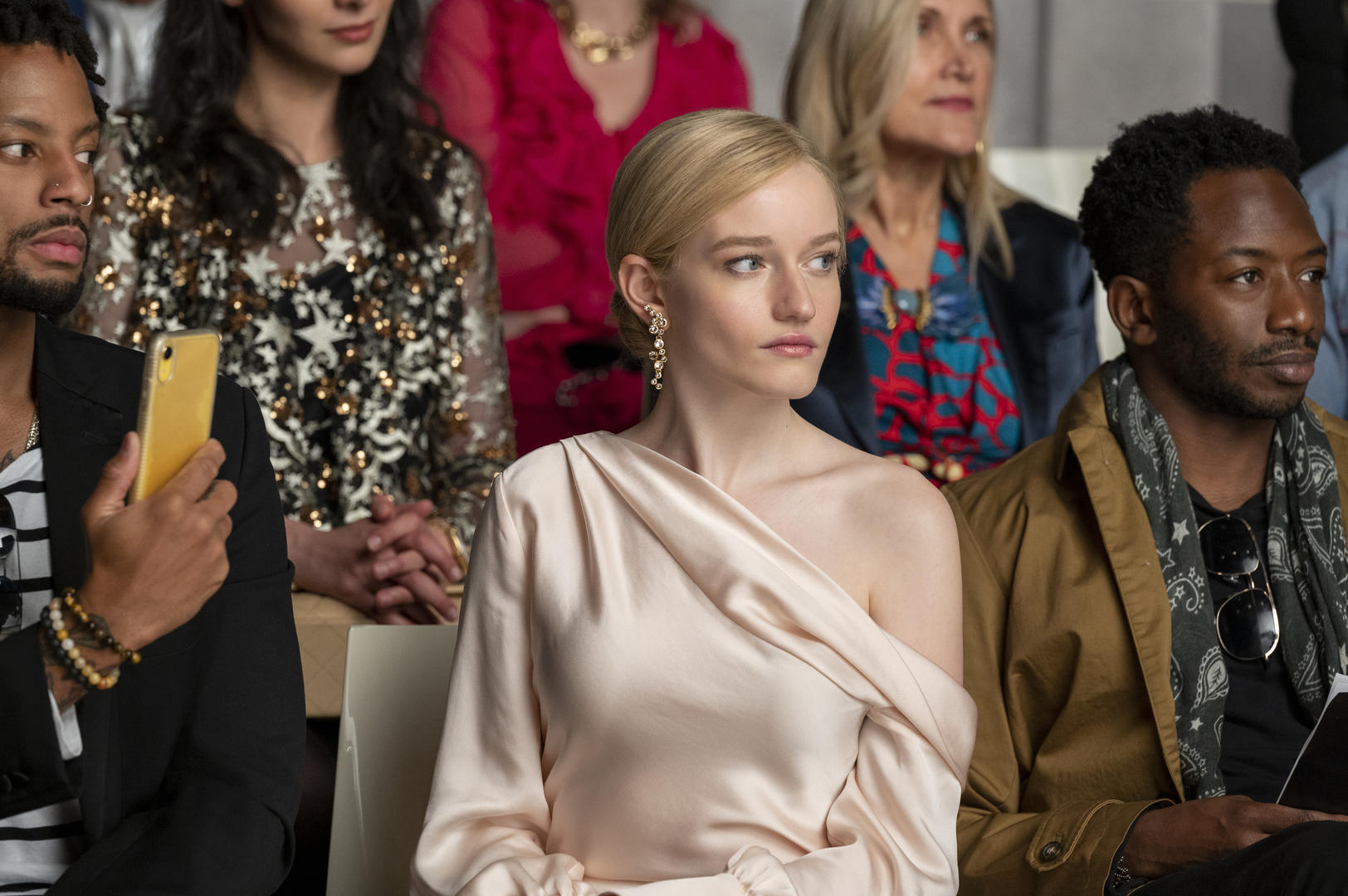 In "Inventing Anna," a journalist with a lot to prove investigates the case of Anna Delvey, the Instagram-legendary German heiress who stole the hearts of New York's social scene — and stole their money as well. But is Anna New York's biggest con woman, or is she simply the new portrait of the American dream? Anna (Julia Garner) and the reporter (Anna Chlumsky) form a dark, funny, love-hate bond as Anna awaits trial and our reporter fights the clock to answer the biggest question in NYC: who is Anna Delvey? The series is inspired by the New York Magazine article "How an Aspiring 'It' Girl Tricked New York's Party People — and its Banks" by Jessica Pressler.
"Fishbowl Wives" (Premieres February 14 on Netflix)
In a luxury apartment tower, six different women in unhappy marriages end up crossing the line into infidelity.
"Secrets of Summer" (Premieres February 16 on Netflix)
A remote Argentine resort revives its wakeboarding competition, drawing in Mexican athlete Steffi, who is determined to uncover a family secret.
"Lincoln's Dilemma" (Docuseries) – Directed by Jacqueline Olive and Barak Goodman (Premieres February 18 on Apple TV+)
Narrated by Jeffrey Wright and featuring the voices of Bill Camp as Abraham Lincoln and Leslie Odom Jr. as Frederick Douglass, "Lincoln's Dilemma" is a 21st century examination of a complicated man and the people and events that shaped his evolving stance on slavery. Based on acclaimed historian David S. Reynolds' award-winning book, "Abe: Abraham Lincoln in His Times," the series features insights from a diverse range of journalists, educators, and Lincoln scholars, as well as rare archival materials, that offer a more nuanced look into the man dubbed the Great Emancipator. Set against the background of the Civil War, "Lincoln's Dilemma" also gives voice to the narratives of enslaved people, shaping a more complete view of an America divided over issues including economy, race, and humanity, and underscoring Lincoln's battle to save the country, no matter the cost.
"The Endgame" (Premieres February 21 on NBC)
In this pulse-pounding, high-stakes two hander, Morena Baccarin stars as Elena Federova, a recently captured international arms dealer and brilliant criminal mastermind who orchestrates a number of coordinated bank heists throughout New York City for a mysterious purpose. Her antagonist is Val Turner (Ryan Michelle Bathé), the principled, relentless, and socially outcast FBI agent who will stop at nothing to foil her ambitious plan. The gripping heist drama reveals how far some people will go for love, justice, and the most valuable commodity in the world: the truth.
"All American: Homecoming" – Created by Nkechi Okoro (Premieres February 21 on The CW)
A young adult sports drama set against the backdrop of the HBCU experience at Bringston University, where Black excellence is a way of life.
"Fannie Lou Hamer's America" (Documentary) – Directed by Joy Davenport (Premieres February 22 on PBS and February 24 on WORLD Channel)
"Fannie Lou Hamer's America" is a new, original documentary film told through the public speeches, personal interviews, and powerful songs of the fearless Mississippi sharecropper-turned-human rights activist. "Fannie Lou Hamer's America" not only features rare artifacts from her activist career, but the documentary also engages Hamer's life story — as she told it — foregrounding such themes as the injustice of growing up black and poor in the Mississippi Delta, white supremacist backlash to black voter registration, police brutality, and access to quality healthcare and affordable nutrition.
"The Proud Family: Louder and Prouder" (Premieres February 23 on Disney+)
A continuation of the acclaimed series, "The Proud Family: Louder and Prouder" follows the adventures and misadventures of newly 14-year-old Penny Proud (Kyla Pratt) and her family as they navigate modern life with hilarity and heart. The 2020s bring a new career for mom Trudy (Paula Jai Parker), wilder dreams for dad Oscar (Tommy Davidson), and new challenges for Penny, including a socially woke neighbor who thinks she has a lot to teach her.
"Back to 15" (Premieres February 25 on Netflix)
Unhappy with her life, 30-year-old Anita (Camila Queiroz) accidentally discovers a way to travel back to age 15 (Maisa Silva). Can she rewrite her own history?
Returning Series
"Raising Dion" – Created by Carol Barbee (Netflix, February 1)
"Dark Desire" – Created by Leticia López Margalli (Netflix, February 2)
"Sweet Magnolias" – Created by Sheryl J. Anderson (Netflix, February 4)
"Disenchantment" (Netflix, February 9)
"Dollface" – Created by Jordan Weiss (Hulu, February 11)
"The Marvelous Mrs. Maisel" – Created by Amy Sherman-Palladino (Prime Video, February 18)
"Killing Eve" – Developed by Phoebe Waller-Bridge (BBC America, February 27)
"Better Things" – Created by Pamela Adlon (FX, February 28)
"My Brilliant Friend" (HBO Max, February 28)