My Symptoms Were Pinned To Postpartum — Then I Was Diagnosed With This Condition
Always trust your intuition.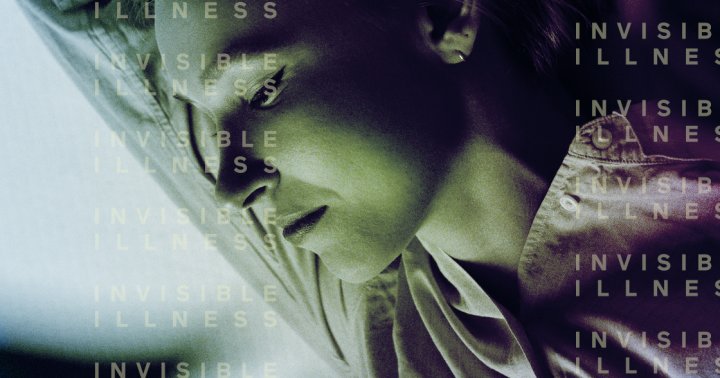 While some health issues are visible to the outside world, many people face chronic conditions that don't have externally visible signs or symptoms—also known as invisible illnesses. In mindbodygreen's new series, we're giving individuals with invisible illnesses a platform to share their personal experiences. Our hope is their stories will shed light on these conditions and offer solidarity to others facing similar situations.
I knew something was off when the second trimester of my pregnancy rolled around. So many other moms talk about a magical surge of "second trimester energy," but week 14 came and went, and I was still feeling sluggish.
I mentioned my lack of renewed energy to the doctor, who decided to run a TSH (thyroid stimulating hormone) lab screening. The results revealed abnormally low thyroid levels for that stage of my pregnancy. Rather than running further tests, I was prescribed a low dose thyroid hormone replacement medication, and told to stop taking it six weeks after giving birth.
Because I had no formal education specific to thyroid disorders at the time, I didn't really question whether I was sick—I just stopped taking the medication as instructed.
Soon after giving birth my symptoms went from bad to worse—but the tricky thing was, many of my symptoms (fatigue, hair loss, holding on to weight, anxiety, and depression) were actually common for the postpartum period. However, I knew instinctively something was out of the ordinary, especially when my symptoms persisted.
My journey to a diagnosis.
I started losing my breast milk supply three months postpartum. Along with the breast milk, I had lost about half of my hair, and nearly all of my weight. It didn't matter what or how much I ate, I couldn't keep on a pound. It felt like my body was deteriorating.
As I was dealing with my undiagnosed health problems, my newborn was dealing with his own. He was throwing up multiple times a day, unable to keep any food down. So, I focused all of my attention on getting him the help he needed. I was making formula from scratch after losing my milk supply (he wouldn't tolerate anything on the market), I was taking him back and forth between doctor's appointments, and meanwhile, I wasn't getting a minute of sleep.
Eventually I reached a breaking point and sought out a doctor for myself. I knew I needed someone who would truly listen to me—not just draw a lab and dismiss my symptoms. I ended up finding a doctor with an interest in functional and integrative medicine who drew several labs to identify the root cause.
Because of these labs, I learned I had Hashimoto's—and it was severe. As I learned, Hashimoto's is an autoimmune disease where the body attacks its own thyroid and related tissue, often leaving it unable to produce enough hormones—also known as underactive or hypothyroidism.
The immune response against my thyroid was so strong, it caused the thyroid cells to explode and release tons of hormones into my bloodstream—presenting as hyperthyroidism, and leading to my rapid weight loss. By the time the attack on my body stopped, I was left with about half the amount of functioning thyroid tissue. That was very obvious in my lab results, too.
Suffice it to say, I was not allowed to drive myself home after that visit. After calling someone to pick me up, the doctor prescribed a low-dose hormone replacement medication (similar to the one given in my second trimester) and sent me on my way.
The dosage of the prescription was not nearly enough to cut the thyroid problem, so I made an appointment with an endocrinologist—well, actually, several appointments—until I finally found someone to help with my recovery.
How I learned to treat my Hashimoto's.
One of my friends, who works as a midwife and nurse practitioner, had been diagnosed with Hashimoto's before me—which gave me enough background to understand there are alternative modalities available to help treat the disorder, such as nutrition and lifestyle enhancements. Here are four I paid special attention to, and prioritize to this day:
Note: While I appreciate and lean on alternative healing daily, I also recognize how life-saving my prescription medication is, and I still take it to this day.
What I've learned from my experience & what I want others to know.
The number one lesson I learned from my experience with an invisible illness is: Always listen to your body and trust your intuition. Be an advocate for yourself, always. If you think your thyroid might not be functioning properly, request a full thyroid lab panel from your doctor, don't settle for just a screening.
If you are unable to get a lab test done at your doctor's office, there are plenty of direct-to-consumer labs available now, so you can test your thyroid levels at home.
And if you don't have access to at-home tests, but you think you might have a thyroid disorder, you can still lay a healthy foundation to support your body. Here's what I recommend:
My journey to a diagnosis, while traumatic, gave me a purpose. I'd always been interested in functional medicine, but hadn't landed on a population or a focus until living with Hashimoto's.
Now, as an integrative dietitian focused on thyroid disorders, I am able to advocate for patients, particularly women, who are eager to pinpoint a root cause of their symptoms and regain their health—I never want anyone to be in the same position I was in with Hashimoto's.
As told to mindbodygreen's editorial operations managing, Abby Moore.