What Size Yoga Ball Do I Need? Use this Exercise Ball Size Chart to Choose the best one for you
The post What Size Yoga Ball Do I Need? Use this Exercise Ball Size Chart to Choose the best one for you appeared first on The Yoga Nomads.
Whether you're craving a spinal release or a challenging ab workout, a yoga ball is the perfect prop for targeting core muscles, strength training, pilates, posture improvement, and deep stretching.
But when you're on the hunt for the right stability ball, it can be difficult to sort through all the sizes and options out there. You don't want something so small that it deflates under your weight, nor something too large to comfortably sit on or stretch over.
This guide will help you figure out the perfect size exercise ball for your home workouts and post-yoga stretches.
What is a stability ball?
Also called a yoga ball, swiss ball, or fitness ball, stability balls are essentially soft plastic exercise balls designed for physical therapy, core strengthening, and weight training.
Depending on the ball size and amount of air pressure, exercise balls engage whole muscle groups for more stability and tone. The unstable surface fires up your core muscles as well as smaller microfiber muscles.
You can use a yoga ball for:
Yoga and stretching: As a yoga prop
, a stability ball helps you get a deeper stretch without risking overextension. You can recline backwards on the ball or use it to aid in more
advanced poses
such as Scorpion pose. It can even be held as an added weight and balance challenger for yoga exercises. These soft inflatable props can be integrated into nearly any pose to make it easier or more challenging. A balance ball is a valuable tool for any yogi seeking to improve their balance, core strength, and flexibility.
Strength training
: Using an exercise ball in body weight or dumbbell exercises can help you get a full body workout. While certain movements like a pectoral fly or "skull crusher" tricep dip typically target only the arms, a stability ball adds in the legs and core. Essentially, the inflatable ball acts like a workout bench with some "give". As your body sits or lays on the squishy ball, small muscle fibers are challenged to stabilize and hold you in place.
Core workouts
: Perhaps the most popular use of an exercise ball is in ab workouts. As long as you have the right size stability ball (which we'll explore below), you can use the ball to support your back or legs as you try out a range of different core strengthening exercises. You'll feel every part of your abs and obliques engaging (and maybe even shaking) as you try to stay stable atop the soft base.
Desk chair replacement:
If you want better posture and a mild core challenge while working at the computer, you can also use these inflatable workout balls as a replacement for your desk chair. The right size stability ball will allow you to sit evenly and comfortably with your feet flat on the floor and spine straight.
What size yoga ball should I buy?
Choosing the right ball size is key for a successful swiss ball workout. Exercise balls are sold based on the diameter of the ball when it's fully inflated. There is no "standard size". Instead, the right size is based off your height and use for the ball.
The most common exercise ball sizes are:
Extra Small (30 cm/12″)Small (45 cm/18″)Medium (55 cm/22″)Large (65 cm/26″)Extra Large (75 cm/30″)
Your HeightRecommended Ball Size
4'6" or shorter
30 cm/12"
4'6" to 5'
45 cm/18"
5' to 5'5"
55 cm/22"
5'6" to 6'2"
65 cm/26"
6'2" or taller
75 cm/30"
How to Choose the Correct Size Yoga Ball
An exercise ball is only comfortable to use if it has the proper dimensions for supporting your body. The perfect ball size will allow you to sit up straight with your feet flat on the floor, knees bent at a 90 degree angle, and your thighs parallel to the ground.
You can find the ideal size yoga ball with two different measurements: either use your height or measure the ball size by wall sitting and marking where the ball would ideally land beneath you. To do this:
Stand with your back touching a wallSlide down into a wall sit with until your hips and knees are at a perfect 90 degree angleUse a pencil to mark on the wall just beneath your tail boneUse a tape measure to measure the height from the floor to your pencil mark. This is the correct ball height for you.
*Remember that when you sit or lay on the ball, it will naturally compress downward. If you are in between sizes or have a slightly deflated ball, size up to ensure that the proportions are correct.
Now, use this chart to match your measurements with the correct ball height.
Product's NameSizeWeight CapacityMaterialMore Info
Best Overall
Trideer Extra Thick Yoga Ball Exercise Ball, 5 Sizes Ball Chair, Heavy Duty...
5 sizes
330 to 2,200 pounds (depending on size)
Latex-free PVC
See latest price
Best for Sitting
Gaiam Classic Balance Ball Chair – Exercise Stability Yoga Ball Premium...
52 cm (best for 5'5" to 5'11" height)
300 lbs of weight
Rubber
See latest price

Highest Weight Limit
URBNFIT Exercise Ball - Yoga Ball in Multiple Sizes for Workout,...
45 cm, 55 cm 65 cm, 75 cm, or 85 cm
2000 lbs of pressure and 600 lbs of weight
PVC
See latest price
Best Anti-Burst Technology
Exercise Ball for Yoga, Balance, Stability - Fitness, Pilates, Birthing,...
45 cm, 55 cm, 65 cm, or 75 cm
2000 PSI burst rating
Latex-free PVC
See latest price
Best Overall
REEHUT Exercise Ball (55cm,65cm,75cm) for Fitness,Anti-Burst Yoga Ball...
55 cm, 65 cm, or 75 cm
1100 lbs of pressure
PVC
See latest price
Top 5 Best Yoga Balls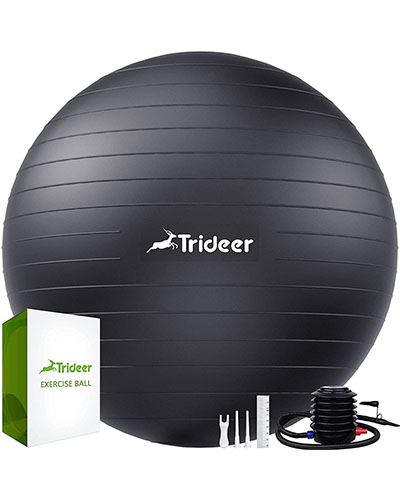 This Trideer stability ball takes the cake for the most versatile and durable ball on the market. It has the best anti-burst and slow deflation technology to ensure that it won't explode if punctured. The extra thick material can resist up to 2,200 pounds of weight and pressure. It inflates quickly and easily with the included pump and air stoppers.
The non-slip surface is extra comfortable for yoga, pilates, core workouts, or sitting at a desk. We love that it is made with non-toxic, BPA-free, and latex-free PVC and even includes a 12 month warranty.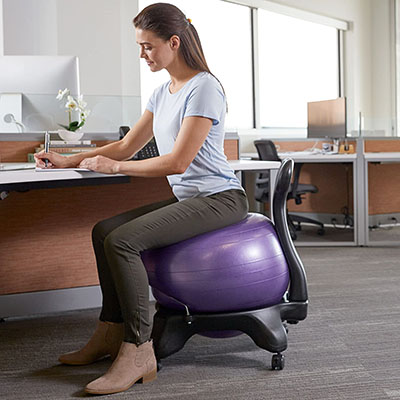 Best for Sitting:
Gaiam Classic Balance Ball Chair – Exercise Stability Yoga Ball Premium Ergonomic Chair for Home...
If you want to improve your posture and subtly challenge your core muscles while working at a desk, Gaiam designed this convenient stability ball chair made specifically for office use. It boosts energy and focus by engaging your balance and encouraging micro-movements to maintain your balance as you work. The 52cm exercise ball comes with a chair base and supports, castor wheels, and air pump. It is best for users that are 5'5″ to 5'11".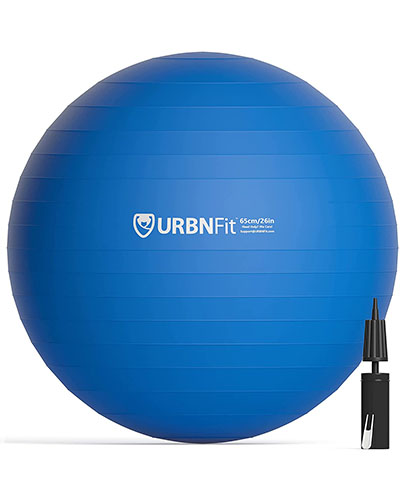 Highest Weight Limit:
URBNFIT Exercise Ball - Yoga Ball in Multiple Sizes for Workout, Pregnancy, Stability -...
This ball can withstand up to 2000 pounds of pressure and 600 pounds of weight, making it perfect for weighted exercises. It is made of high quality PVC with anti-burst technology. The surface is anti-slip and grip for safety, plus the included pump makes inflating a breeze. This exercise ball comes in 45 cm, 55 cm 65 cm, 75 cm, and 85 cm diameters to fit any body dimensions.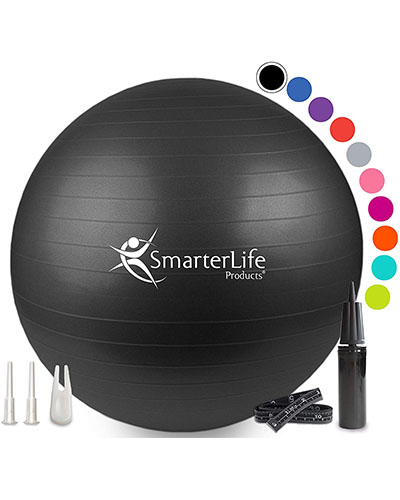 Best Anti-Burst Technology:
Exercise Ball for Yoga, Balance, Stability - Fitness, Pilates, Birthing, Therapy, Office Ball Chair,...
If the idea of a stability ball bursting freaks you out, this is the pick for you. SmarterLife's latex-free PVC ball has an anti-burst rating of 2000 pounds and the thickest 2.5mm vinyl on the market. It has an anti-slip matte surface and comes in 45 cm, 55 cm, 65 cm, and 75 cm.
When you're trusting an inflatable ball to support your full body weight as you move, it better not bust! This puncture-resistant balance ball is durable and reliable.
Best Budget Pick:
REEHUT Exercise Ball (55cm,65cm,75cm) for Fitness,Anti-Burst Yoga Ball Office Chair,Balance...
This non-toxic PVC exercise ball offers high quality at a bargain price. It has a comfy grippy surface, weight rating up to 1100 pounds, and a smell-free material. Available in 55 cm, 65 cm, and 75 cm, this ball is ideal for home workouts on a budget. It even comes with a 30 day warranty!
Key Takeaways: The Right Exercise Ball Size is Based of Your Height and Usage
Balance balls are awesome for a range of activities that improve your posture, balance, spinal health, and muscular strength.
Standard sizes are based off of your height to allow you to comfortably sit with your legs at a 90 degree angle and feet flat on the floor. These dimensions will allow a full range of motion whether you're back-bending over the ball, bracing yourself for a core workout, or placing it beneath your feet in a lunge.
A larger or smaller ball will change the intensity of your workout. When in doubt, a larger ball with a little less firm inflation is best for beginners. A smaller ball with more air will challenge more muscles.
Whether you want a yoga ball to compliment your practice or get some spinal relief while you work, stability balls are affordable additions to your routine.
Namaste!