This Non-Toxic Mattress Has A Firmness Option For Everyone (+ Couples Love It)
Finally, a mattress fit for every sleep position.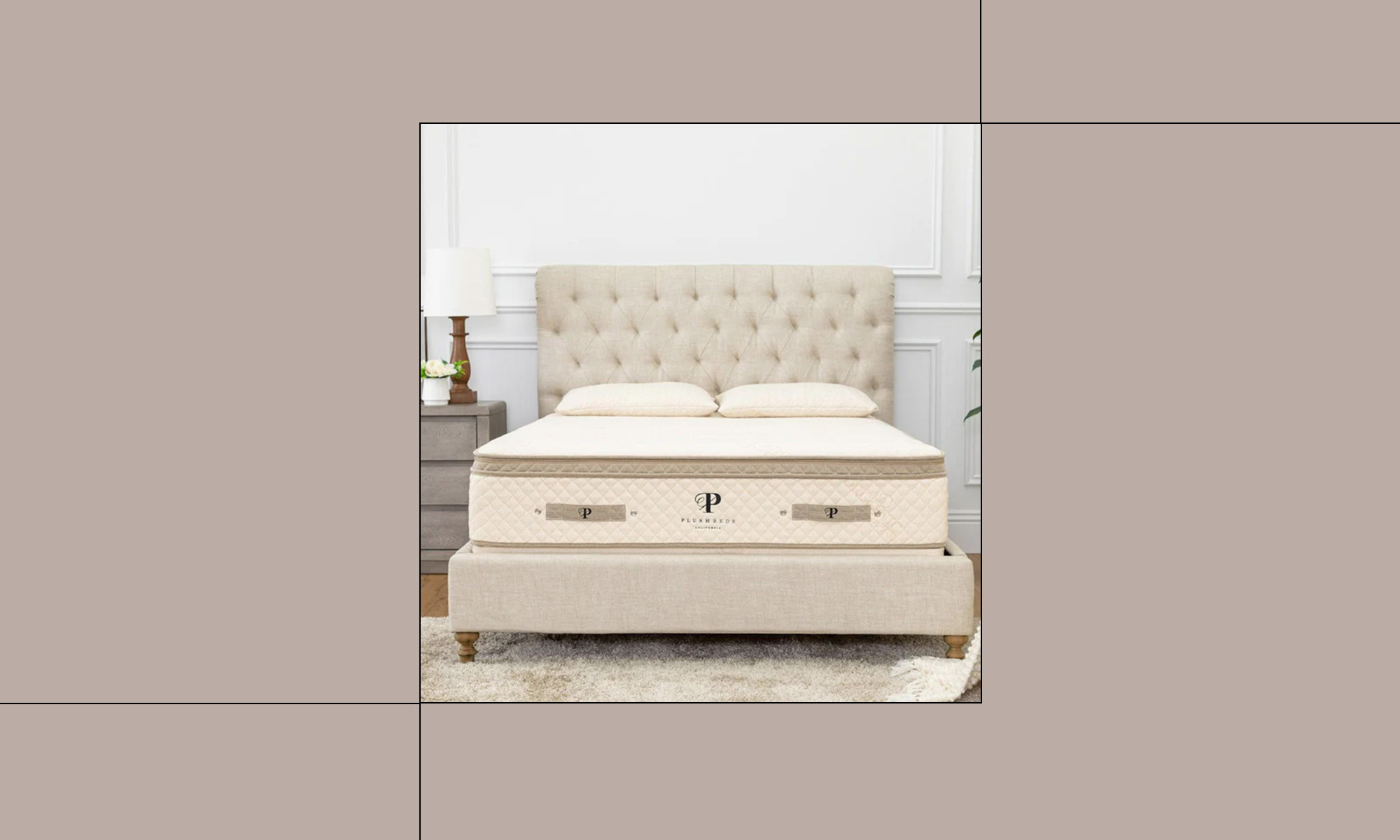 Contributor
Contributor
Brittany Natale has a degree in advertising and marketing communications from the Fashion Institute of Technology. Her work has appeared in SELF, Popsugar, i-D, Teen Vogue, Domino, Martha Stewart, and Eat This.

Medical review by
Scott Nass, M.D., MPA, FAAFP, AAHIVS
Board-certified Family Physician
Scott Nass, M.D., MPA, FAAFP, AAHIVS is a family physician and HIV specialist in California. He takes a holistic approach to healthcare, incorporating principles of functional medicine and using food as medicine when working with patients.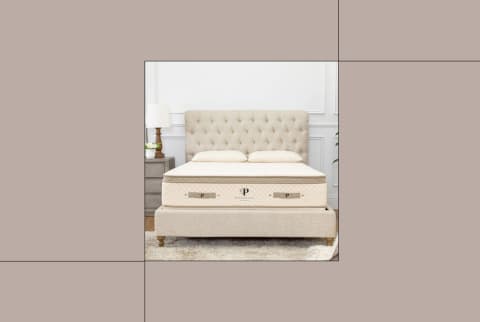 May 25, 2023

Our editors have independently chosen the products listed on this page. If you purchase something mentioned in this article, we may

When it comes to taking care of your well-being, a good night's sleep should be top priority. Quality sleep has been shown to improve your immune system and cardiovascular health, with a slew of other benefits. There's a lot to consider when optimizing your sleep, but a well-made mattress is a great place to start. To help you navigate your search for the best mattress, our team has been putting our top picks to the test. Today, we're sharing our PlushBeds Luxury Bliss Natural Latex Mattress review, with everything you need to know before you purchase.

The Luxury Bliss is one of the best non-toxic mattresses. It's made with organic materials in a certified-organic facility in California. The hybrid mattress combines natural latex, fabric-encased coils, organic wool, and organic cotton. There are two firmness levels to choose from—so there's an option for every sleeping position.

Keep scrolling to learn more about the materials used, edge support, and every detail you'll want to consider before trying this mattress out for yourself.
The PlushBeds Luxury Bliss Natural Latex Mattress at a glance:
PlushBeds Luxury Bliss Natural Latex Mattress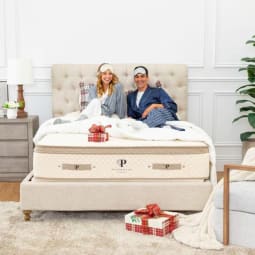 Who should try it:

Back, side, and stomach sleepers who prioritize natural, organic materials will especially love this sustainable pick. Known for its excellent motion isolation, this mattress is great if you share your bed with pets or sleep with a partner who tosses and turns throughout the night. This hybrid mattress's unique combination of latex and individually-wrapped coils helps prevent motion transfer.

Hot sleepers can also rejoice; this pick comes equipped with European air vents and moisture-absorbing organic wool that keep you cool while you sleep.

Who should skip it:

Those who prefer softer mattresses may not enjoy sleeping on the Luxury Bliss. Since the mattress is made from natural latex and encased coils (and not, say, memory foam), it has less of a sinking, body-hugging feel. So, if you're someone who's looking for a cloud-like feel, you may want to check out one of the brand's plusher models.
PlushBeds Luxury Bliss Natural Latex Mattress Pros & Cons
Pros
Great motion isolationSustainableExtra edge support
What is PlushBeds?
PlushBeds is a sustainable mattress company based in the United States. The brand makes mattresses, mattress toppers, sheet sets, comforters, and more sleep-related products. Each of its beds, including the Luxury Bliss, is made-to-order in the company's certified organic manufacturing facility in California. Every product goes through a comprehensive 95-point inspection before shipping out.
Regarding the delivery process, similar to other mattresses, the Luxury Bliss comes shrink-wrapped and compressed in a large cardboard box. Depending on the size, the mattress has up to 6 heavy-duty linen side handles that allow you to move it around more easily. Although the handles help, the mattress itself is pretty heavy, so you may want to have someone with you to assist during setup.
The brand offers a 100-night trial period and a lifetime warranty if you do decide to keep it. Also, good news for those looking to save a few bucks—PlushBeds ships mattresses out for free throughout the cContiguous United States via FedEx. If you want someone from the company to come and set it up for you, or take away your old bed, there is an additional fee. This service is helpful if you live alone or rather not go through the headache of having to install a new bed yourself.
How is the PlushBeds Luxury Bliss Natural Latex Mattress made?
Crafted from natural materials, this mattress is one of the most sustainable picks our team has found. In fact, we included it in our roundup of the best organic mattresses. The brand points out on its website that this mattress is a favorite among chiropractors and orthopedic specialists because it's both supportive and pressure-relieving. If you've been searching for a non-toxic mattress that offers optimal support with minimal motion transfer, the Luxury Bliss will most likely fit the bill.
Each mattress has eight inches of fabric-encased coils, three inches of natural Talalay latex, a layer of organic wool that keeps you cool at night, and a one-inch organic cotton cover that feels soft to the touch. PlushBeds is involved in every step of the mattress-making process. The brand's partner farms in Sri Lanka sources the latex, and (as mentioned earlier) PlushBeds owns an organic manufacturing facility in the States.
This mattress is offered in medium and medium-firm firmness. If you prefer a bed that's a bit softer, check out the brand's Pillowtop Mattress. This plusher design features a fabric-encased coil core with a three-inch plush pillow top layer, all stacked on top of organic latex. Although the pillowtop mattress has a higher price tag, it's an excellent choice for those who want a more cozy feel.
Features we love on the Luxury Bliss Mattress:
Natural Talalay latex
Natural Talalay latex creates a comfortable sleeping environment. The material supports your hips, joints, shoulders, and spine. PlushBeds gets its latex from Hevea Brasiliense trees grown in Sri Lanka. Each tree lives for an average of 16 years and produces liquid latex sap daily.
European air vents
Each mattress has with European air vents that help foster better air circulation, which gives it a breathable feel. Hot sleepers will appreciate this detail.
How firm is the Luxury Bliss Natural Latex Mattress?
The Luxury Bliss mattress is currently offered in two firmness levels: medium and medium-firm. On a firmness scale of 1 to 10, the medium option clocks in at a 5.5. The medium-firm option is an 8. The medium option works well for side sleepers who want to take pressure off their shoulder and hip areas, while the medium-firm suits back and stomach sleepers looking for top-notch support and spinal alignment. It's essential to remember that a bed's firmness level may feel different from person to person, depending on their weight and other factors.
What sizes does Luxury Bliss Natural Latex Mattress come in?
PlushBeds carries many sizing options, from twin to California king. They also offer a split king choice perfect for partners who prefer different firmness levels.
How much does the mattress cost?
Mattress Pricing:
A queen will run you $2,999, whereas a king costs $3,499. PlushBeds runs plenty of promotions on their mattresses, though—right now, they're having their spring sale, which means every mattress is 50% off. That brings the queen down to $1,500 and the king down to $1,750.
Mattress Sizes, Cost & Measurements:
SizePriceDimensionsWeight
Twin
$2399
38" x 75" x 12"
72 lbs
Twin XL
$2499
38" x 80" x 12"
79 lbs
Full
$2699
54" x 75" x 12"
110 lbs
Queen
$2999
60" x 80" x 12"
120 lbs
King
$3499
76" x 80" x 12"
161 lbs
California King
$3499
72" x 84" x 12"
162 lbs
Split King (2)
$3598
38" x 80" x 12" (x2)
79 lbs (x2)
The best sleeping positions for the Luxury Bliss mattress:
Side sleepers: Yes
The medium firmness option is recommended for side sleepers who want to take some pressure off their shoulder and hip areas. For side sleepers, these parts of their bodies feel the most pressure when lying down. Because of this, side sleepers must pick a mattress that feels soft enough to be comfortable but is also firm enough to be supportive. Hybrid mattresses, like this one, check both boxes.
Stomach sleepers: Yes
If you're a stomach sleeper, the medium-firm version of this mattress will work well for you. In general, stomach sleepers should opt for a medium-firm mattress since it helps align the spine.
Back sleepers: Yes
Back sleepers should also opt for the medium-firm option, as it offers more support. Spinal alignment is vital for back sleepers—and it's crucial to choose a bed that cradles your spine as your sleep.
How we rate the Luxury Bliss in key areas
Motion transfer: 4/5
Motion isolation is particularly important if you share a bed with a partner who tosses and turns at night. People who sleep with a pet will also appreciate a mattress with higher motion isolation, as they'll be less disturbed by movement. Hybrid (as well as memory foam) mattresses are often the best beds for motion isolation. In this case, the combination of thick latex and a fabric-encased coil core helps cut down significantly on motion transfer. The medium-firm version of this mattress may have slightly better motion isolation than the medium option.
Responsiveness: 3/5
Both firmness levels have a good bounce, which makes sense since latex foam and coils both provide a bit of spring.
Pressure Relief: 4/5
As previously noted, the medium option will provide better pressure relief for side sleepers, as it offers a solid amount of support with a more comfy, cradling feel. As for back and stomach sleeping positions, the medium-firm model offers more pressure relief and will better support spinal alignment.
Edge Support: 5/5
It's essential to consider edge support when choosing a mattress. Solid edge support prevents your body from slipping off the bed while you're asleep and can help the mattress keep its shape longer. Thanks to its hybrid design and edge-to-edge fabric-encased coils, this hybrid mattress has great edge support for any sleep position.
The takeaway.
Think one mattress can't do it all? Think again. After testing the PlushBeds Luxury Bliss Natural Latex Mattress, we found it to be a great choice for many types of sleepers. Couples, or those who share a bed with a pet, will benefit from the standout motion control. Those who prioritize sustainability will appreciate the bed's natural and organic materials. The design is a perfect blend of soft foam and supportive coils. If a hybrid is what you're after, check out our picks for the best hybrid mattresses.