Albania: Unique, unspoilt and waiting for you to discover on a luxury charter yacht vacation
We are delighted to bring readers a guide to yacht charter vacations in Albania, where the blossoming charter industry is excited to be welcoming visitors to the Adriatic and Ionian coastlines. Here, charming coastal towns, natural beauty and incredible...
Readers of A Luxury Travel Blog will no doubt have travelled extensively throughout the world and been among the first to venture into unchartered waters. But where in the Mediterranean still presents the opportunity for a fresh yacht charter experience and one that will draw envious gasps from friends and family?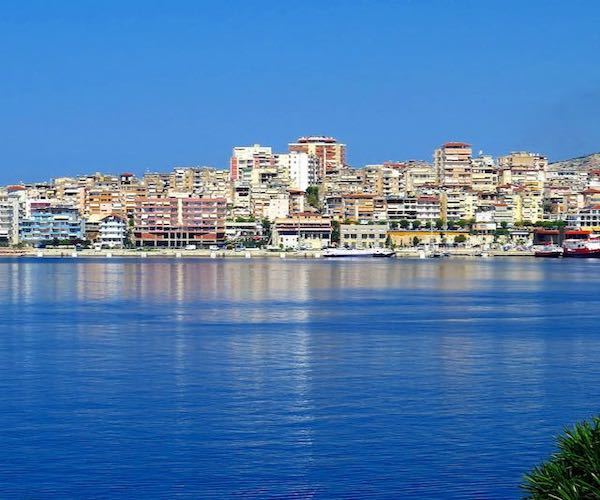 We are delighted to bring readers a guide to yacht charter vacations in Albania, where the blossoming charter industry is excited to be welcoming visitors to the Adriatic and Ionian coastlines. Here, charming coastal towns, natural beauty and incredible history are ready to be discovered from the comfort of your private luxury yacht.
The country, which borders Montenegro in the North and Greece in the South, remained isolated during the communist era, which came to an end in 1991. Since then, tourism has flourished in parts of the Balkans, but until relatively recently Albania retained its mystery. Albania boasts 476km of coastline where sandy beaches line up opposite the azure blue sea on one side, and forested hills on the other. Charterers will no doubt be attracted by the peace and tranquillity which contrasts with some of the livelier Mediterranean countries and resorts.
It may be quieter, but like other Mediterranean destinations, Albania boasts its own Riviera in the south of the country which runs from Vlore down to Sarandë. The Bay of Vlore is home to a new yacht harbour making it the perfect place to embark on a luxury yacht charter. Why not arrive a few days early and soak up the atmosphere and history of Albania's third-largest city. There is plenty to see and do, plus its beaches have been revitalised with the addition of contemporary hotels, bars, restaurants, and nightclubs.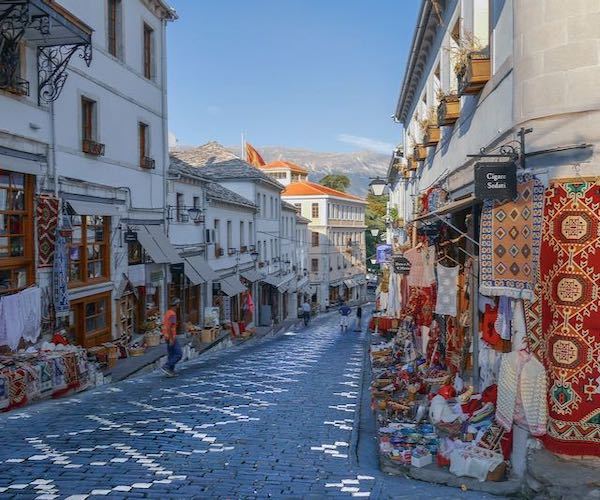 Wake up to the exciting prospect of meeting your yacht, captain and crew for a relaxing cruise down the coast where one beautiful sandy bay after another awaits. If this is your first time chartering a yacht, we recommend that you take weather conditions, local customs and your chosen itinerary into consideration when preparing. Where appropriate you should cover up, and away from the beaches, it may be recommended to dress more modestly. Exploring ruins and hiking on rocky coastal tracks might be on your wish list of activities, so sturdy footwear is essential. It can be cool on deck at night when anchored offshore, so pack something warm to enjoy leisurely evenings on board. Most locals in the larger towns and cities will speak English, but if you're interested in the Albanian language, it is unique to the country, gender neutral and not considered to be a close relative of any other Indo-European languages, such as French or Spanish. So good luck, or in Albanian … paç fat!
The undulating Ionian coast south of Vlore is perfect for exploring by yacht and on request, the crew can take you ashore on the tender for a beach picnic. Or why not arrive under your own steam on a kayak or paddle board – usually available on board – for closer encounters with the cliffs and caves. Your captain will likely be local and have endless recommendations for places to anchor but some of the fascinating stops along the way include the spectacular Gjipe Beach, formed by a creek within a deep canyon; Grama Bay featuring hundreds of ancient inscriptions carved into the rock by sailors as long ago and the 4th Century; and Jalë where the communist government had their summer compound and now offers fabulous views.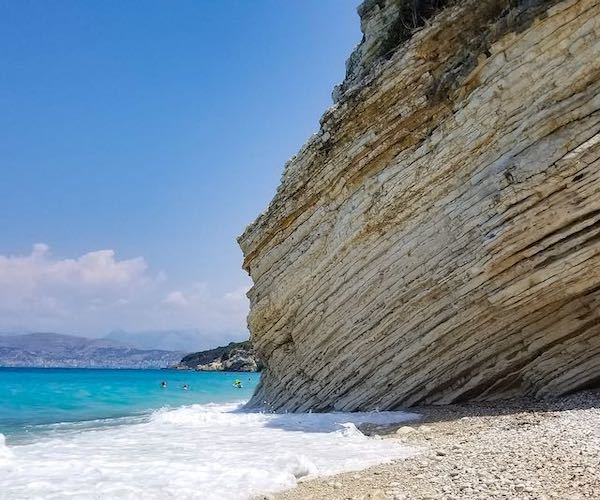 Himarë is the mid-point on the Albanian Riviera and has a traditional seaside feel with a promenade, plentiful Greek-style tavernas and an old town, built on the hill, which bears the marks of a rich history. End the day with a hike up to Himarë Castle, an impressive bronze age citadel, with spectacular sunset views over the sea and nearby islands, before returning to the yacht for a nightcap.
---
IMPORTANT NOTICE:
If you are reading this article anywhere other than on A Luxury Travel Blog, then the chances are that this content has been stolen without permission.
Please make a note of the web address above and contact A Luxury Travel Blog to advise them of this issue.
Thank you for your help in combatting content theft.
---
Porto Palermo is home to the eponymous castle which is perched on an island connected to the mainland by a small strip of land. The now-ruined castle was built by Ali Pasha Tepelena, a 19th-century Albanian ruler and Ottoman warlord and is a popular visitor attraction with stunning sea views.
A visit to Butrint National Park, a UNESCO World Heritage Site and a Ramsar Wetland Site of International Importance, is a must. The park blends history and wildlife perfectly with the ruins of the Ancient Roman City of Buthrotum side by side with hundreds of animal, bird and marine species. The ruins of the city offer the chance to see the carefully preserved amphitheatre and well-kept floor mosaics. The theatre was built in the 3rd century BC, possibly on the footprint of an older theatre and extended during the Roman period. They built private boxes for the upper class above the two entrances and enlarged the structure to accommodate the growing population of the town at that time. In the west of the park, the rocky islands of Ksamil are only accessible by boat and are home to short-beaked and bottlenose dolphins. Seeing a pod of dolphins dancing in the water is always a thrill, so ask your captain about taking a trip to the islands in the hope of spotting these mischievous creatures in action.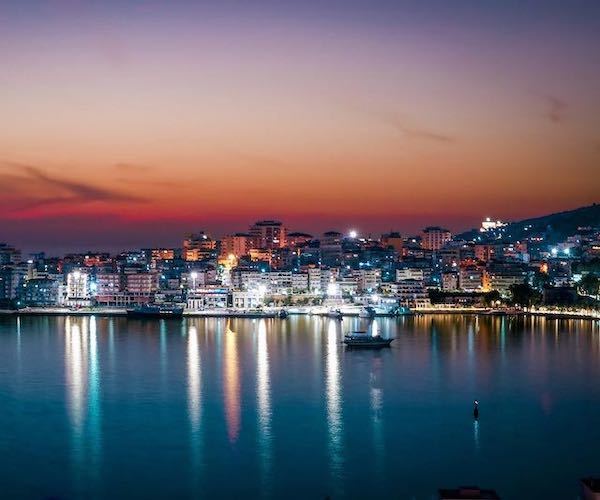 Sarandë makes the ideal final stop on the Albanian Riviera and the town is on a horseshoe-shaped bay, edged by beaches and a promenade. The 16th-century Lëkurësi Castle is on a hilltop above the town and is worth visiting for the views alone over the valley, mountain range and across the Ionian Sea with Corfu on the horizon. The wonderful Natyara Restaurant is en route to the castle and boasts equally fabulous views from its panoramic terrace.
If you have the time to extend your charter vacation then you should consider continuing to Corfu, which takes less than an hour to reach from this part of Albania. For even longer cruises, why not consider the Ionian Islands of Kefalonia and Zakynthos. Whatever your itinerary the onboard crew will provide you with first-class service, plenty of entertainment and culinary delights to make your experience truly memorable. Most yachts are equipped with an abundance of water toys which the crew will launch when the yacht is at anchor and will afford you hours of fun. If you prefer a more sedate pace, then meals and drinks will be served throughout the charter to your own individual tastes. Yacht charter chefs are extremely versatile and will be happy to create authentic Albanian cuisine, which is heavily influenced by locally grown and reared ingredients and fresh produce from the sea. Alternatively, they can cater for those who prefer a choice of international flavours, have special dietary requirements or have kids who only eat fries!
There are plenty of yachts which now include Albania on their itineraries and there is a choice of both sailing and motor yachts. Like most areas of the Mediterranean, the warmest and driest months are July and August when temperatures are in the mid-late 20s and there will be very little rain. If you are planning a sailing trip, you may get better conditions in the spring and autumn shoulder seasons when the weather is slightly windier than the height of summer.
We are certain this authentic part of the Mediterranean won't stay quiet for long so be sure to add Albania to your wish list for summer 2024 … your next great travel story awaits.
Trina Howes is a Director of CharterWorld America. CharterWorld is a luxury private yacht charter company that creates outstanding vacations with excellent yachts at amazing prices – worldwide.
If you would like to be a guest blogger on A Luxury Travel Blog in order to raise your profile, please contact us.